Trilled Meow's profile
---
Challenge Me!
Killed them all!
ABC List 27 games
Also, by complete coincidence, all three of the games in this post are on my ABC list (after not finishing one of those in months).
63% never played
15% unfinished
22% completed
Rhiannon: Curse of the Four Branches
ABC List At Least Somewhat Historic Detectives! Mystery! Murder! Favorites Folklore & Mythology Ghosts Halloween and Horror Literary Ties Wales
Monthly Challenge & ABC list game. I have a long history with this, even though this is the first time I beat it or played a legitimate copy. I pirated it probably a decade ago when it came out when I was a kid. I'm always enchanted by the beginning: arriving at the grounds of an old manor house in Wales, which your character is to house sit. Shortly into the game is probably where I first read anything about Welsh folklore and literature. In fact, the game's plot revolves around the Mabinogion, a collection of stories from Wales that are mythological in nature. On the other hand, I think I played Nancy Drew games in the 90s that looked better than this.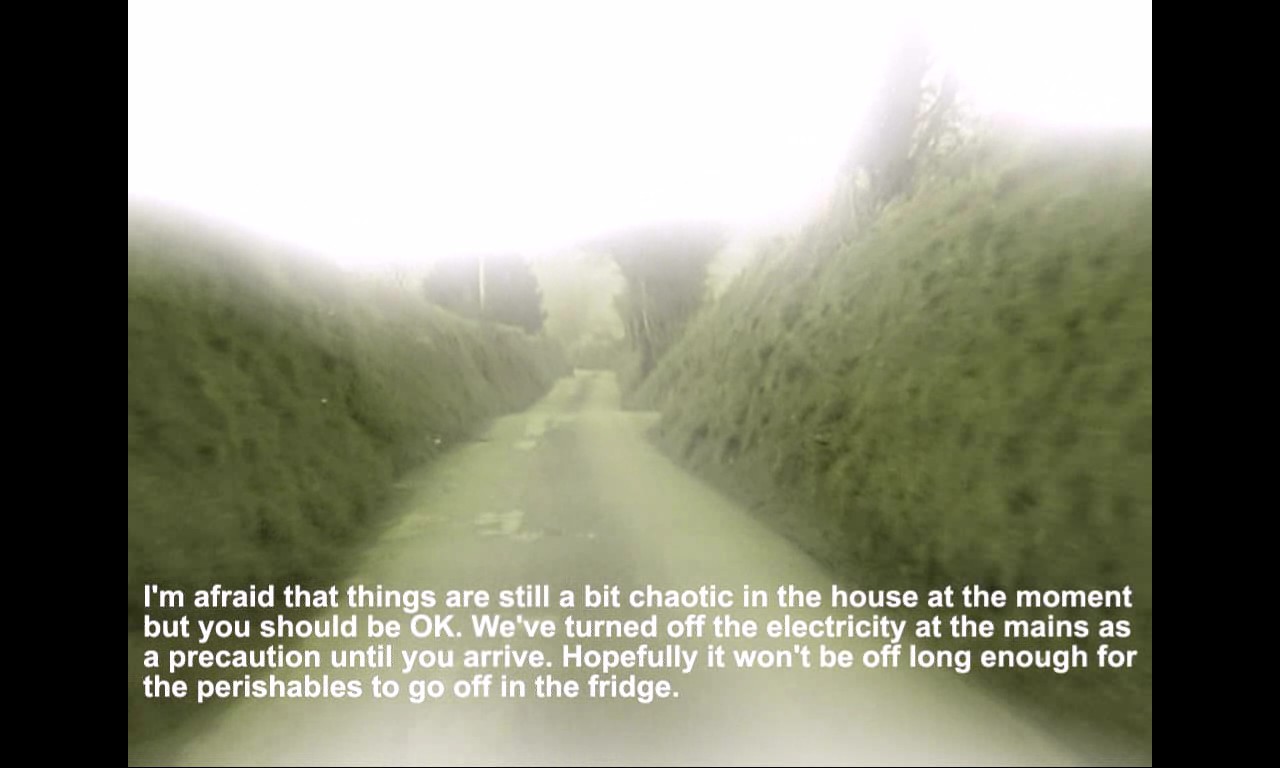 *swoons over British Isles road*
While I have read this game described as being non-linear (on Wikipedia, maybe), it really kind of is more linear than a lot of games like this. You can only take items you have seen an immediate use for. On top of that, the game is divided between chapters, further boxing everything up into a set order. The chapters go along with the chapters of the Mabinogion, and this introduces a gameplay circuit that I found to get repetitive. To end each chapter besides the first, you need to find items that symbolize events from that chapter of the Mabinogion. It's not a big drawback, but going through a similar ritual for every chapter sucked a bit of the mystery out. (Again, it's no Nancy Drew adventure).
You learn most of the story by reading various diaries, emails, records, and other things. There is no one to actually talk to. There were a lot of emails about doing research in libraries/archives that has a similar process to what I do for work and for fun (which I wouldn't have understood or connected to the first time I played this). I hope I don't sound too harsh, because I actually enjoyed this more than most adventure games.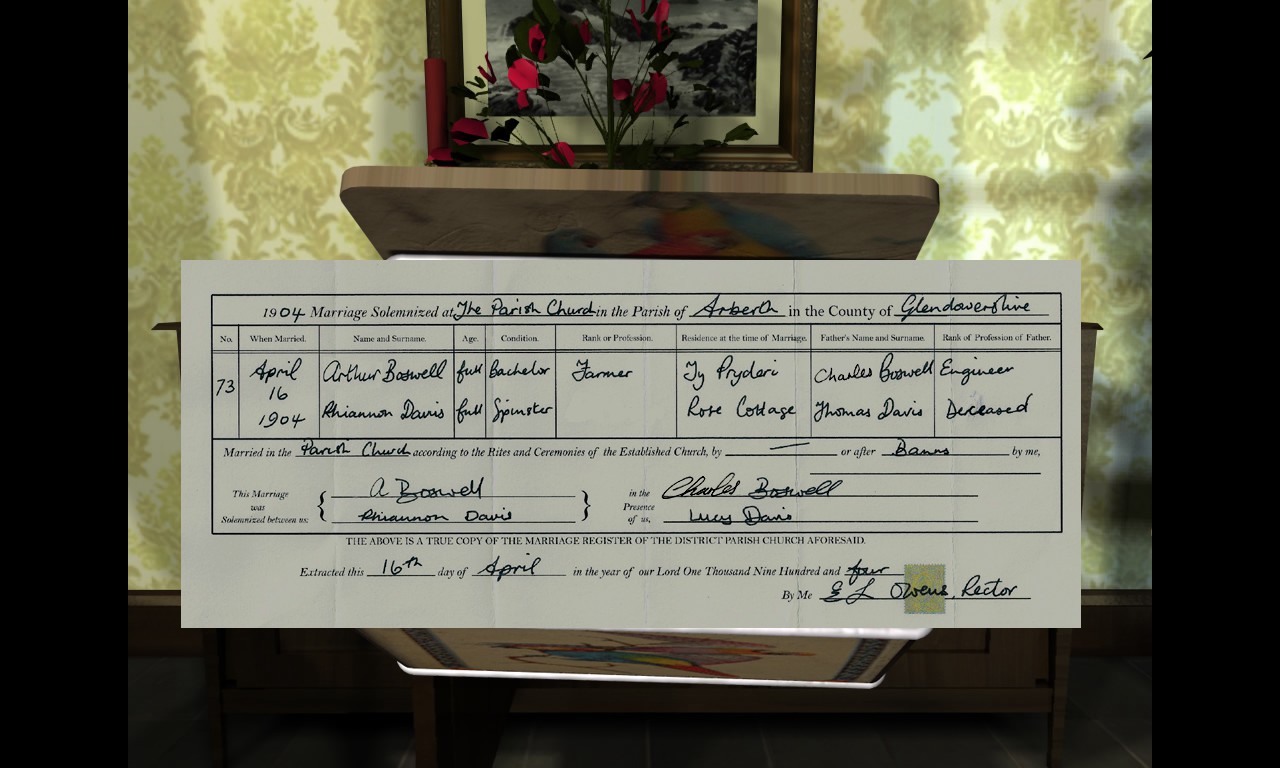 This is how marriage certificates in England and Wales really look (they're apparently adding the mother's name -- not sure if they've started -- after recent recognition that it is too patriarchal for modern Britain to only take the father's name).
Year Walk
ABC List At Least Somewhat Historic Cool-looking Educational Folklore & Mythology Halloween and Horror Quirky Scandinavia
Another Monthly & ABC game. I didn't love the gameplay here, but as usual with me, it was interesting learning about and pretending to experience the near-forgotten Swedish tradition of the Årsgång, or Year Walk. You pretty much go through a maze of paths that allow you to go forwards and backwards to different areas. There are puzzles to solve to pass the supernatural creatures, but what you're supposed to do isn't clear about half the time.
Hacknet
ABC List Educational Favorites Make Believe - Simulated Lives Pirates & the High Seas
A Challenge Me! & ABC game. Well, this was a different one. Usually hacking and programming games are just puzzles with no story, but this felt like an RPG in some respects. I really liked it, even though I ran into a bad design decision that blocks you out of two quest lines if you turn in a mission too soon. So I had to start a second game to finish everything. Fortunately it went really fast doing it again. I found myself really getting into it, snooping around people's files.
Acquisitions
Challenge Me!
20% never played
40% beaten
40% completed
Hand of Fate
A Challenge Me! game, which I'm doing super well on this month. I have a chance at beating all of them this time, after I dropped the ball the last several. Anyway, I really like this game. I mean, I hate it, too. But still. Every new game is exciting because you haven't yet been dealt crappy cards that ruin your run. Each level is set up as cards on a table. Each card represents an encounter (a fight, a shop, an NPC, a treasure chest), which I thought of as like a room in a dungeon. There's a surprsing amount of resource management. You need food for every move. You need money, health, equipment, and all the while you may have curses put on you or draw pain cards that take away those resources. I have a few tokens left to get along with some achievements I think I can get relatively easily. I may be playing this one on and off for a while, since it fills a sort of niche spot and I don't have another game like it. I even decided to put it in my Favorites group, so extra thanks for the challenge!
The Deer
I am straight-up cheating by picking this game. I picked it for someone's Challenge Me! who asked for short games since it fit with the monthly, so I figured I would play it too. Totally not because I'm trying to pad my numbers or anything like that. 86maylin, the person I challenged to play this, wrote a very accurate review on their profile (but not offcially posted yet): it's not a good game for anyone. That said, it was kind of cute, and I actually did learn something. Like about giant sea "cows". I mean, I've seen them before, but I didn't specifically know what they were or anything about them. So, I guess I can say this game got me to read about sea cows on Wikipedia.
Chaos on Deponia
A Challenge Me! game (only one more to go!), and also qualified for last month's Monthly challenge but I"m only posting it now. I beat the first one with my Team Assassination partner, and we decided to continue the series. Anyway...we let this one sit a long time for multiple times during all these platypus puzzles and acquiring a million items. It was overwhelming, especially with so many missable achievements. Like the first one, the story kept me engaged enough to ultimately stick it out, and the humor was good. I'm still confused on if Seagull is actually not Rufus's dad, or was just being an asshole when he told him he was a trash baby?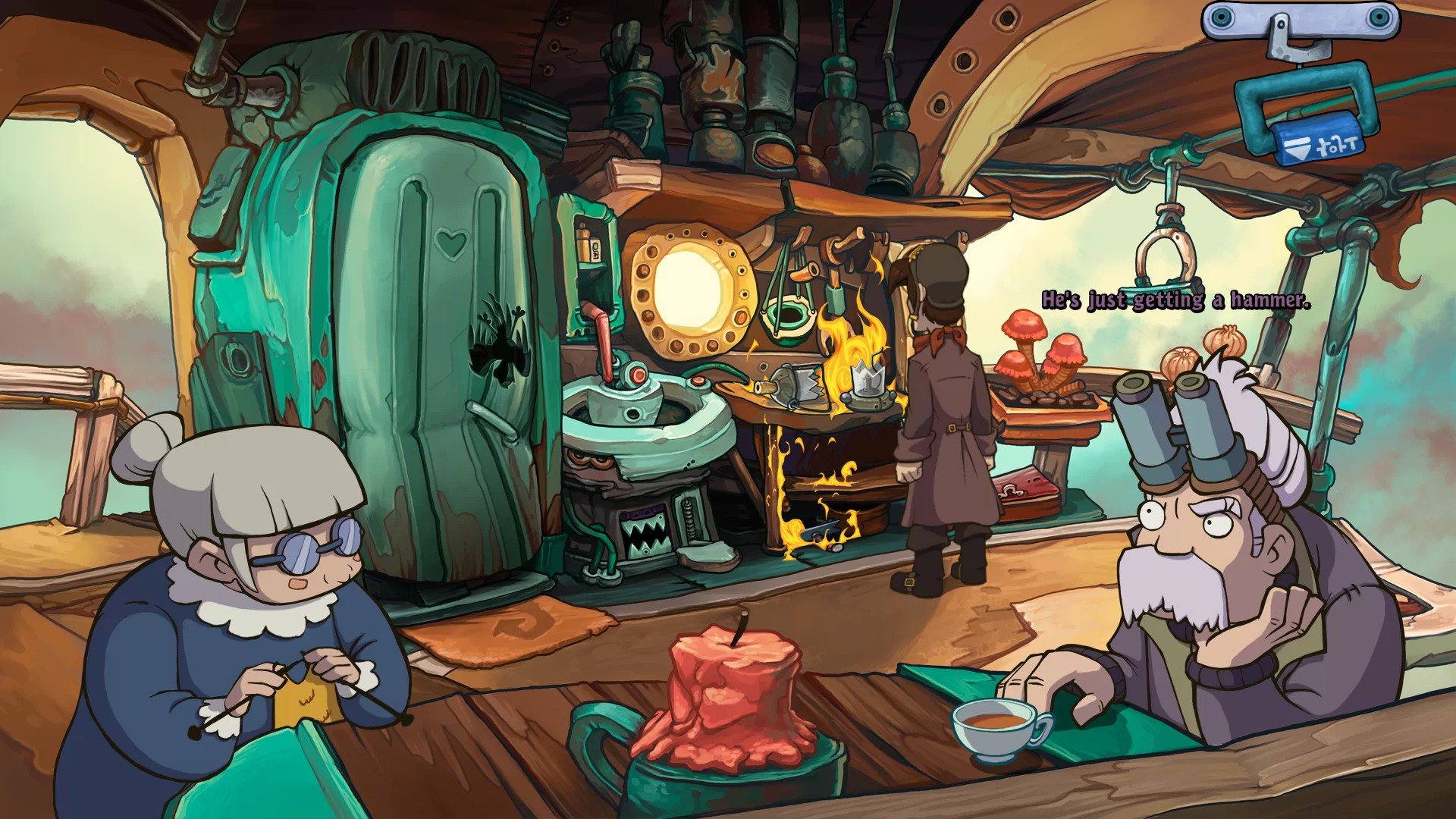 "He's just getting a hammer."
September Totals
Acquisitions
Challenge Me!
20% never-played
40% unfinished
20% beaten
20% completed
Kingdom: Classic
Challenge Me from last month, which I finished on time and am only posting now. Fun while it lasted, but I can't help but feel the game is flawed. I had to ignore most of the game's mechanics to win, because building catapults = giant enemies throwing things back at you, killing many at once; building towers = archers getting grabbed by flying enemies; and creating farms and farmers = pointless and probably detrimental. So you just create like 70 archers and big fields (so there are more rabbits for the archers to hunt, which = making gold). That leaves you running (not so quickly) back and forth across the map over and over again to get enough recruits. It seems like these features should have worked more cohesively. I wanted more content, so I'm interested to see what New Lands has added or changed. There are more achievements I could probably easily get for surviving longer (instead of beating it in a low number of days), but I feel like it would be too boring right now.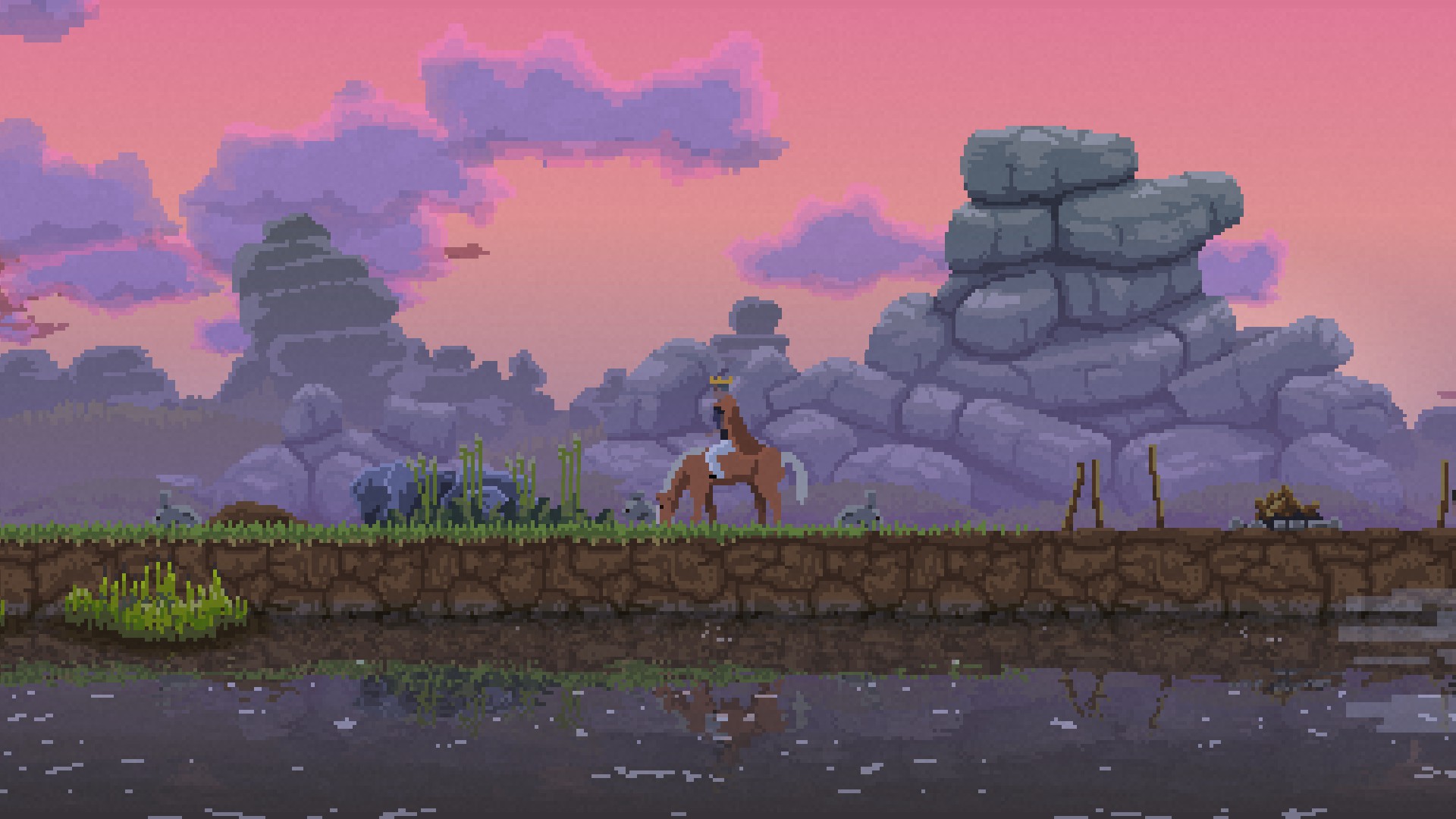 For the Monthly: A horse, the reflection of the horse, and two bunnies. The deer refused to join the group photo.
Back to Bed
I'm off to a good start (easy when I choose such a short game to start with), because this is a Challenge Me game for the new month. You have to guide a sleepwalker Back to Bed. The sleepwalker follows a certain pattern, namely straight lines and clockwise turns when blocked. It's not a new concept, but there is some fun goofiness here, like a narrator that sounds like he came out lodge from Twin Peaks. This was a good length for me, because I tend to get bored of puzzle games after about this length.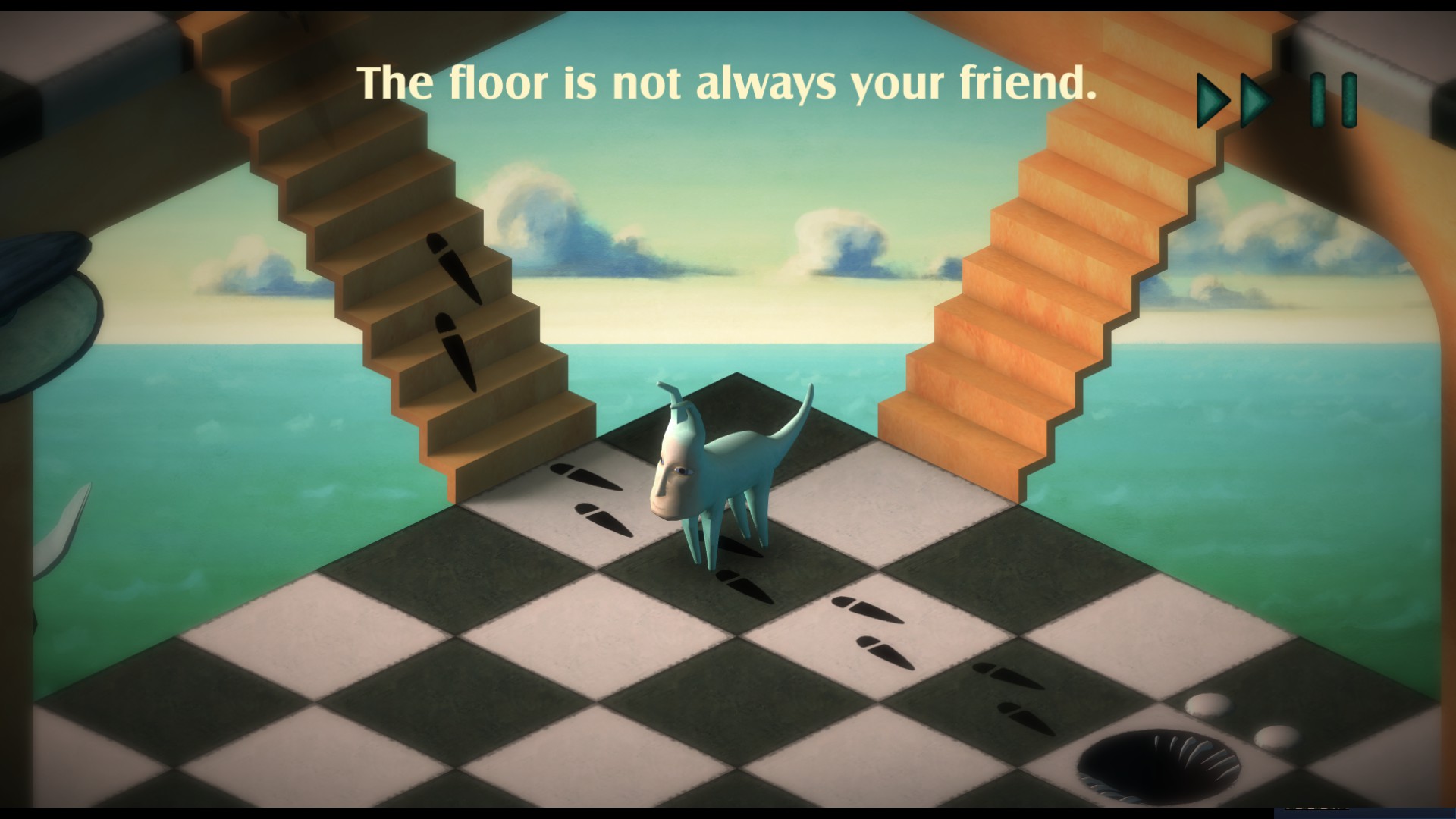 Am I an animal?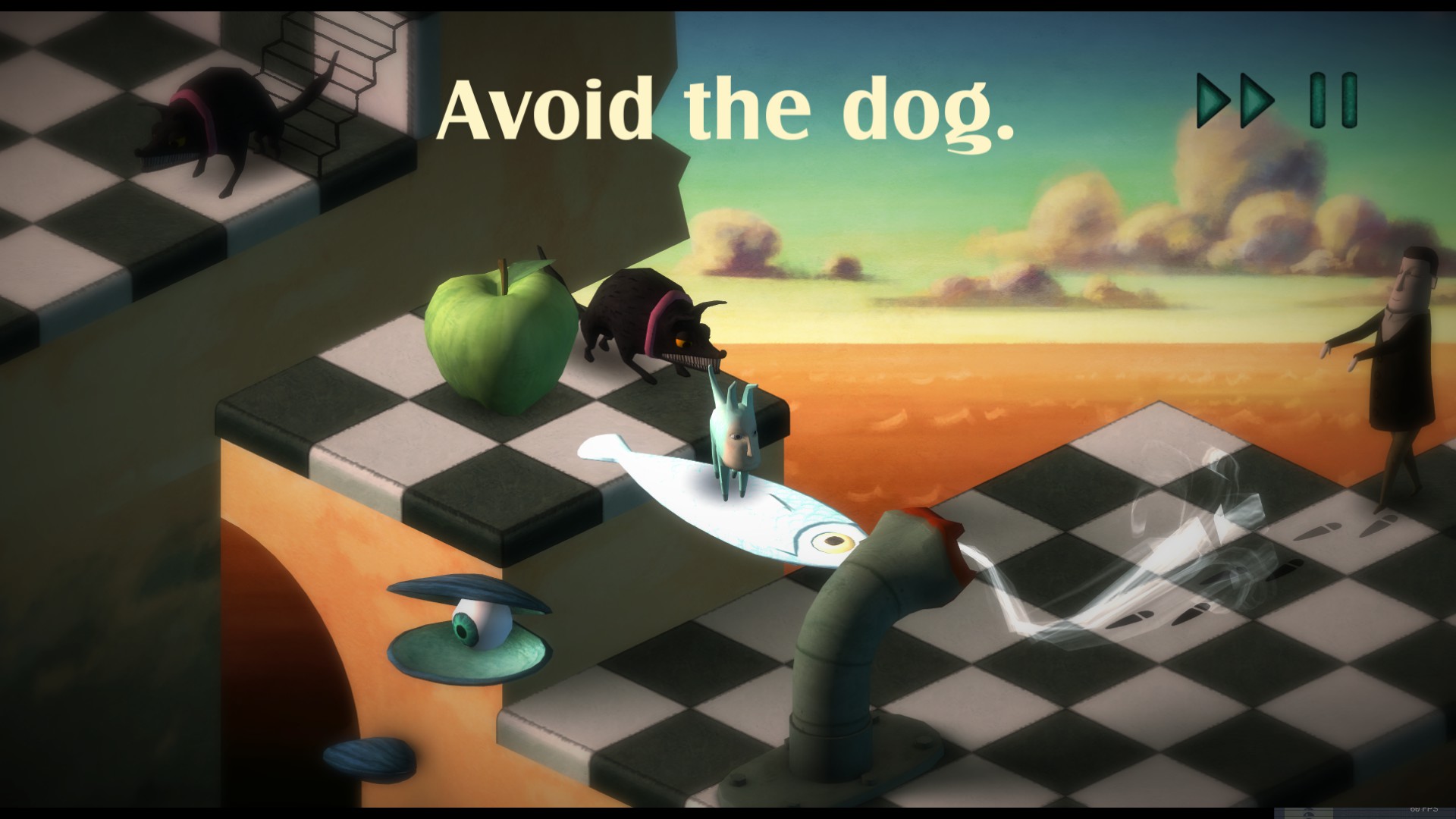 Whew, here's a dog, so it looks like I don't have to worry about what the thing is afterall.
Suits: A Business RPG
Cool-looking Dystopia - The World Gone Wrong Quirky USA Won on SteamGifts
A Challenge Me game that qualifies for the monthly theme. I won this in one of those mass giveaways, so I was kind of skeptical, but it turned out to be a nice game to play over a free afternoon or two. You can tell the dev had a vision for this game. I won't put it on my Fun RPGs list because, even though it was so short, it was still lacking in skills (and certain types of equipment) during battle -- it was pretty boring to do basically the same thing every battle (namely using one character's "Staple Down" skill to paralyze an enemy to keep it from hurting on you). Yeah, Staple Down. They were able to take this coked-out capitalism theme pretty far using the traditional JRPG framework.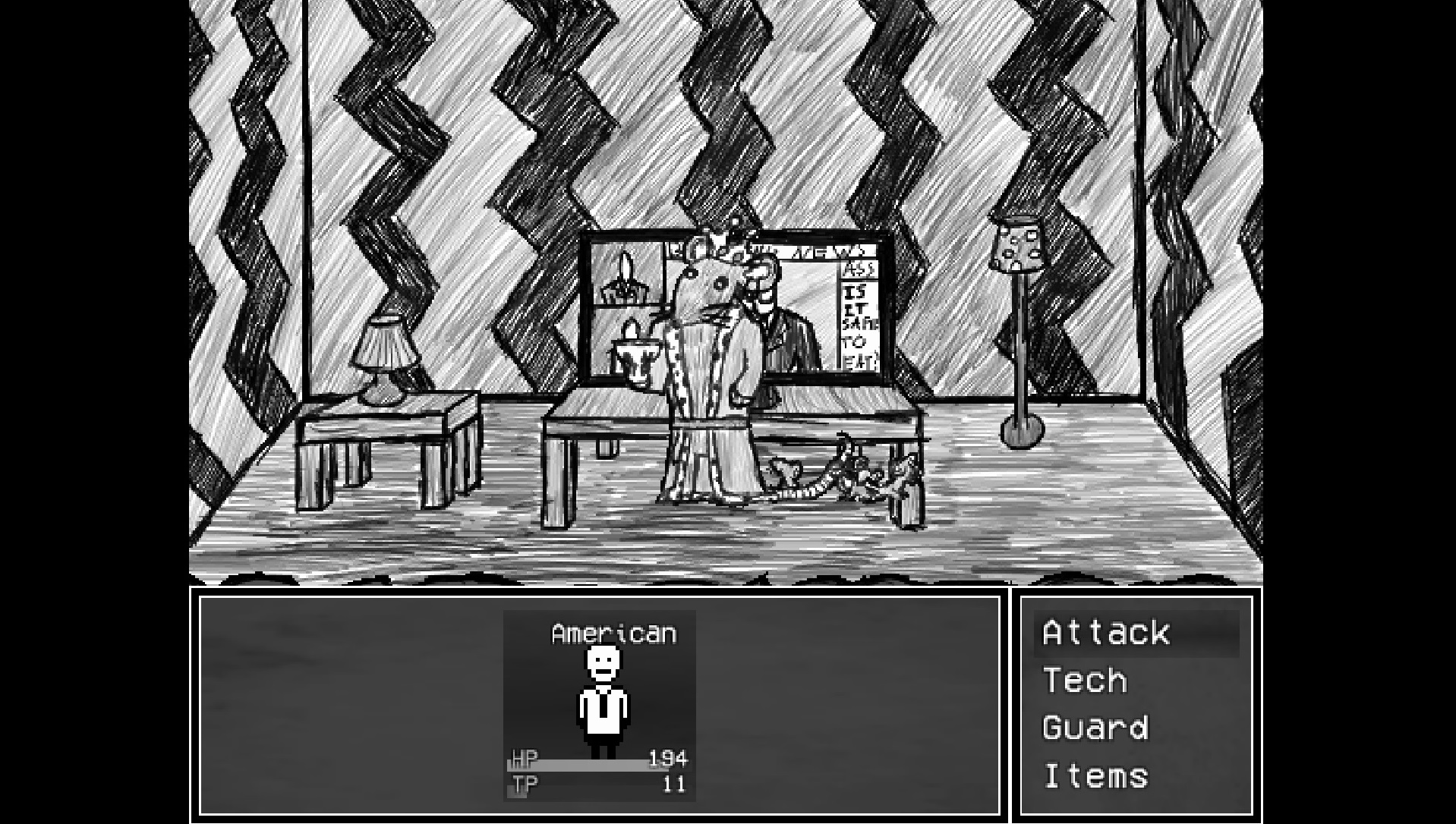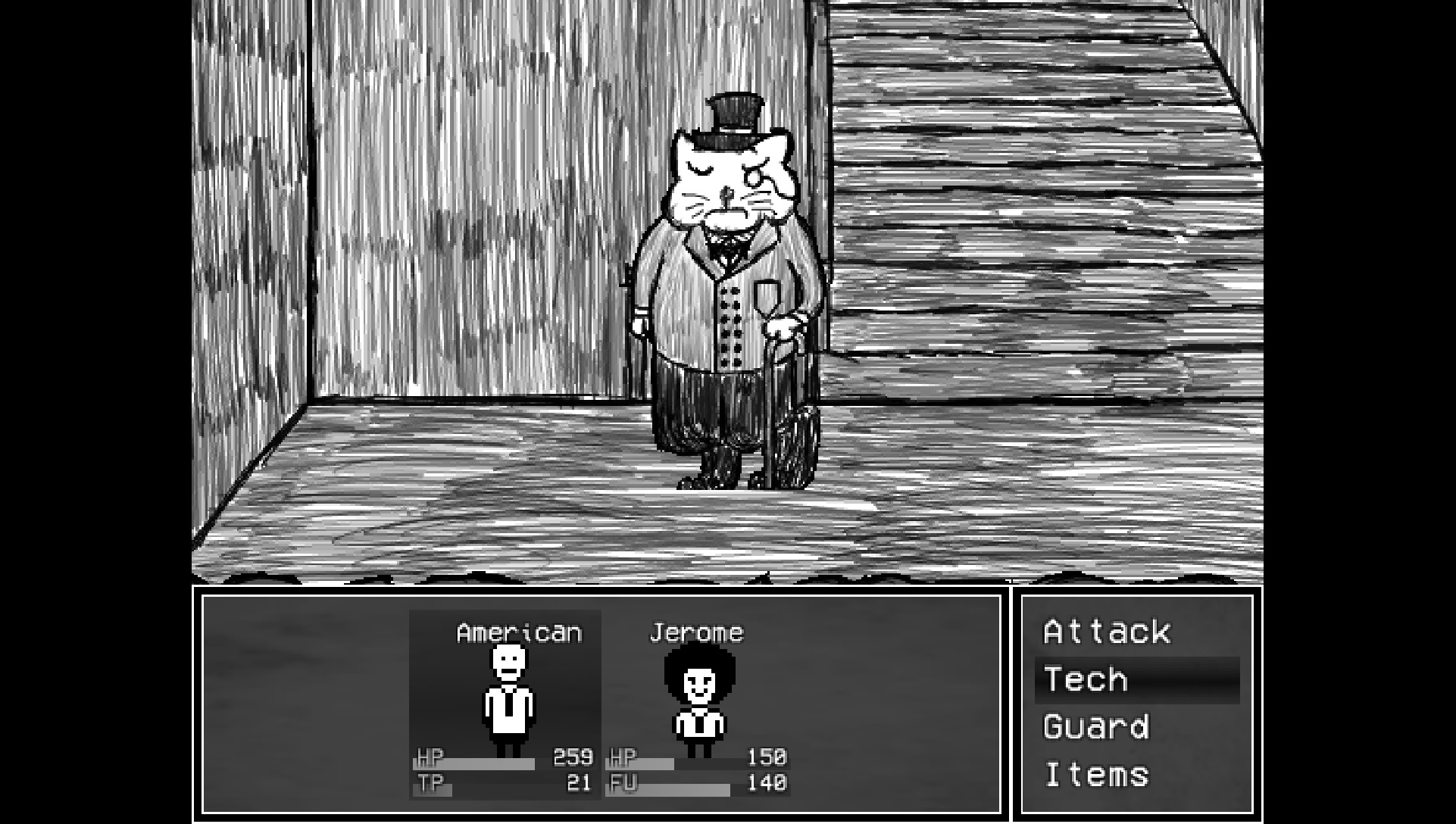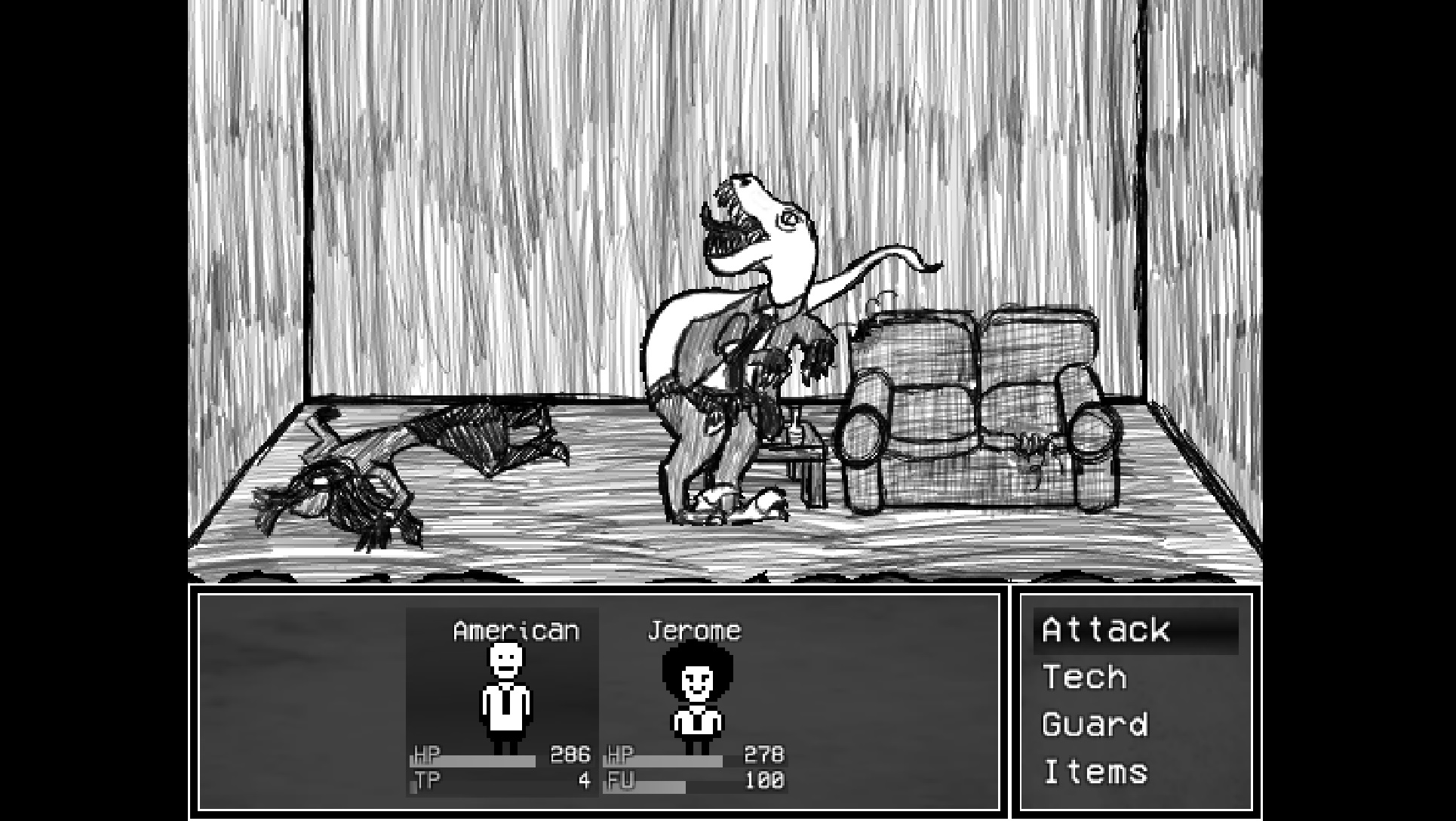 A rat, a cat, and a dinosaur. There were other animals (a bunch of different sharks!), but this game doesn't support the Steam overlay so it was too much of a hassle to get screenshots.
Acquisitions
Challenge Me!
40% never-played
40% unfinished
20% beaten
Bioshock: Infinite
Achievement Clean Up At Least Somewhat Historic Dystopia - The World Gone Wrong France French Voice Acting Noticeably Good Music Time Travel USA
Challenge Me from last month and some previous month, too. This is my first time finishing Bioshock Infinite, even though I played a good portion when it first came out. I don't know what I could say that hasn't been said a million times. Obviously the game had an interesting (and relevant) atmosphere, and it did gave us some interesting takes on music. Being a francophile myself, I especially loved the beginning of the DLC Burial at Sea 2, when Édith Piaf's "La vie en rose" plays as you walk through an idyllic and stereotypically Parisian scene. As you move, the song goes through different versions, and the NPCs sing along like they are brainwashed (but very happy).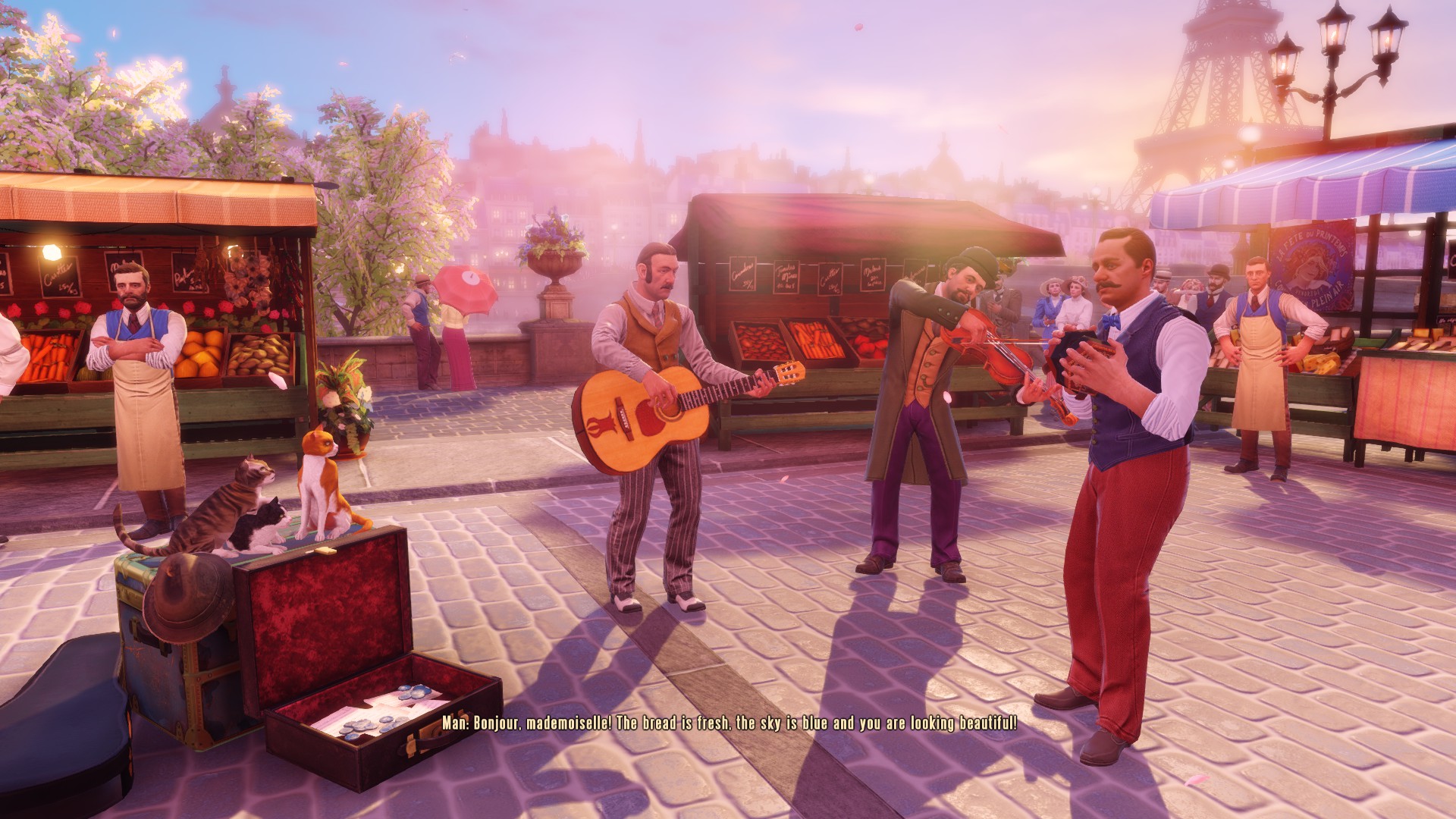 It was too soon for this month's theme, but here's a cat pic I managed to snag.
Admittedly, I still need to beat that DLC and try out Clash in the Clouds.
Alter Ego
At Least Somewhat Historic Detectives! Mystery! Murder! England Victorian Won on SteamGifts
From last month's Challenge Me! and is a Steam Gifts win. Decent enough for what it is, but they dropped the ball at the end. I've never seen a story go downhill more quickly and so definitively. An obvious and cheap set up for a sequel that never happened. But it was interesting enough until the final scene, even if the play felt a little slow/clunky. You switch at certain points between playing as a criminal and playing as a detective, both in the city of Plymouth in Devon, England.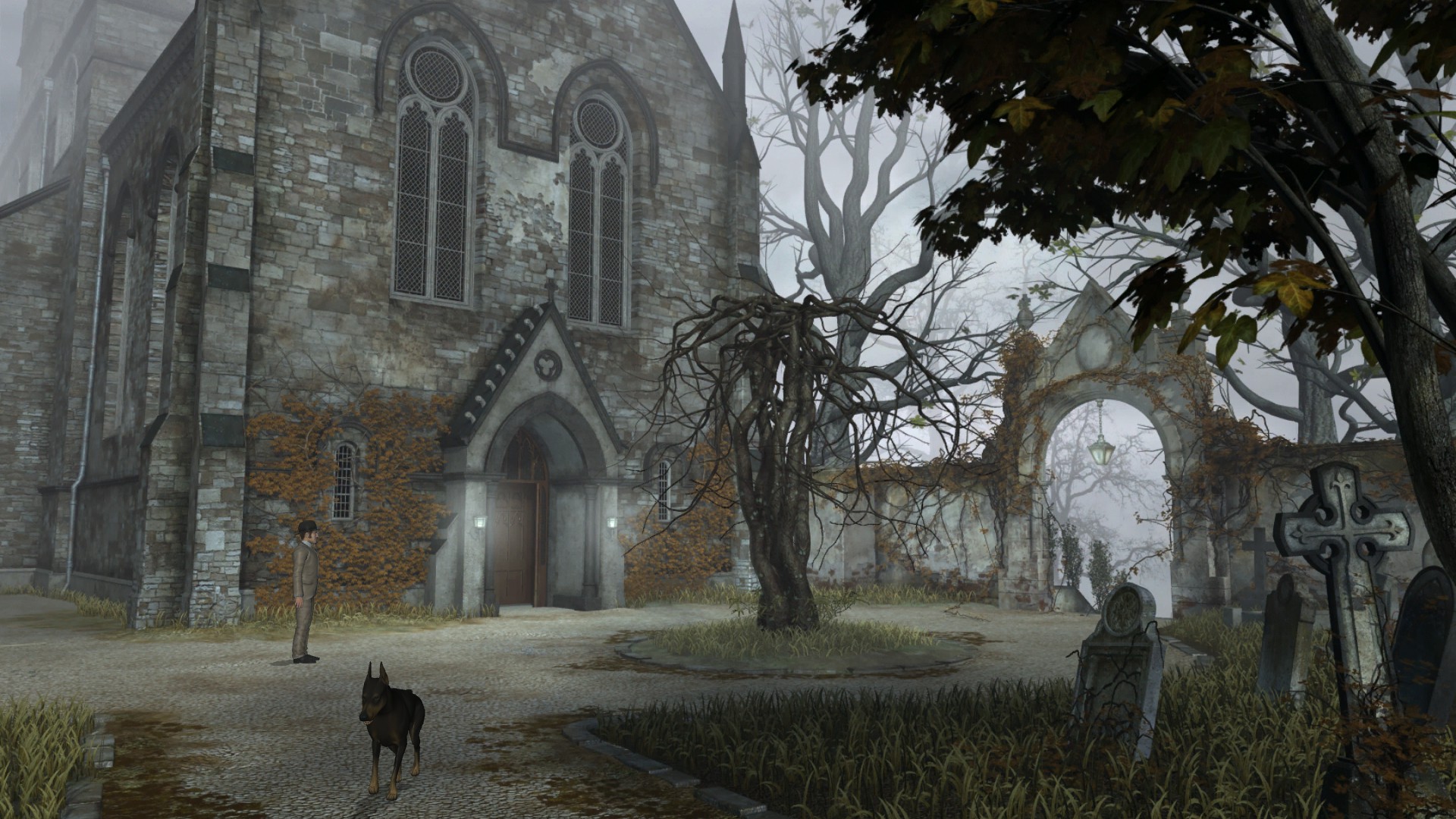 Well, what do you know, here's another animal pic that's too old. Apparently I just take screen shots of animals on a regular basis.
Kholat
At Least Somewhat Historic Detectives! Mystery! Murder! Halloween and Horror Won on SteamGifts
A current Challenge Me! game, and my first beaten game of September. This game uses the Dyatlov Pass Incident as the basis for its story, which is why I was interested in it. They also somehow managed to get Sean Bean to voice act. You navigate a snowy mountain using a compass and a map (which doesn't show your location). Journal entries, diaries, etc. and tents for fast traveling that you find are marked on the map to help you figure out where you are and what you did. I was worried the enemies would be frustrating, but I only saw them in a few places, and I eventually found it best to sprint right by them, which seemed to cause them to disappear. I'm still not going for the last achievement for not dying.
The locations in the game where major events occur that are reminiscent of various theories about what happened (military bunker for the military cover-up conspiracy theory, for example).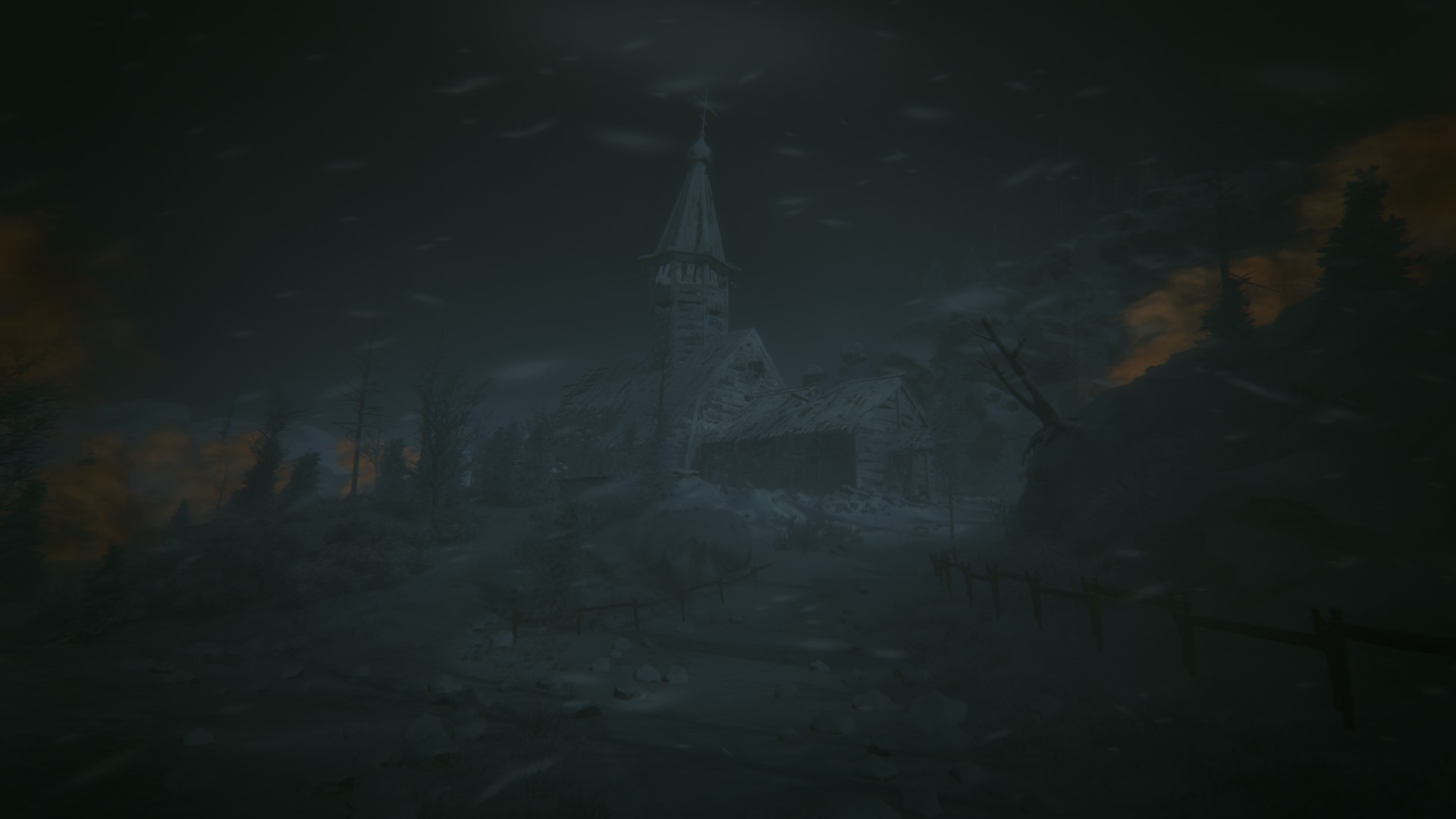 This inevitably led me to reread about the incident, then I found out about the deaths and disappearances of 5 men from Yuba City, California in 1978, sometimes dubbed the American Dyatlov Pass Incident. Then I read, now for the second time, this long series of blogposts about the disappearance of a family of Germans from Death Valley damn, you dangerous, California. But it's really interesting because it goes into the search and rescue efforts, the efforts required to solve the mystery.
Acquisitions
The Gate of Firmament
World's Dawn
Celestian Tales: Old North
Aurion: Legacy of the Kori-Odan
Challenge Me!
20% never-played
60% unfinished
20% completed
The Norwood Suite
I won this on SteamGifts from Blue Lightning and am playing it now for Challenge Me! I played the dev's semi-related first game, Off Peak, a while ago to be prepared.
You basically walk around doing small favors that consist of bringing items or doing a small puzzle. The environment is visually stimulating, and there are hidden rooms you can find. The dev responded with an explaination of the end (as well as the story overall) here.
Alan Wake
I was challenged to play this a few months ago but failed. I previously beat this on a console when it came out. Honestly, both times I found the game boring, and everything felt long. Really, really long. Sure, there are some unique aspects with the flashlight and light in general, but it's still the generic "go along a path and kill the enemies and look out for some random collectibles" shooter.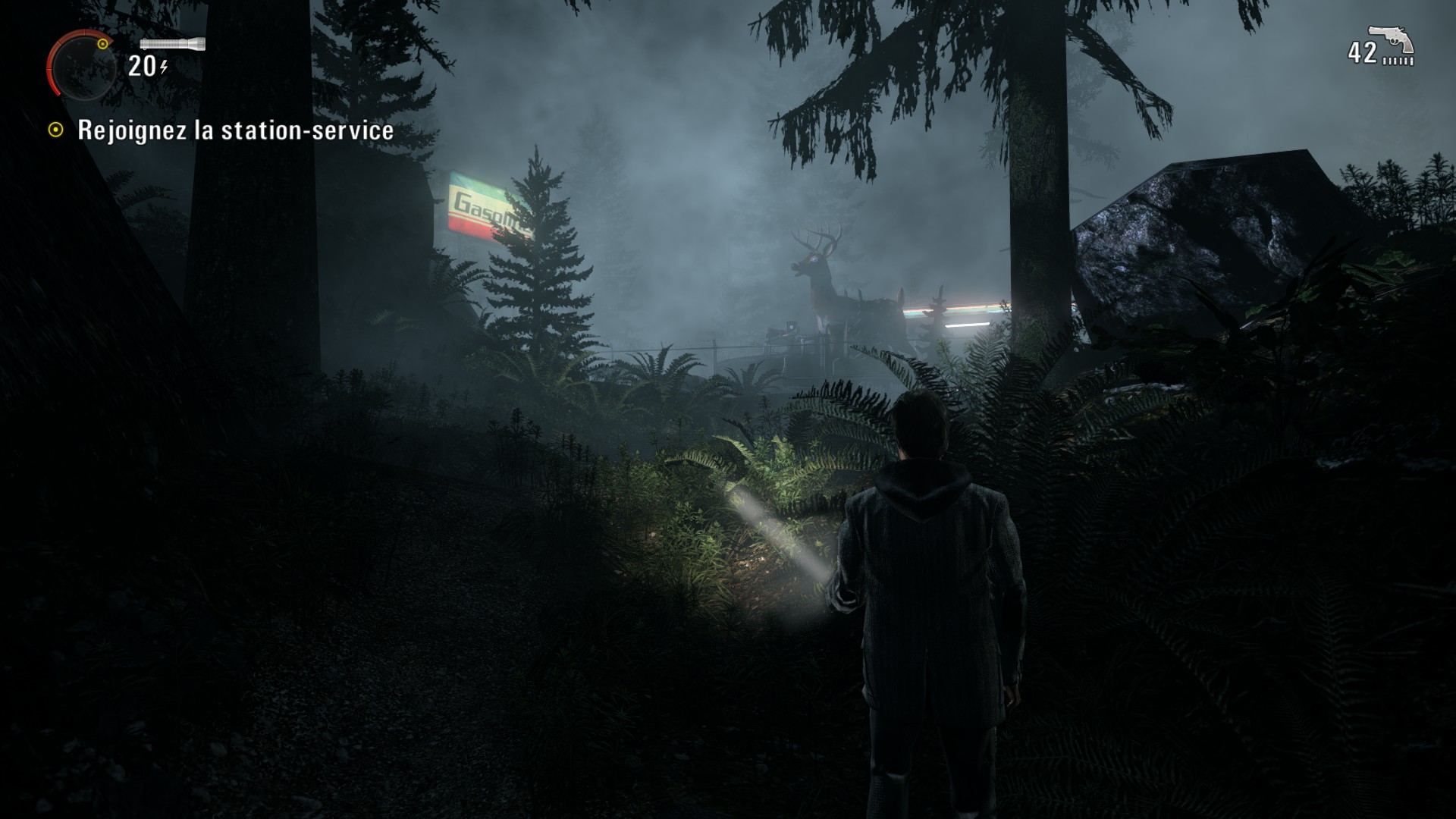 To the Moon
A current Challenge Me! game. It also counts for the monthly theme, since I left it unfinished for years. I think I was bored by the repetitive task of finding the memory orbs in each scene in the first act, especially since sometimes I was looking around for a while to find them all. In the end, the game had a worthwhile story that presented an interesting scenario. I hear an anime film based on this game is being made.
July Totals
Acquisitions
Introvert Quest
The Elder Scrolls Online
Final Fantasy XV
Amnesia: Memories
Living Legends: The Frozen Fear Collection
Midnight Mysteries 4: Haunted Houdini
Midnight Mysteries 3: Devil on the Mississippi
Challenge Me!
40% never-played
20% unfinished
20% beaten
20% completed
This is from last month, but due to travelling for a while I didn't have time to finish much. So, I'm working on them now.
Regency Solitaire
Contrary to popular perception, Regency Solitaire is not based on or inspired by Jane Austen novels. According to the creators, Regency Solitaire is more akin to Georgette Hayer novels (which I am not familiar with). It's a nice enough game and has a lot of twists on solitaire, but I'm not exactly in a rush to beat all the levels again on hard to get those last two achievements. You can buy various upgrades for your ballroom that provide all kinds of bonuses to you when playing solitaire.
Edit: I've amended this post a little to reflect that I finished the last achievements in Regency Solitaire the morning after posting this thanks to a tip other users left in the comments that saved me a lot of time.
Verde Station
I played this at the beginning of June's Challenge Me! before going on vacation, so unfortunately I'm not writing with the game fresh in my head. Anyway, you start the game and seem to be in charge of maintenance and gardening on a space station.
An interesting feature of the game is the ability to enter commands (found in the environment) into the terminals found in each room. In fact, you will miss some of the story if you don't do this. Even though the game is short, the story doesn't reveal itself all at once. I had some different (WRONG) ideas about what was going on up till about the end.
Freedom Fall
Another Challenge Me! game from last month. This one I played just now. I don't usually like platformers, but this seemed about the right length and difficulty for me. Check points are never too far away. The story developed interestingly, via messages written on the walls. It was surprisingly deep for that kind of delivery method. There are multiple endings
Acquisitions
Suits
The Norwood Suite
Cook, Serve, Delicious! 2!!
Ken Follett's The Pillars of the Earth
Bear With Me
Yooka-Laylee
Challenge Me!
20% never-played
20% unfinished
20% beaten
40% completed
Off-Peak
I won the Norwood Suite from Blue Lighting, so I decided to play this free game the dev says Norwood is "the successor" of. I'm not sure if it's directly connected, which is why I played it. I guess I'll find out soon.
It was a fast, easy game to complete. It reminds me of JazzPunk, though it's much shorter and limited to a train station. And more of a walking simulator. You walk around in a weird world looking for pieces of a torn-up train ticket.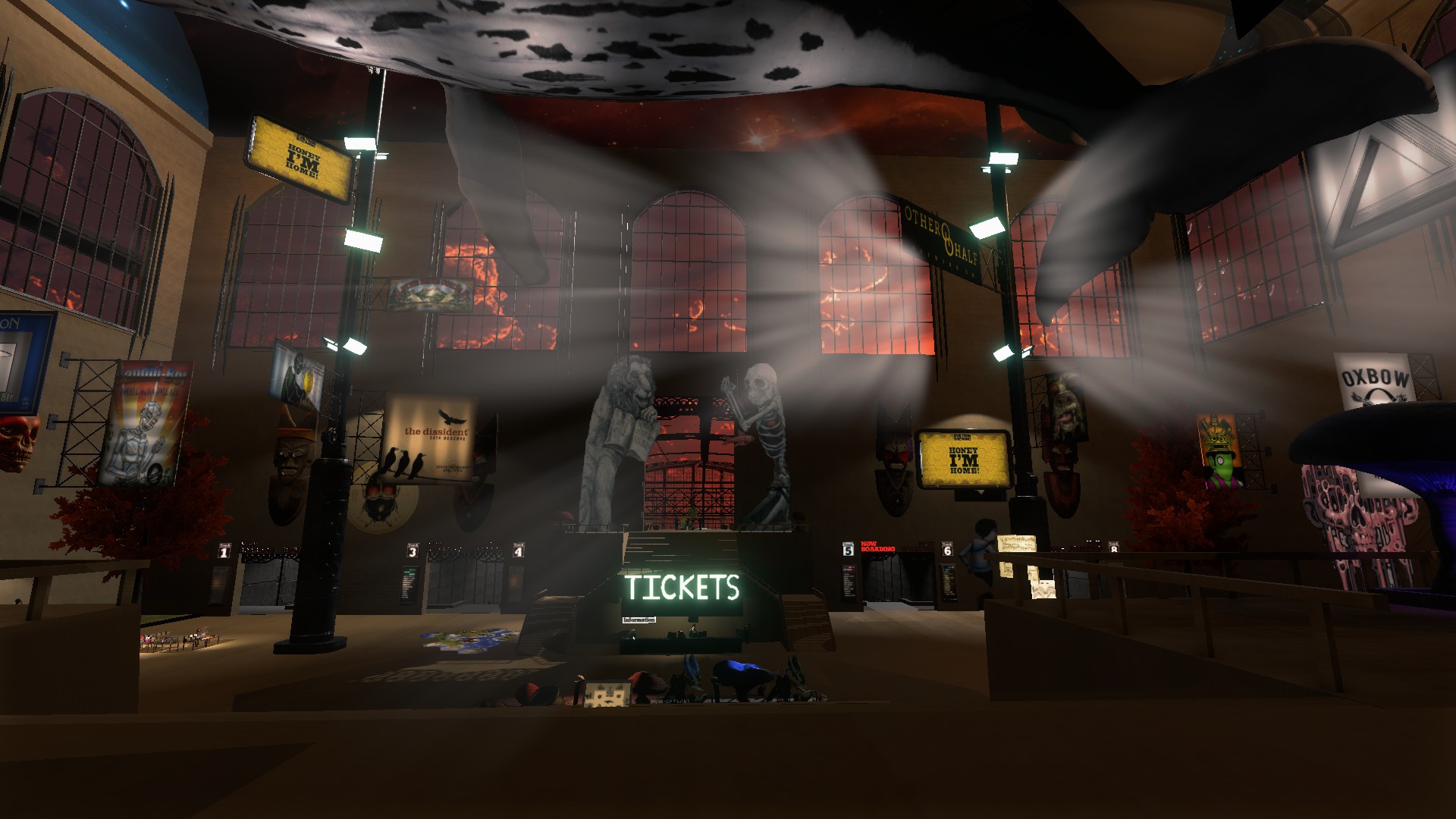 The station is full of interesting stuff to look at.

.
Dungeon of the Endless
Tower defense roguelike with RPG elements that I won from a Playing Appreciated giveaway. You search through rooms, building defenses, while looking for the exit. After finding the exit, you have to grab your crystal (your tower) and run like mad with it towards the exit, because all hell breaks loose as soon as you pick it up. I never felt like I had enough resources to really get into some of the game's systems, like research and building more advanced modules (modules are guns, bonus to resources, passive support, etc Just the stuff you build). There are some other (presumably more difficult) "pods" you can play in, so maybe they give you more of a chance to use that stuff.
I was screwing up a lot, not by my people being killed, but by accidentally leaving them behind when I moved floors. lol. That kind of sucked, but sometimes it left a space open for a stronger character I found along the way. I'm leaving it installed for now because I will at least play again to mess around now that I've beaten it once. But this is one of those games I know I'll never be able to 100%, much like the next one...
Outlast
A Challenge Me! game. I had no idea what to expect at first other than that it was a horror game that I don't have the DLC for. At first I thought looking through a camera the whole game would be annoying, but it wasn't. I was too freaked out at first and ended up missing some early notes & documents that would have all been easy to get. Actually most things got easier once I realized I could run a bit then crouch in a shadowy area most of the time. I wish I had started over early on, but alas... I may try again if I ever get the DLC. I will not, however, attempt to do a one-sitting perma-death speed run for an achievement.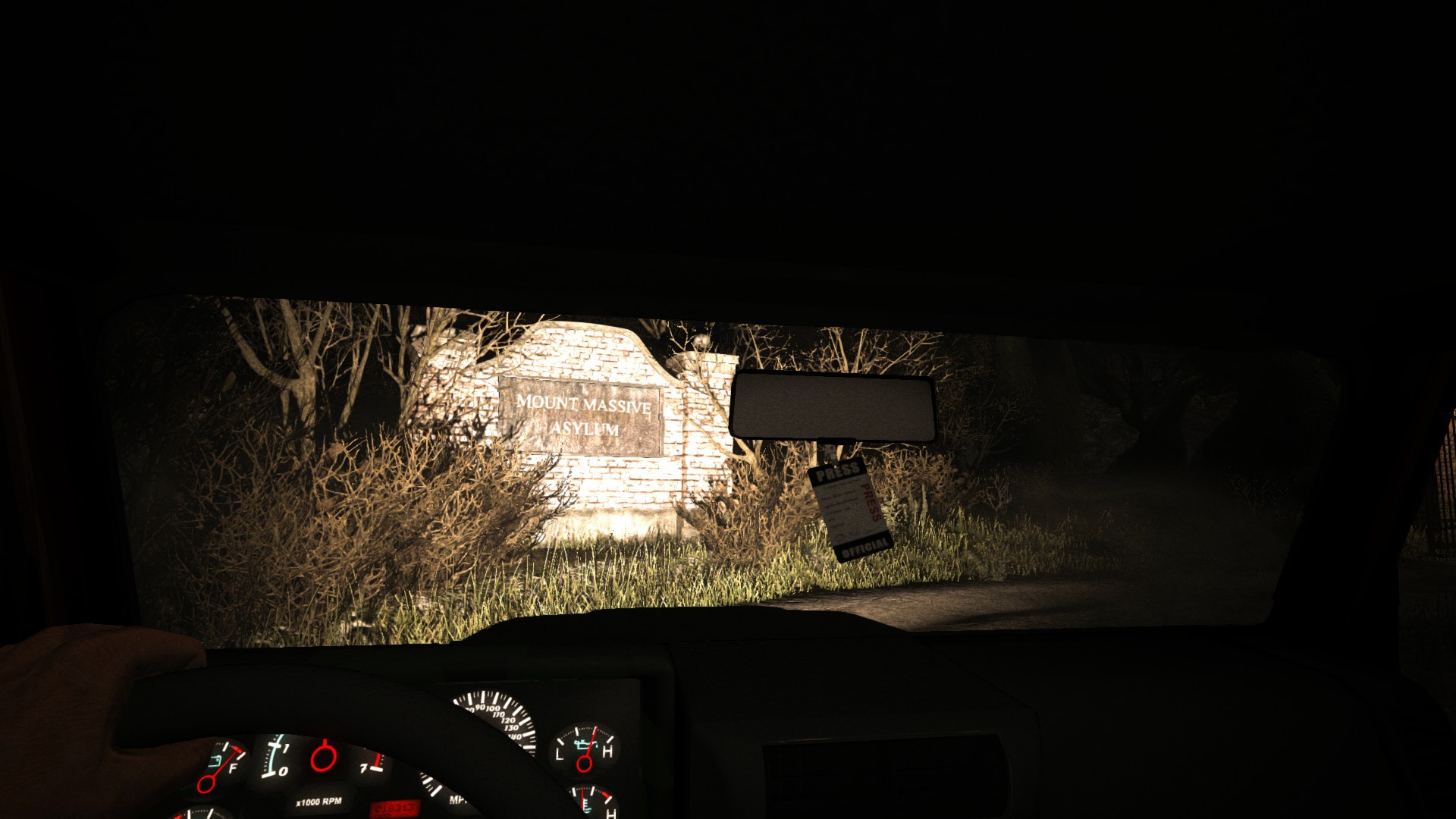 Welcome to Mount Massive Asylum

.
May Totals
Games beaten and completed in May
This is just a summary for me as a way of record keeping and to maybe make compiling a yearly list easier. Check my last couple of posts if you want to know what I thought of any of these. My progress wasn't great this month, especially since these are all short games. I've been working on genealogy and my French listening skills instead. I read a couple of books, too. I guess you can't do everything. :( My boyfriend bought me Assassin's Creed: Black Flag when it was on sale, so I've been playing that and my Challenge Me! games.
Acquisitions
Assassin's Creed IV Black Flag
Manual Samuel
Challenge Me!
40% unfinished
20% unfinished
40% completed
Beyond Eyes
A Challenge Me! and SG win that counts for the Monthly Challenge. In this game, you're a blind girl looking for her cat. It was interesting how the world would build around you based on imagination, sounds, and scents. I was often surprised by a wall or closed gate, which would pop up only when I ran into it, blocking me from getting to what the girl's other senses detected on the other side so easily. I couldn't help but wonder if the world was really so cute, or if it was just the girl's imagination and things were actually ugly.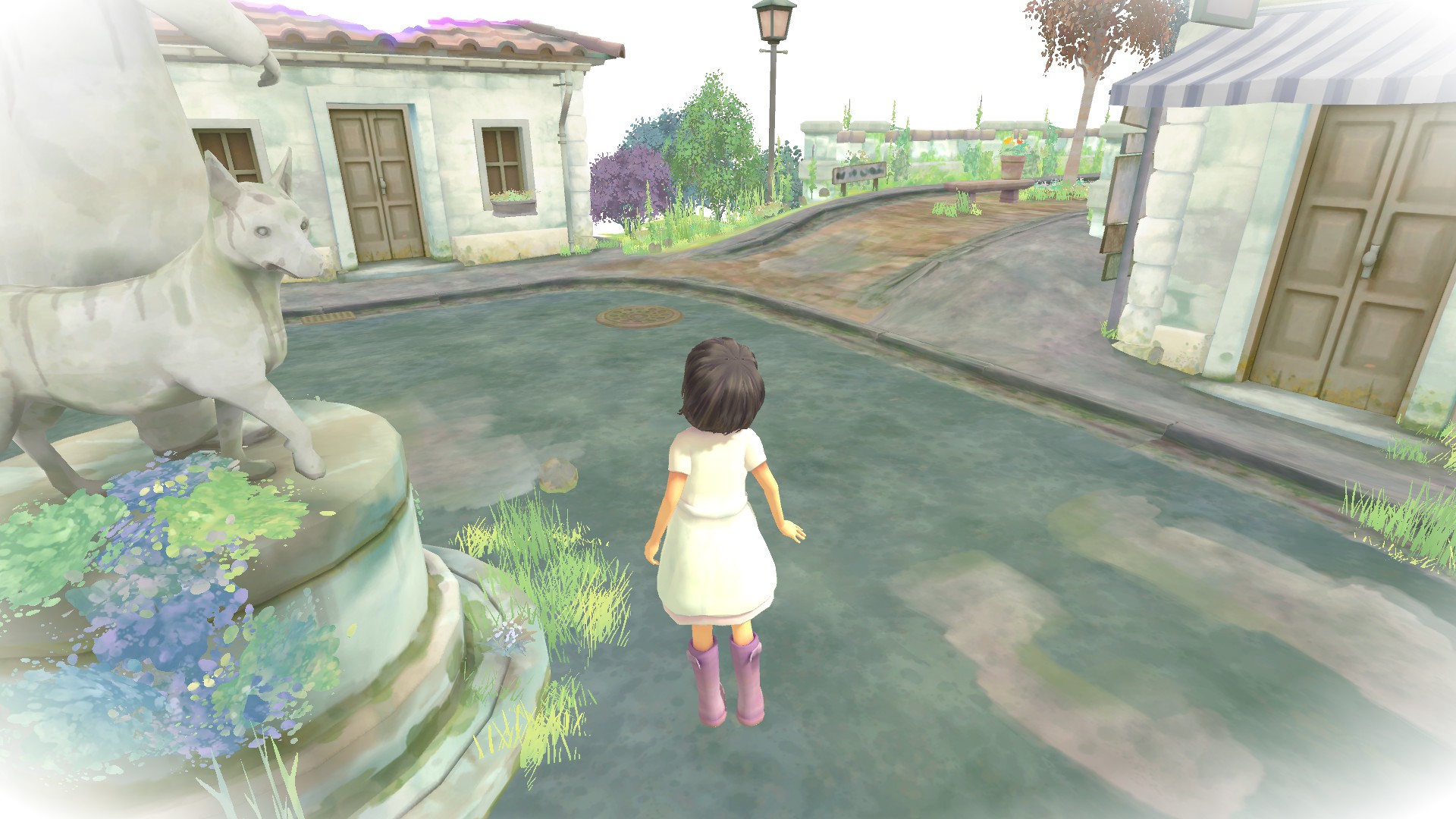 Pickers
Archaeology At Least Somewhat Historic USA Won on SteamGifts
Steam gifts win and counts for the Monthly. Pretty fun and unique HOG game based on those picker/pawn shop shows, a theme that lends itself well to this kind of game. You scour homes, barns, and storange unites, choose what items to buy, haggle, then try to sell them. You may also find item pieces you can later put together or restore. Traditional HOG scenes do make an appearance, but they are not really the focus of the game -- and rightly so, since it's generally preferable to choose what you buy.
Highway Blossoms
At Least Somewhat Historic Good Reads Road Trips & Travelogues USA Won on SteamGifts
I played this one for Challenge Me!. It's an SG win, so counts for the Monthly Challenge. I cheated with a save file from a Steam guide to get that atrocious one based on in-game waiting. This is a VN with a fun road trip story inspired by hidden Gold Rush loot. I don't have much experience with VNs, but I think it was fairly well written. I was afraid I might cringe a lot at fan servicey dialogue, but it actually kept a serious tone for a game with an adult patch. Honestly, I have PS2 JRPGs that are more embarassing (I'm looking at you, Ar Tonelico). As a bonus, I learned a little about several national parks.
Acquisitions
Kimmy
TIS-100
Dead Rising 4
Jalopy
Kerbal Space Program
Moon Hunters
The Flame in the Flood
Pep Talk
I haven't had a good month and a half or so with gaming. I've spent a lot of that time working on other things, but I also had a couple of setbacks. The first was with DreadOut. After beating a difficult scissor ghost boss I almost gave up on until I learned the "run two laps around the tiny room then wildly take a picture behind you" trick to beat the second phase of the fight. The just before beating the first half of the game, my save file was corrupted due to an old bug that had supposedly been fixed but seems to be happening again, because I fell through the floor and the game autosaved. In a game that doesn't have manual saves. I decrypted the save file and can change the player position, but I don't know appropriate coordinates to use. I started testing stuff out but it takes too long to load the game up every time. I could probably get back to where I was in a couple of hours going through again, but I'm still a little sour about it. Maybe next update.
The other "setback" is a roguelike I'm afraid to play (Dungeon of the Endless). I've almost beat the first difficulty but I'm afraid I'll die and lose my progress. Since I don't have too much pride to cheat in the name of my backlog and Playing Appreciated obligations, I'm going to try to back up my save and hope that works.
Small Town Terrors: Pilgrim's Hook

Samantha Swift and the Golden Touch

Midnight Mysteries: Salem Witch Trials
Small Town Terrors: Pilgrim's Hook
It's been a few weeks since I played this, and it was kind of a generic HOG with good graphics. The main thing I remember is that it has a Nantucket setting. One place you go is a whale museum that looks a lot like this.
Samantha Swift and the Golden Touch
Ancient World Archaeology At Least Somewhat Historic Won on SteamGifts
I appreciated the bright, cartoony graphics. I left with a better impression of this game than the first Samantha Swift game. The overarching story has to do with Midas, and it takes you to many different locations with their own look. My home state (Missouri) even managed to make an appearance, along with some of our famous outlaws: Jesse James and the Younger brothers, who led a Confederate-supporting Civil War-era gang.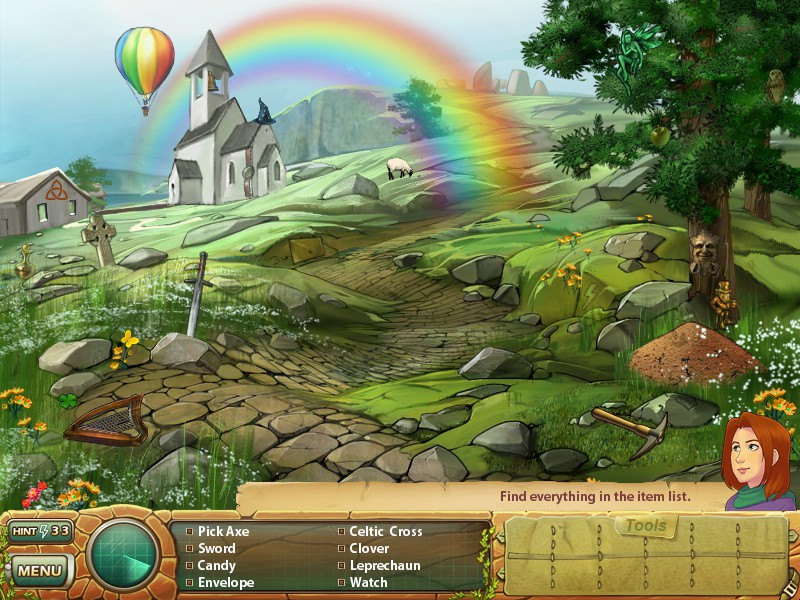 Clearly drawn graphics...but maybe a little too easy.
Midnight Mysteries: Salem Witch Trials
At Least Somewhat Historic Colonial Detectives! Mystery! Murder! Ghosts Literary Ties New England USA Won on SteamGifts
A Steam Gifts win, and counts for the Monthly Challenge. Part of the reason I wanted to play this is because I'm going to Boston later this summer, so I'm playing games I have related to the area. I liked the previous Midnight Mysteries game I played (Edgar Allen Poe), and I liked this too for a HOG. The objects are a little hard to see due to graphics being a little fuzzy in HOG scenes. This game is a weird mix of Nathaniel Hawthorne, the Salem Witch Trials, Franklin Pierce, and even Lincoln's ghost shows up. I wish I had read the House of the Seven Gables before playing this, since I think several ghosts are characters from that book. I usually try to read the classics before playing a game based on one, but I thought I'd be good having read The Scarlet Letter and a handful of short stories.
Anyway, they seem to do a good job making stories around history and literature. There was a funny thing in this one about a curse a witch set on the people who killed her & their descendants. The witch said they would all die with "blood in their throats." When you found out information about a ghosts' deaths, a message comes up that says "Blood in his/her throat!" I wonder if that is in the book with the same wording. You unlock information about Hawthorne, the Witch Trials, and a Native American thing I'm still confused about after beating the game. No screenshots because I had to use a beta version with no overlay for achievements to work.