Trilled Meow's profile
---
Acquisitions
Introvert Quest
The Elder Scrolls Online
Final Fantasy XV
Amnesia: Memories
Living Legends: The Frozen Fear Collection
Midnight Mysteries 4: Haunted Houdini
Midnight Mysteries 3: Devil on the Mississippi
Challenge Me!
40% never-played
20% unfinished
20% beaten
20% completed
This is from last month, but due to travelling for a while I didn't have time to finish much. So, I'm working on them now.
Regency Solitaire
Contrary to popular perception, Regency Solitaire is not based on or inspired by Jane Austen novels. According to the creators, Regency Solitaire is more akin to Georgette Hayer novels (which I am not familiar with). It's a nice enough game and has a lot of twists on solitaire, but I'm not exactly in a rush to beat all the levels again on hard to get those last two achievements. You can buy various upgrades for your ballroom that provide all kinds of bonuses to you when playing solitaire.
Edit: I've amended this post a little to reflect that I finished the last achievements in Regency Solitaire the morning after posting this thanks to a tip other users left in the comments that saved me a lot of time.
Verde Station
I played this at the beginning of June's Challenge Me! before going on vacation, so unfortunately I'm not writing with the game fresh in my head. Anyway, you start the game and seem to be in charge of maintenance and gardening on a space station.
An interesting feature of the game is the ability to enter commands (found in the environment) into the terminals found in each room. In fact, you will miss some of the story if you don't do this. Even though the game is short, the story doesn't reveal itself all at once. I had some different (WRONG) ideas about what was going on up till about the end.
Freedom Fall
Another Challenge Me! game from last month. This one I played just now. I don't usually like platformers, but this seemed about the right length and difficulty for me. Check points are never too far away. The story developed interestingly, via messages written on the walls. It was surprisingly deep for that kind of delivery method. There are multiple endings
Acquisitions
Suits
The Norwood Suite
Cook, Serve, Delicious! 2!!
Ken Follett's The Pillars of the Earth
Bear With Me
Yooka-Laylee
Challenge Me!
20% never-played
20% unfinished
20% beaten
40% completed
Off-Peak
I won the Norwood Suite from Blue Lighting, so I decided to play this free game the dev says Norwood is "the successor" of. I'm not sure if it's directly connected, which is why I played it. I guess I'll find out soon.
It was a fast, easy game to complete. It reminds me of JazzPunk, though it's much shorter and limited to a train station. And more of a walking simulator. You walk around in a weird world looking for pieces of a torn-up train ticket.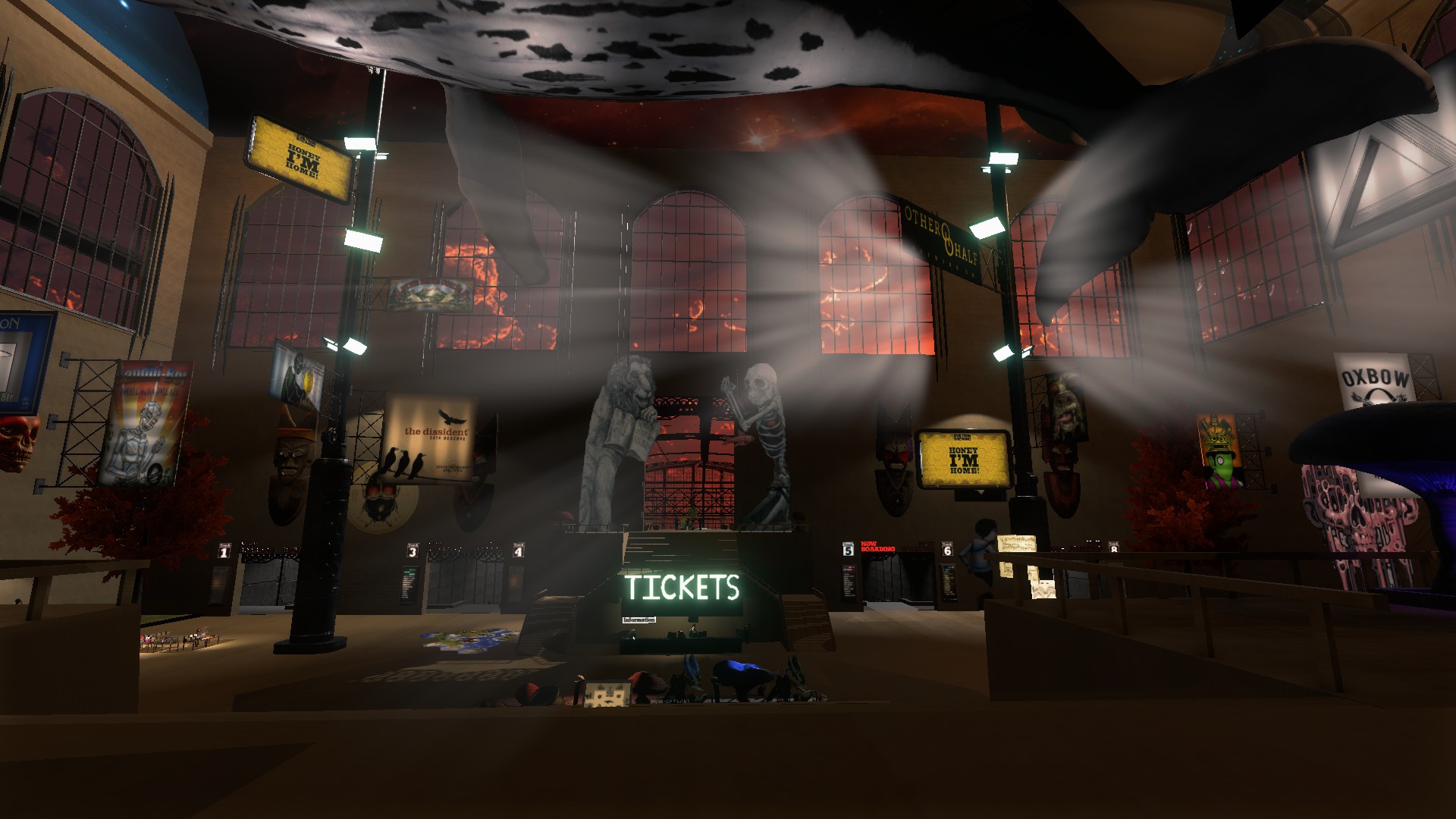 The station is full of interesting stuff to look at.

.
Dungeon of the Endless
Tower defense roguelike with RPG elements that I won from a Playing Appreciated giveaway. You search through rooms, building defenses, while looking for the exit. After finding the exit, you have to grab your crystal (your tower) and run like mad with it towards the exit, because all hell breaks loose as soon as you pick it up. I never felt like I had enough resources to really get into some of the game's systems, like research and building more advanced modules (modules are guns, bonus to resources, passive support, etc Just the stuff you build). There are some other (presumably more difficult) "pods" you can play in, so maybe they give you more of a chance to use that stuff.
I was screwing up a lot, not by my people being killed, but by accidentally leaving them behind when I moved floors. lol. That kind of sucked, but sometimes it left a space open for a stronger character I found along the way. I'm leaving it installed for now because I will at least play again to mess around now that I've beaten it once. But this is one of those games I know I'll never be able to 100%, much like the next one...
Outlast
A Challenge Me! game. I had no idea what to expect at first other than that it was a horror game that I don't have the DLC for. At first I thought looking through a camera the whole game would be annoying, but it wasn't. I was too freaked out at first and ended up missing some early notes & documents that would have all been easy to get. Actually most things got easier once I realized I could run a bit then crouch in a shadowy area most of the time. I wish I had started over early on, but alas... I may try again if I ever get the DLC. I will not, however, attempt to do a one-sitting perma-death speed run for an achievement.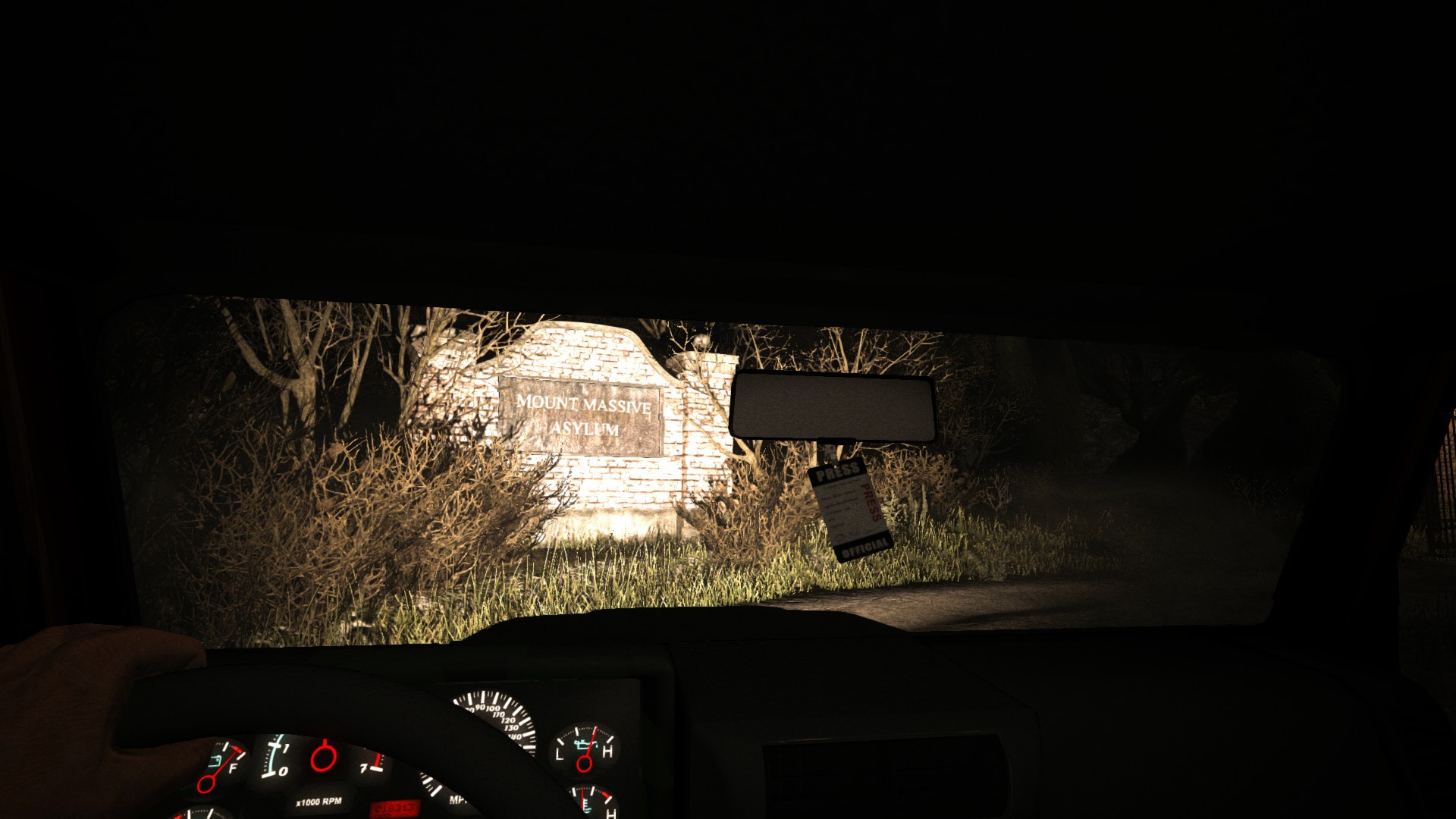 Welcome to Mount Massive Asylum

.
May Totals
Games beaten and completed in May
This is just a summary for me as a way of record keeping and to maybe make compiling a yearly list easier. Check my last couple of posts if you want to know what I thought of any of these. My progress wasn't great this month, especially since these are all short games. I've been working on genealogy and my French listening skills instead. I read a couple of books, too. I guess you can't do everything. :( My boyfriend bought me Assassin's Creed: Black Flag when it was on sale, so I've been playing that and my Challenge Me! games.
Acquisitions
Assassin's Creed IV Black Flag
Manual Samuel
Challenge Me!
40% unfinished
20% unfinished
40% completed
Beyond Eyes
A Challenge Me! and SG win that counts for the Monthly Challenge. In this game, you're a blind girl looking for her cat. It was interesting how the world would build around you based on imagination, sounds, and scents. I was often surprised by a wall or closed gate, which would pop up only when I ran into it, blocking me from getting to what the girl's other senses detected on the other side so easily. I couldn't help but wonder if the world was really so cute, or if it was just the girl's imagination and things were actually ugly.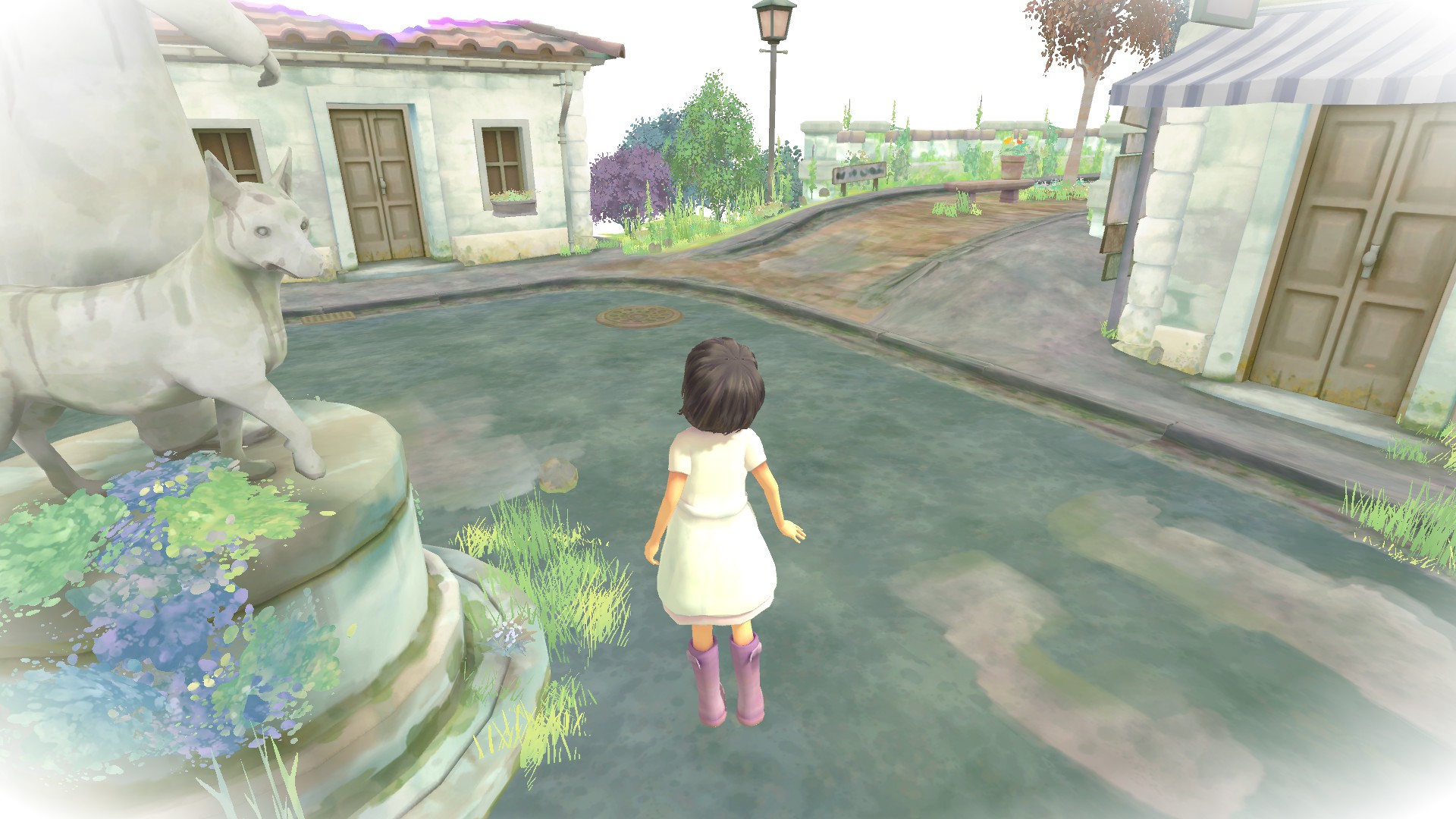 Pickers
Archaeology At Least Somewhat Historic USA Won on SteamGifts
Steam gifts win and counts for the Monthly. Pretty fun and unique HOG game based on those picker/pawn shop shows, a theme that lends itself well to this kind of game. You scour homes, barns, and storange unites, choose what items to buy, haggle, then try to sell them. You may also find item pieces you can later put together or restore. Traditional HOG scenes do make an appearance, but they are not really the focus of the game -- and rightly so, since it's generally preferable to choose what you buy.
Highway Blossoms
At Least Somewhat Historic Good Reads Road Trips & Travelogues USA Won on SteamGifts
I played this one for Challenge Me!. It's an SG win, so counts for the Monthly Challenge. I cheated with a save file from a Steam guide to get that atrocious one based on in-game waiting. This is a VN with a fun road trip story inspired by hidden Gold Rush loot. I don't have much experience with VNs, but I think it was fairly well written. I was afraid I might cringe a lot at fan servicey dialogue, but it actually kept a serious tone for a game with an adult patch. Honestly, I have PS2 JRPGs that are more embarassing (I'm looking at you, Ar Tonelico). As a bonus, I learned a little about several national parks.
Acquisitions
Kimmy
TIS-100
Dead Rising 4
Jalopy
Kerbal Space Program
Moon Hunters
The Flame in the Flood
Pep Talk
I haven't had a good month and a half or so with gaming. I've spent a lot of that time working on other things, but I also had a couple of setbacks. The first was with DreadOut. After beating a difficult scissor ghost boss I almost gave up on until I learned the "run two laps around the tiny room then wildly take a picture behind you" trick to beat the second phase of the fight. The just before beating the first half of the game, my save file was corrupted due to an old bug that had supposedly been fixed but seems to be happening again, because I fell through the floor and the game autosaved. In a game that doesn't have manual saves. I decrypted the save file and can change the player position, but I don't know appropriate coordinates to use. I started testing stuff out but it takes too long to load the game up every time. I could probably get back to where I was in a couple of hours going through again, but I'm still a little sour about it. Maybe next update.
The other "setback" is a roguelike I'm afraid to play (Dungeon of the Endless). I've almost beat the first difficulty but I'm afraid I'll die and lose my progress. Since I don't have too much pride to cheat in the name of my backlog and Playing Appreciated obligations, I'm going to try to back up my save and hope that works.
Small Town Terrors: Pilgrim's Hook

Samantha Swift and the Golden Touch

Midnight Mysteries: Salem Witch Trials
Small Town Terrors: Pilgrim's Hook
It's been a few weeks since I played this, and it was kind of a generic HOG with good graphics. The main thing I remember is that it has a Nantucket setting. One place you go is a whale museum that looks a lot like this.
Samantha Swift and the Golden Touch
Ancient World Archaeology At Least Somewhat Historic Won on SteamGifts
I appreciated the bright, cartoony graphics. I left with a better impression of this game than the first Samantha Swift game. The overarching story has to do with Midas, and it takes you to many different locations with their own look. My home state (Missouri) even managed to make an appearance, along with some of our famous outlaws: Jesse James and the Younger brothers, who led a Confederate-supporting Civil War-era gang.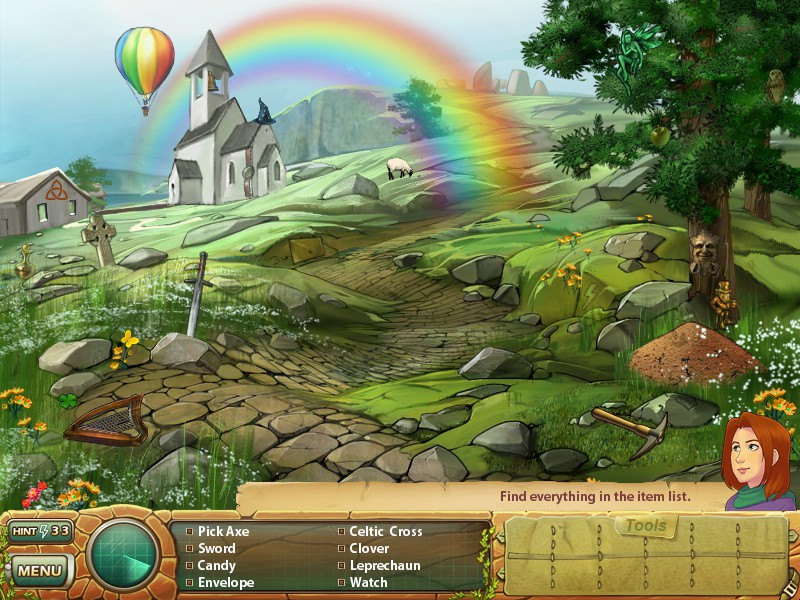 Clearly drawn graphics...but maybe a little too easy.
Midnight Mysteries: Salem Witch Trials
At Least Somewhat Historic Colonial Detectives! Mystery! Murder! Ghosts Literary Ties New England USA Won on SteamGifts
A Steam Gifts win, and counts for the Monthly Challenge. Part of the reason I wanted to play this is because I'm going to Boston later this summer, so I'm playing games I have related to the area. I liked the previous Midnight Mysteries game I played (Edgar Allen Poe), and I liked this too for a HOG. The objects are a little hard to see due to graphics being a little fuzzy in HOG scenes. This game is a weird mix of Nathaniel Hawthorne, the Salem Witch Trials, Franklin Pierce, and even Lincoln's ghost shows up. I wish I had read the House of the Seven Gables before playing this, since I think several ghosts are characters from that book. I usually try to read the classics before playing a game based on one, but I thought I'd be good having read The Scarlet Letter and a handful of short stories.
Anyway, they seem to do a good job making stories around history and literature. There was a funny thing in this one about a curse a witch set on the people who killed her & their descendants. The witch said they would all die with "blood in their throats." When you found out information about a ghosts' deaths, a message comes up that says "Blood in his/her throat!" I wonder if that is in the book with the same wording. You unlock information about Hawthorne, the Witch Trials, and a Native American thing I'm still confused about after beating the game. No screenshots because I had to use a beta version with no overlay for achievements to work.
Acquisitions
DreadOut
Tavernier
God Eater Ressurection
God Eater 2 Rage Burst
Outlast 2
Lara Croft GO
AER Memories of Old
Dungeon of the Endless
Challenge Me!
20% unfinished
20% unfinished
60% completed
Haunted
At Least Somewhat Historic England Scotland Victorian Won on SteamGifts
Steamgifts win and Challenge Me! game. I didn't play it nearly as long as it shows. One night I closed the game, went to bed, then went to work. A few hours after getting home I put my headset on to watch a video, when I realized something was already playing through the headset. That's when I found that this f'n game was stealthily running, and the Steam game time now shows an extra 24+ hours.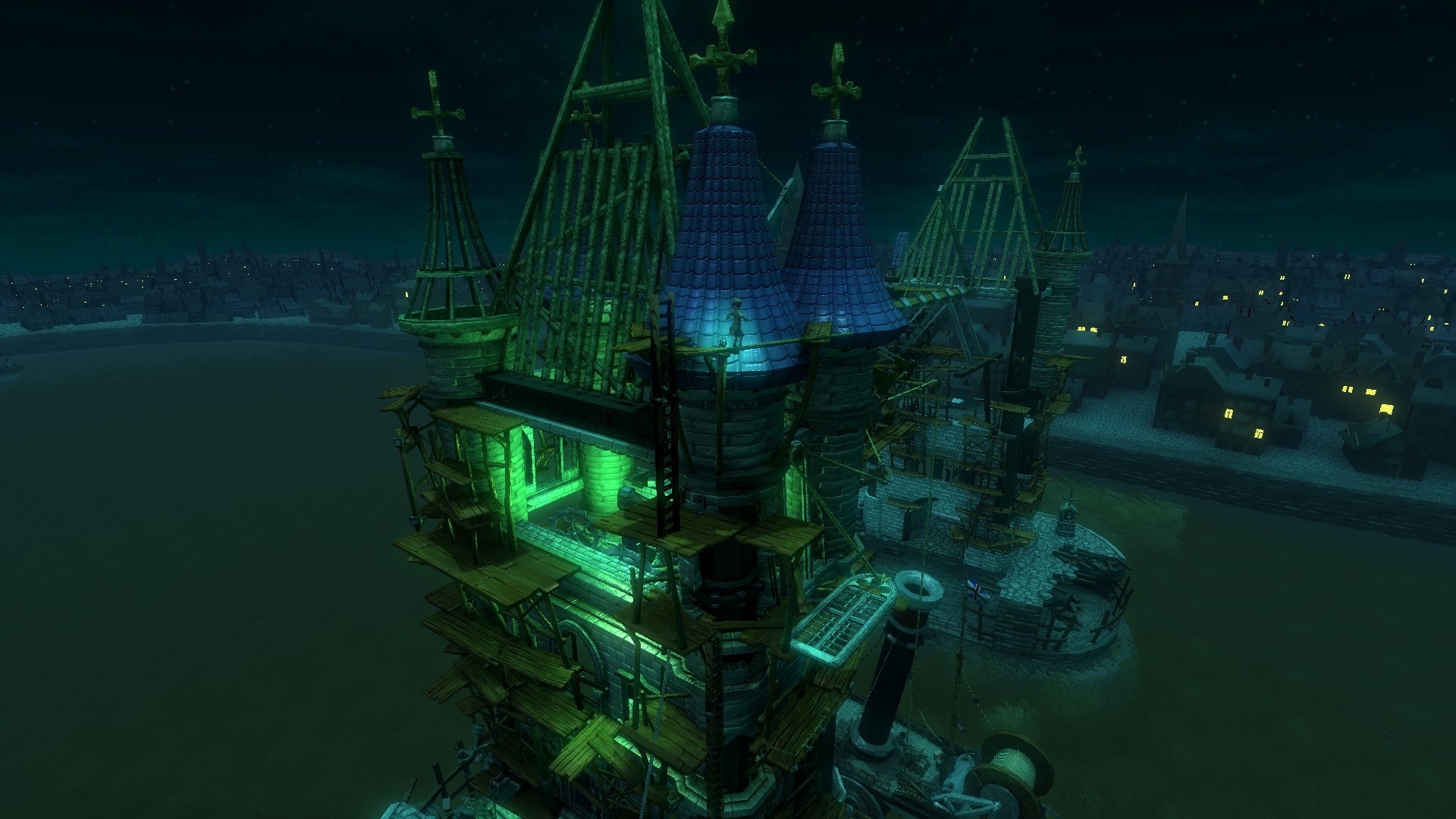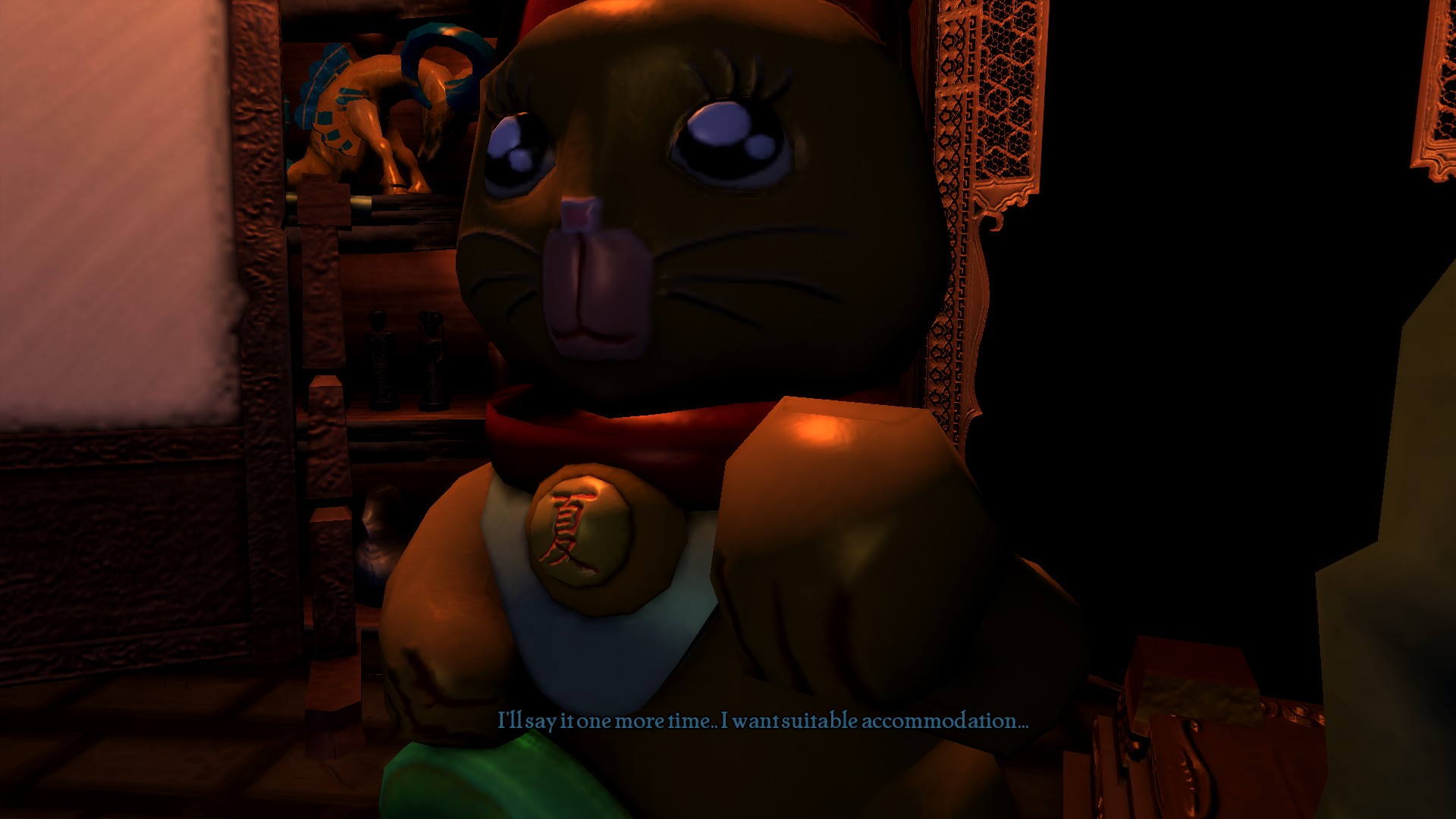 Anyway... Haunted is a point-and-click adventure game in which you find ghost companions to help you using their special abilities throughout the game. Puzzle solutions make sense and are mostly intuitive. The main reason I was interested in this game is because of the historic connection and real-life settings. One of the ghosts you get near the beginning of the game is William Wallace, the famed Scottish knight, who is haunting Tower Bridge in London. The downside is that the writing was subpar, leaving embarassing attemps at comedy that often fall flat. Despite that, I found things to enjoy throughout the game, as well as stuff that was actually funny.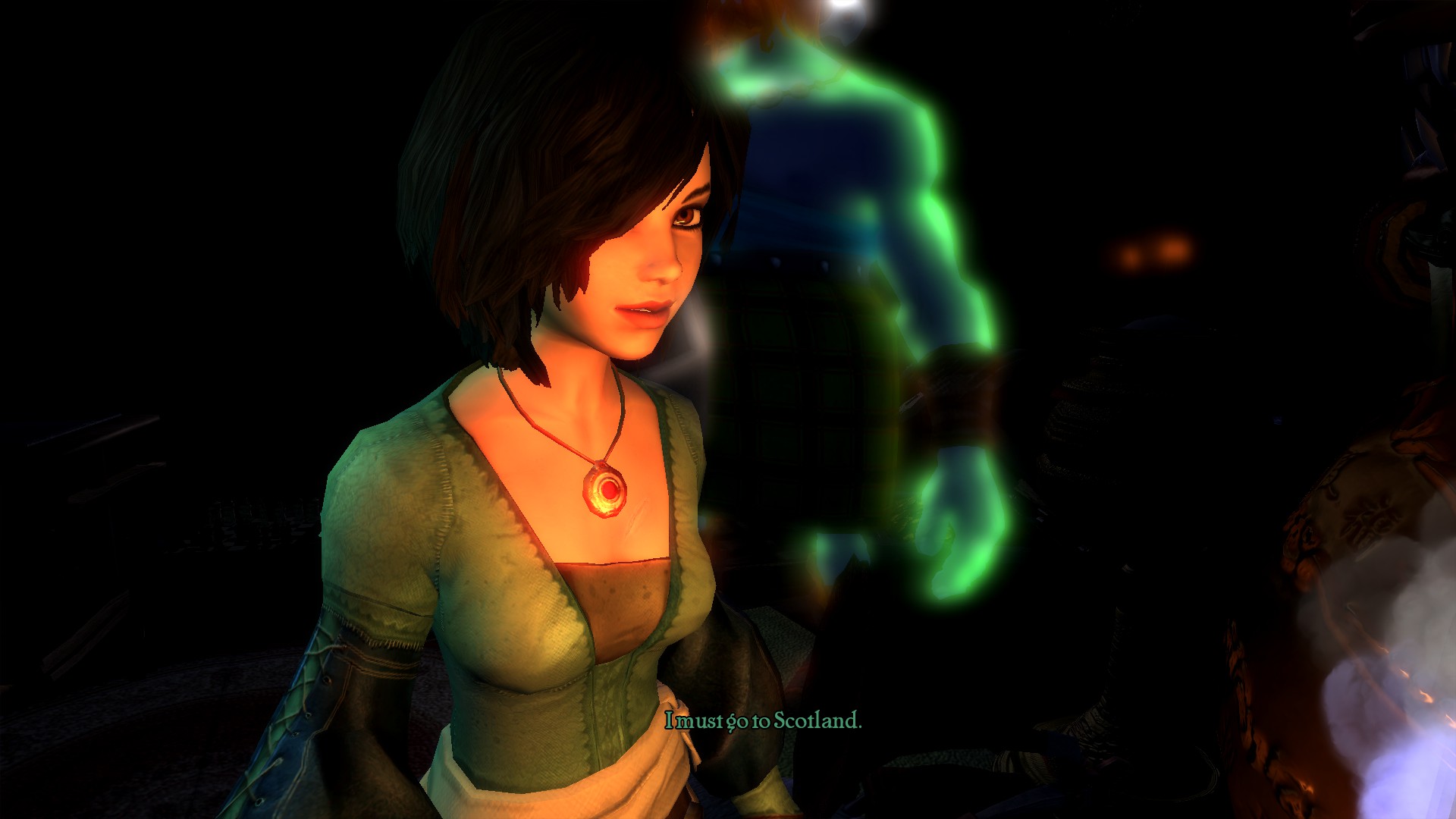 I must go to Scotland!
Holy Potatoes! We're in Space?!
This was fun for a while but dragged on for too long, though that's admittedly my own problem because I was going after 100% exploration achievements. The last few levels were the longest to complete, but by that time I had nothing more I could spend my money on. I also skipped through most story text because it was basically just random, trivial, meme-level stuff and focused on the gameplay instead. Despite that, I thought the two main characters (sisters) were characterized well. I had a hard time at the beginning but figured out most things through trial and error. Unfortunately I forgot to screenshot the set up I stuck with for most of the game, but my favorite weapon was the Jean Beam, which has a high attack power and accuracy and a 50% chance of striking twice.
Tavernier
A Playing Appreciated Steam Gifts win. It was interesting enough that I played through a few times. I tried to get all the achievements, but even with saving and reloading every week the last two achievements are difficult and frustrating. One nice thing is that you can play in two modes: a story mode, which doesn't tell you the effects of your choices, and a mangement mode that does. You could also change the style of music the bard played, which attracts different clients. The game is short, but at least two playthroughs are required to use all of the different abilities you can get.
March Totals
Games beaten and completed in March
I'm not sure how I did on the monthly challenge, either. But I should have at least 3 3rd-person games there, and if not, in Silence you switch between 3 characters. So there. As you will see below, all I could really do this month was hold back the new games from Humble Monthly and too much time on Steam Gifts.
Acquisitions
DLC doesn't techincally count towards my game totals, right?
Robinson Crusoe and the Cursed Pirates
This is the only game I beat in March that I didn't previously post about. It was also my oldest SteamGifts win that I hadn't touched. From what I can tell, it's a made-up storying involving Robinson Crusoe. While there did exist official Father Adventures of Robinson Crusoe, which I probably won't read as it seems equally pointless, the game does not follow the plot mentioned there. The gameplay was mind-numbingly repetitive, even for a HOG.
I've been playing a lot of Holy Potatoes: We're in Space in the last few days, so that should be done for the next update. I thought I would get it done sooner, but they keep sending me to more galaxies than I expected. I'm probably about 1/3 through Haunted, and if I start Alan Wake soon, I may just be able to beat all my Challenge Me! games for the month.
Acquisitions
Domina
Kingdom: New Lands
Rusty Lake: Roots
Orwell: Keeping an Eye on You
Tropico 5 + DLC
Deponia Doomsday
The Dark Eye: Chains of Satinav
Challenge Me!
20% never played
40% unfinished
40% completed
Gold Rush: Anniversary
A Challenge Me! game and Steam Gifts win. This updated "Anniversary" version was a lot easier to play, but I still forgot to get my ass in gear at the start and missed the boats and better prices before the Gold Rush officially started. I think they removed some ways you can die or get a game over. It's not as indepth as Oregon Trail, Yukon Trail, etc. The voice acting is so bad it makes me wonder why they bothered.
One thing I have to like about the game is that my city (St. Louis, Missouri) makes a brief appearance, which is a pretty rare occurence in any media. Yet at the same time, it's disappointing (and anachronistic and a waste of an opportunity) that it only mentioned we were passing through the city without giving any historical tidbit like it did for everywhere else mentioned. Independence, Missouri, and Coloma, California get somewhat better treatment, but none are as full and interactive as the starting area of New Jersey is.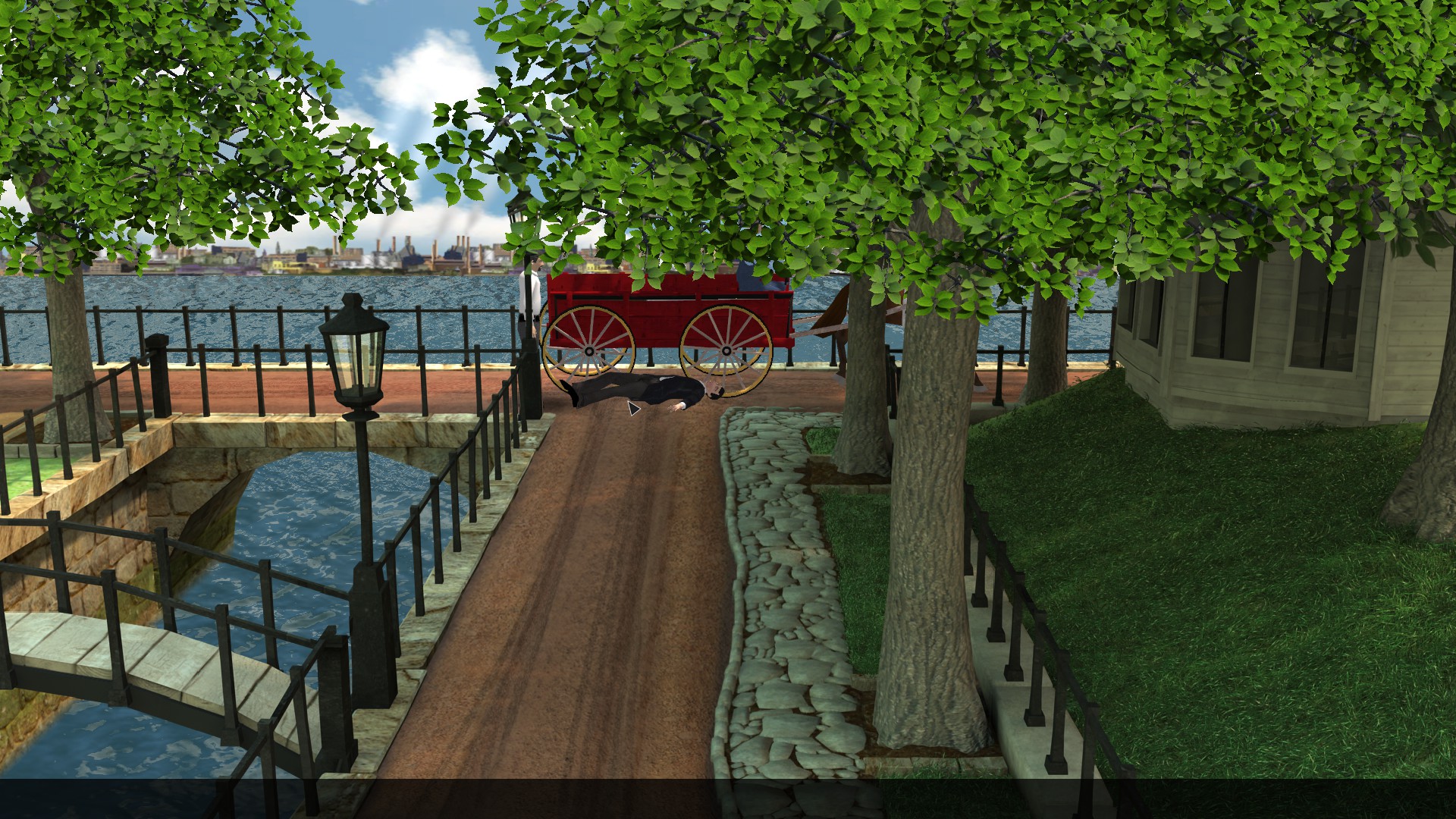 A cool thing that you may not notice until it's revealed at the end is that you play the (fictional) brother of James W. Marshall, the man who found the gold that began the California Gold Rush in 1848. You also go to his cabin near the end of the game, and the real-life version appears to be pictured on his Wikipedia page.
The Inner World
A late Challenge Me! game from last month. This was better than I initially wanted to admit (I was turned off by the character design). It was pretty short but had a decent story packed in there -- in a way like Quasimodo getting out into the world except turning into a completely different story with Sleeping Beauty elements. Your character's nose is a musical instrument (a flute), which can be played, but this mechanic is only used a few times.
Antichamber
A Challenge Me! game. It's not my favorite kind of game, but I did finish it with a few outside hints. One nice thing about it is that you get new abilities as the game goes on, which allows you to go back and get through areas you couldn't or didn't know how to solve before. It was sometimes frustrating because I felt like I kept ending up back at the same crossroads.
I think I can still beat about two short games I'm working on by the end of the month. I'm still playing Pillars of Eternity, since I take forever to explore maps.
Acquisitions
Small Town Terrors: Livingston
Small Town Terrors Pilgrim's Hook
Aviary Attorney
Last Day of June
Holy Potatoes! We're in Space?!
Alter Ego
Midnight Mysteries: Witches of Abraham
Gold Rush! Anniversary
Black Sails - The Ghost Ship
Beyond Eyes
Kholat
Challenge Me!
20% never played
40% unfinished
40% completed
Evoland 2
A Challenge Me! game. Also fits the monthly theme I think for being in the 3rd person. It was fun overall, and the older graphics for past time traveling/better graphics for future was a really good idea. Lots of different gameplay styles are used for different dungeons/areas of the game, including the gameplay styles of Castlevania, strategy RPG, and even Bejeweled and Guitar Hero. I didn't always like the genre, but at least the game doesn't keep the same thing for very long. On the other hand, none of those gameplay systems or battle styles are developed throughout the game in any way. I loved the time traveling and the vehicles on the overworld map like in classic JRPGs. The story was also pretty weird and different (even surprisingly serious at some points) where it could have been generic.
Silence
I didn't like this as much as the first game, The Whispered World (which I wrote about here. I won it on Steam Gifts from a Playing Appreciated giveaway. I think it also counts as a game with 3 characters you can play as/switch between for the monthly theme. It's also 3rd person.
I played through it a second time to get all of the achievements and liked it more that time, though the story still felt incomplete. I noticed the Sadwick parts of Noah a little more. The background story to the game (an orphaned boy and his younger sister hiding out from the sustained bombing of their city) reminded me of a great (and serious) anime film animated by Studio Ghibli called Grave of the Fireflies. Anyway, this is a lazier update than warranted because I have to work in the morning and want to work on Pillars of Eternity a little before bed.
February Totals
Games beaten and completed in February
My numbers could have been a little better this month, but I've been playing Pillars of Eternity (still), and I also started a couple of Challenge Me! games (Terraria and Evoland 2). Several of the added games are free games I've been interested in that I added to my library to make it easier to find them, so that's not as bad as it looks.
Acquisitions
Haunted
Mata Hari
Kathy Rain
Dark Souls 3 + Ashes of Ariandel DLC
I finally decided to try Humble Monthly, so this better be good tomorrow.
Challenge Me!
40% never played
40% never played
20% completed
I haven't posted about two of my completed February games yet. I wrote about the other games in previous posts.
Fall of the New Age
A sort-of HOG (there were very few actual HOG scenes) that has a few interesting mechanics, such as collecting items to disguise your character. You don't get a choice about the disguises, but they're kind of fun anyway. Some outfit pieces need to be repaired or assembled. You also have a slingshot you can use to hit some objects (usually people though). A ferret dances around and gives you hints when you click on him. Cutscene graphics were decent for this sort of game.
Murdered: Soul Suspect
ABC List 27 games
74% never played
15% unfinished
11% completed
msboring27 and I played this for the monthly theme, but it was also on my ABC list and highly recommended by a couple of people on here. I actually got this game basically free a few years ago because of a price glitch on these AMD Radeon gold reward vouchers, which you are supposed to get when you buy a graphics card. Newegg was selling the vouchers alone for a dollar. I think it's the only price error I've ever managed to take advantage of, and it was great, because I was able to buy several of those vouchers for me and other people.
I really liked this game. I didn't know what to expect from it, having never read about, watched trailers, or even read reviews. Playing as a ghost, you get to do a lot of things you can't normally do in games, such as just run right through that wall or fence. There are some restrictions to that that have story-related explanations. There are several other abilities, but I won't spoil them.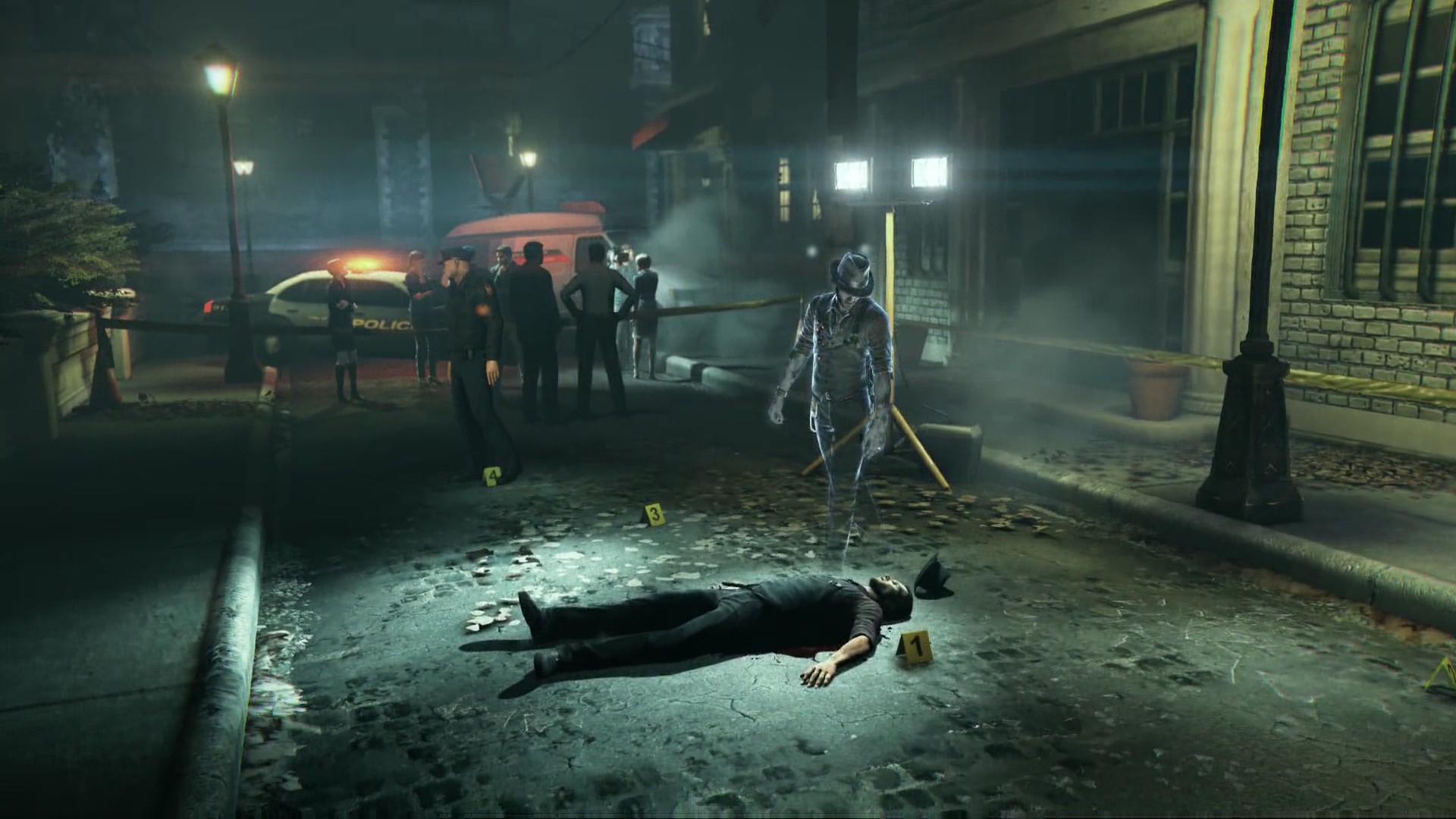 The game is set in Salem, Massachusetts, and it takes pretty good advantage of its setting. While the witch hunts get a lot of attention, the game honors some more obscure aspects of Salem's local history, including the 1904 wreck of the Monohansett in Salem Harbor. I went to Salem on a school trip in jr. high and am probably going to visit there when I'm in the Boston area for a few days later this year, so running around through the semi-open world of Murdered: Soul Suspect helped me get kinda hype, too.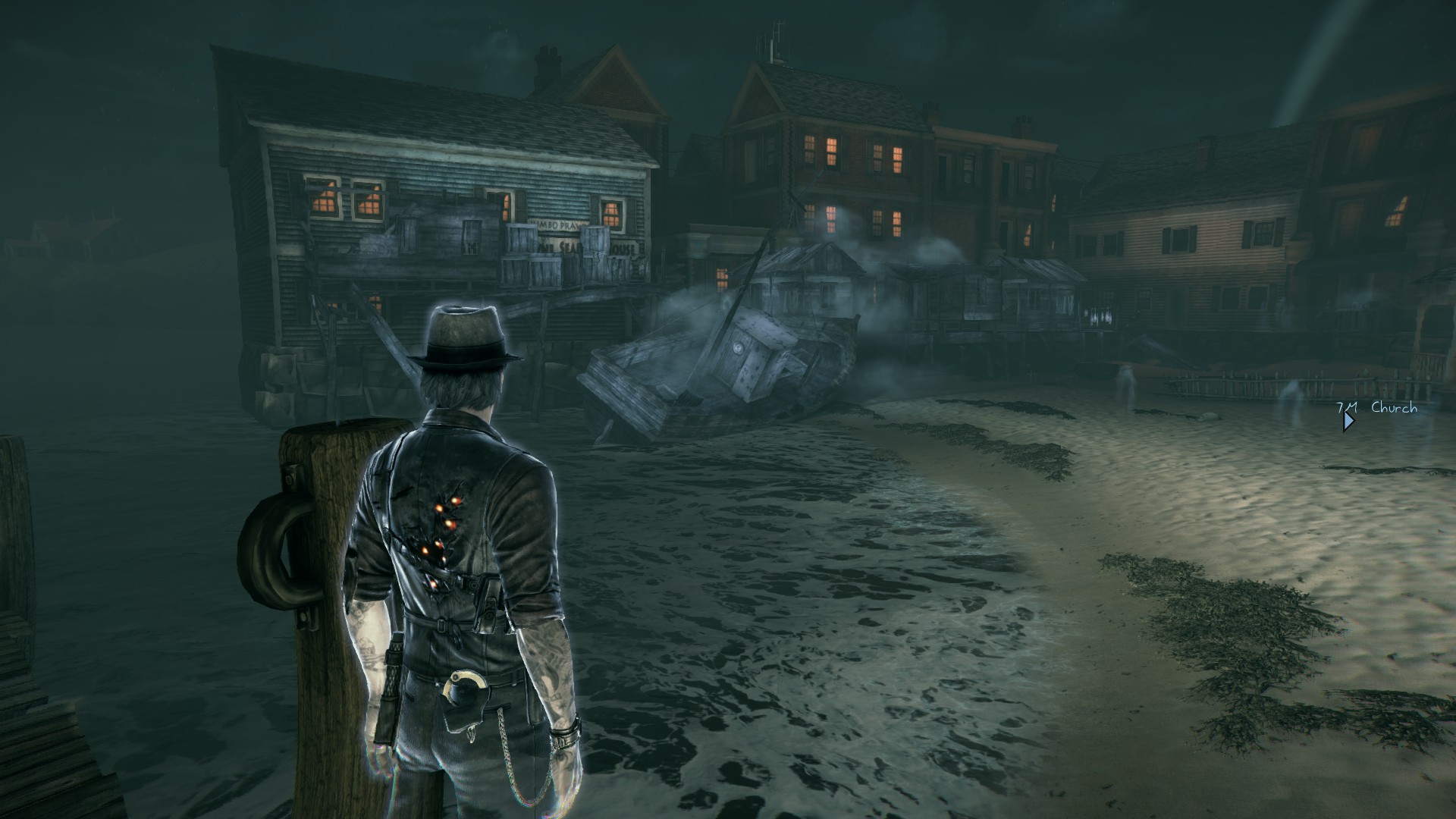 One of my favorite things in the game are the ghost stories you can unlock by finding certain items in each story location. It was always fun to see what kind of creepy story you were going to hear at the end. Another thing I like are the sidequests that have you helping other ghosts, but there were unfortunately few of these, and all could be done shortly after starting the game. I think the major criticism msboring and I shared throughout our time playing this is that we wanted more development of the side characters.