Trilled Meow's profile
---
Acquisitions
DreadOut
Tavernier
God Eater Ressurection
God Eater 2 Rage Burst
Outlast 2
Lara Croft GO
AER Memories of Old
Dungeon of the Endless
Challenge Me!
20% unfinished
20% unfinished
60% completed
Haunted
At Least Somewhat Historic England Scotland Victorian Won on SteamGifts
Steamgifts win and Challenge Me! game. I didn't play it nearly as long as it shows. One night I closed the game, went to bed, then went to work. A few hours after getting home I put my headset on to watch a video, when I realized something was already playing through the headset. That's when I found that this f'n game was stealthily running, and the Steam game time now shows an extra 24+ hours.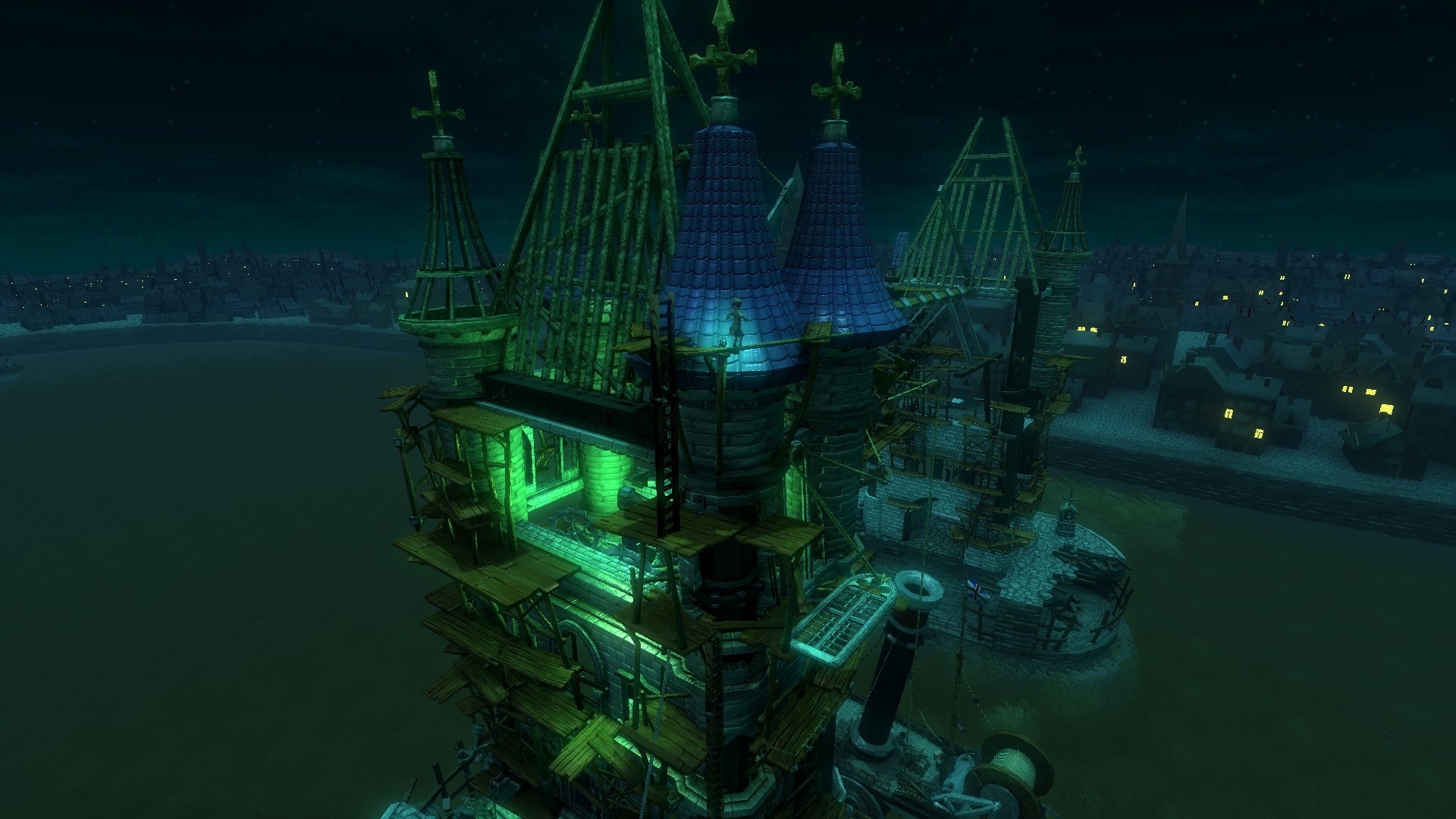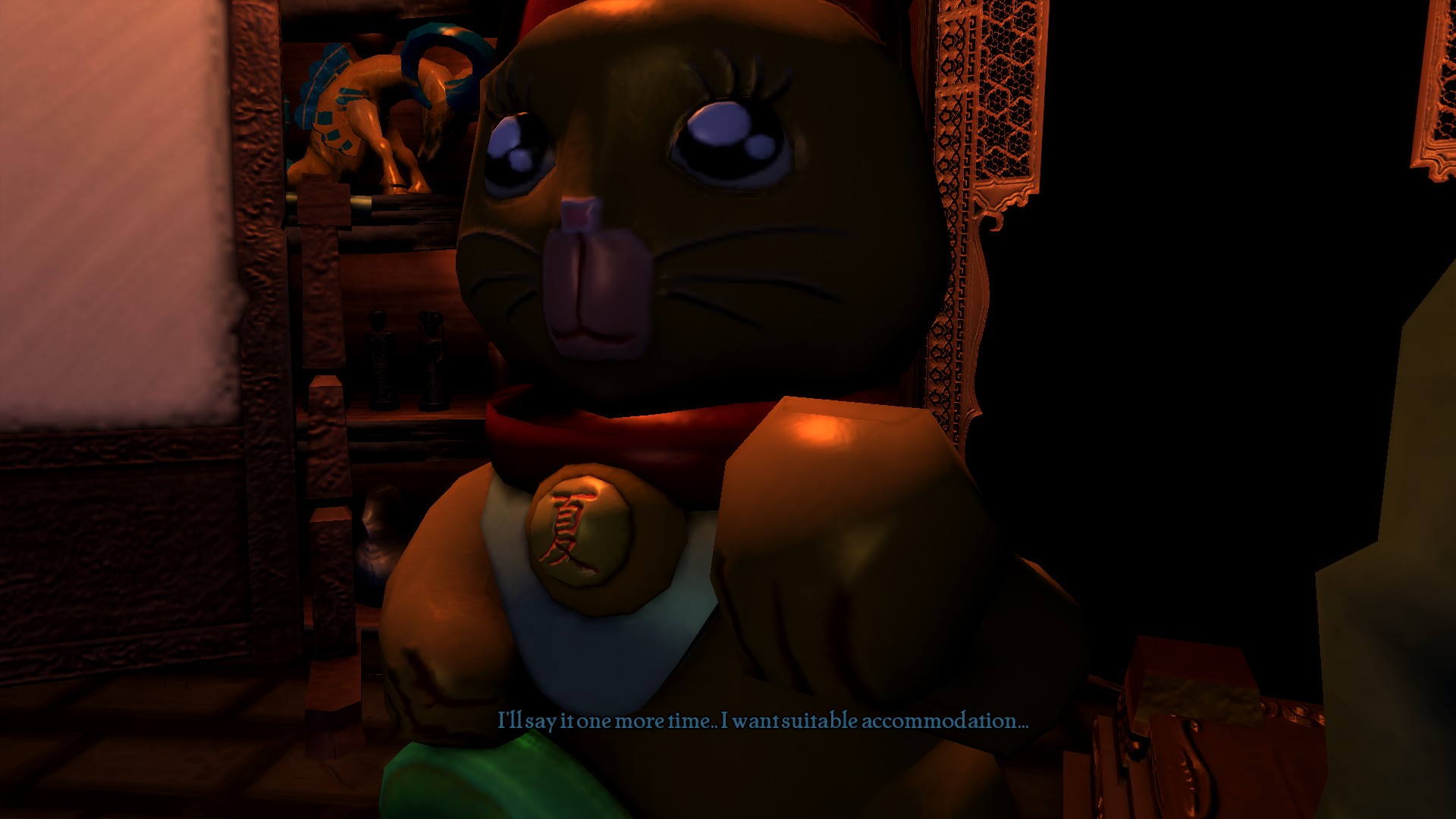 Anyway... Haunted is a point-and-click adventure game in which you find ghost companions to help you using their special abilities throughout the game. Puzzle solutions make sense and are mostly intuitive. The main reason I was interested in this game is because of the historic connection and real-life settings. One of the ghosts you get near the beginning of the game is William Wallace, the famed Scottish knight, who is haunting Tower Bridge in London. The downside is that the writing was subpar, leaving embarassing attemps at comedy that often fall flat. Despite that, I found things to enjoy throughout the game, as well as stuff that was actually funny.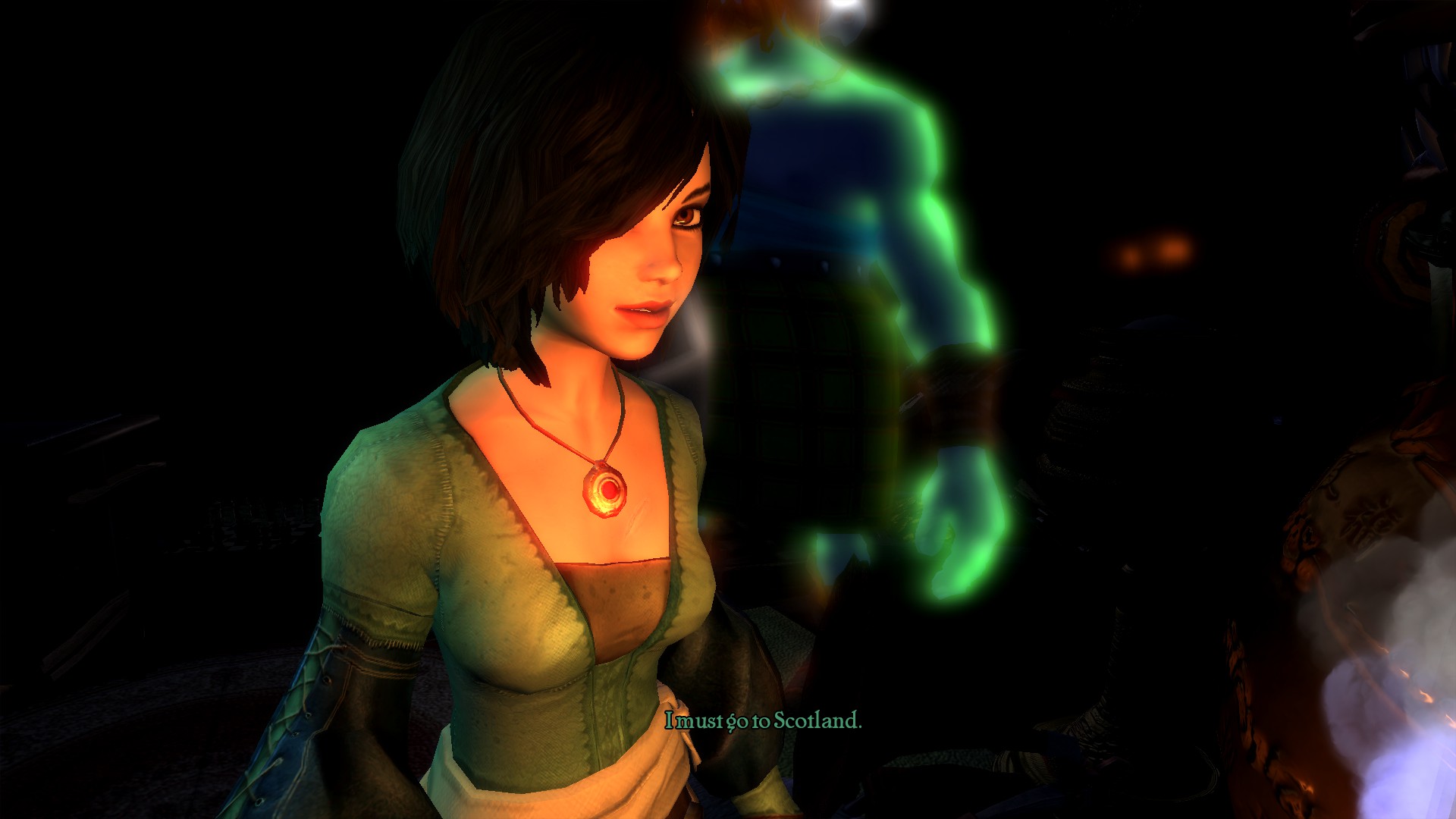 I must go to Scotland!
Holy Potatoes! We're in Space?!
This was fun for a while but dragged on for too long, though that's admittedly my own problem because I was going after 100% exploration achievements. The last few levels were the longest to complete, but by that time I had nothing more I could spend my money on. I also skipped through most story text because it was basically just random, trivial, meme-level stuff and focused on the gameplay instead. Despite that, I thought the two main characters (sisters) were characterized well. I had a hard time at the beginning but figured out most things through trial and error. Unfortunately I forgot to screenshot the set up I stuck with for most of the game, but my favorite weapon was the Jean Beam, which has a high attack power and accuracy and a 50% chance of striking twice.
Tavernier
A Playing Appreciated Steam Gifts win. It was interesting enough that I played through a few times. I tried to get all the achievements, but even with saving and reloading every week the last two achievements are difficult and frustrating. One nice thing is that you can play in two modes: a story mode, which doesn't tell you the effects of your choices, and a mangement mode that does. You could also change the style of music the bard played, which attracts different clients. The game is short, but at least two playthroughs are required to use all of the different abilities you can get.
March Totals
Games beaten and completed in March
I'm not sure how I did on the monthly challenge, either. But I should have at least 3 3rd-person games there, and if not, in Silence you switch between 3 characters. So there. As you will see below, all I could really do this month was hold back the new games from Humble Monthly and too much time on Steam Gifts.
Acquisitions
DLC doesn't techincally count towards my game totals, right?
Robinson Crusoe and the Cursed Pirates
This is the only game I beat in March that I didn't previously post about. It was also my oldest SteamGifts win that I hadn't touched. From what I can tell, it's a made-up storying involving Robinson Crusoe. While there did exist official Father Adventures of Robinson Crusoe, which I probably won't read as it seems equally pointless, the game does not follow the plot mentioned there. The gameplay was mind-numbingly repetitive, even for a HOG.
I've been playing a lot of Holy Potatoes: We're in Space in the last few days, so that should be done for the next update. I thought I would get it done sooner, but they keep sending me to more galaxies than I expected. I'm probably about 1/3 through Haunted, and if I start Alan Wake soon, I may just be able to beat all my Challenge Me! games for the month.
Acquisitions
Domina
Kingdom: New Lands
Rusty Lake: Roots
Orwell: Keeping an Eye on You
Tropico 5 + DLC
Deponia Doomsday
The Dark Eye: Chains of Satinav
Challenge Me!
20% never played
40% unfinished
40% completed
Gold Rush: Anniversary
A Challenge Me! game and Steam Gifts win. This updated "Anniversary" version was a lot easier to play, but I still forgot to get my ass in gear at the start and missed the boats and better prices before the Gold Rush officially started. I think they removed some ways you can die or get a game over. It's not as indepth as Oregon Trail, Yukon Trail, etc. The voice acting is so bad it makes me wonder why they bothered.
One thing I have to like about the game is that my city (St. Louis, Missouri) makes a brief appearance, which is a pretty rare occurence in any media. Yet at the same time, it's disappointing (and anachronistic and a waste of an opportunity) that it only mentioned we were passing through the city without giving any historical tidbit like it did for everywhere else mentioned. Independence, Missouri, and Coloma, California get somewhat better treatment, but none are as full and interactive as the starting area of New Jersey is.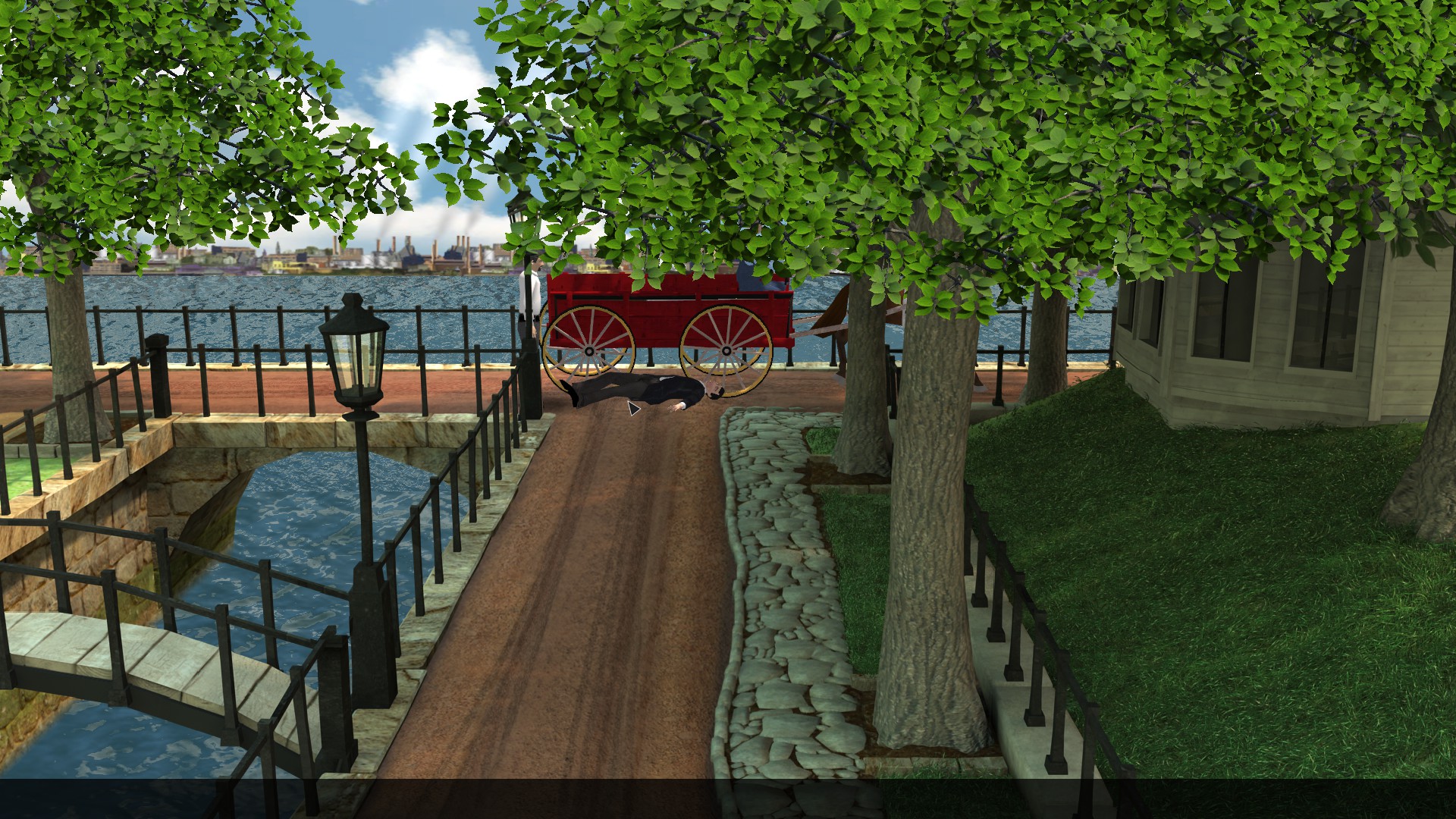 A cool thing that you may not notice until it's revealed at the end is that you play the (fictional) brother of James W. Marshall, the man who found the gold that began the California Gold Rush in 1848. You also go to his cabin near the end of the game, and the real-life version appears to be pictured on his Wikipedia page.
The Inner World
A late Challenge Me! game from last month. This was better than I initially wanted to admit (I was turned off by the character design). It was pretty short but had a decent story packed in there -- in a way like Quasimodo getting out into the world except turning into a completely different story with Sleeping Beauty elements. Your character's nose is a musical instrument (a flute), which can be played, but this mechanic is only used a few times.
Antichamber
A Challenge Me! game. It's not my favorite kind of game, but I did finish it with a few outside hints. One nice thing about it is that you get new abilities as the game goes on, which allows you to go back and get through areas you couldn't or didn't know how to solve before. It was sometimes frustrating because I felt like I kept ending up back at the same crossroads.
I think I can still beat about two short games I'm working on by the end of the month. I'm still playing Pillars of Eternity, since I take forever to explore maps.
Acquisitions
Small Town Terrors: Livingston
Small Town Terrors Pilgrim's Hook
Aviary Attorney
Last Day of June
Holy Potatoes! We're in Space?!
Alter Ego
Midnight Mysteries: Witches of Abraham
Gold Rush! Anniversary
Black Sails - The Ghost Ship
Beyond Eyes
Kholat
Challenge Me!
20% never played
40% unfinished
40% completed
Evoland 2
A Challenge Me! game. Also fits the monthly theme I think for being in the 3rd person. It was fun overall, and the older graphics for past time traveling/better graphics for future was a really good idea. Lots of different gameplay styles are used for different dungeons/areas of the game, including the gameplay styles of Castlevania, strategy RPG, and even Bejeweled and Guitar Hero. I didn't always like the genre, but at least the game doesn't keep the same thing for very long. On the other hand, none of those gameplay systems or battle styles are developed throughout the game in any way. I loved the time traveling and the vehicles on the overworld map like in classic JRPGs. The story was also pretty weird and different (even surprisingly serious at some points) where it could have been generic.
Silence
I didn't like this as much as the first game, The Whispered World (which I wrote about here. I won it on Steam Gifts from a Playing Appreciated giveaway. I think it also counts as a game with 3 characters you can play as/switch between for the monthly theme. It's also 3rd person.
I played through it a second time to get all of the achievements and liked it more that time, though the story still felt incomplete. I noticed the Sadwick parts of Noah a little more. The background story to the game (an orphaned boy and his younger sister hiding out from the sustained bombing of their city) reminded me of a great (and serious) anime film animated by Studio Ghibli called Grave of the Fireflies. Anyway, this is a lazier update than warranted because I have to work in the morning and want to work on Pillars of Eternity a little before bed.
February Totals
Games beaten and completed in February
My numbers could have been a little better this month, but I've been playing Pillars of Eternity (still), and I also started a couple of Challenge Me! games (Terraria and Evoland 2). Several of the added games are free games I've been interested in that I added to my library to make it easier to find them, so that's not as bad as it looks.
Acquisitions
Haunted
Mata Hari
Kathy Rain
Dark Souls 3 + Ashes of Ariandel DLC
I finally decided to try Humble Monthly, so this better be good tomorrow.
Challenge Me!
40% never played
40% never played
20% completed
I haven't posted about two of my completed February games yet. I wrote about the other games in previous posts.
Fall of the New Age
A sort-of HOG (there were very few actual HOG scenes) that has a few interesting mechanics, such as collecting items to disguise your character. You don't get a choice about the disguises, but they're kind of fun anyway. Some outfit pieces need to be repaired or assembled. You also have a slingshot you can use to hit some objects (usually people though). A ferret dances around and gives you hints when you click on him. Cutscene graphics were decent for this sort of game.
Murdered: Soul Suspect
ABC List 27 games
74% never played
15% unfinished
11% completed
msboring27 and I played this for the monthly theme, but it was also on my ABC list and highly recommended by a couple of people on here. I actually got this game basically free a few years ago because of a price glitch on these AMD Radeon gold reward vouchers, which you are supposed to get when you buy a graphics card. Newegg was selling the vouchers alone for a dollar. I think it's the only price error I've ever managed to take advantage of, and it was great, because I was able to buy several of those vouchers for me and other people.
I really liked this game. I didn't know what to expect from it, having never read about, watched trailers, or even read reviews. Playing as a ghost, you get to do a lot of things you can't normally do in games, such as just run right through that wall or fence. There are some restrictions to that that have story-related explanations. There are several other abilities, but I won't spoil them.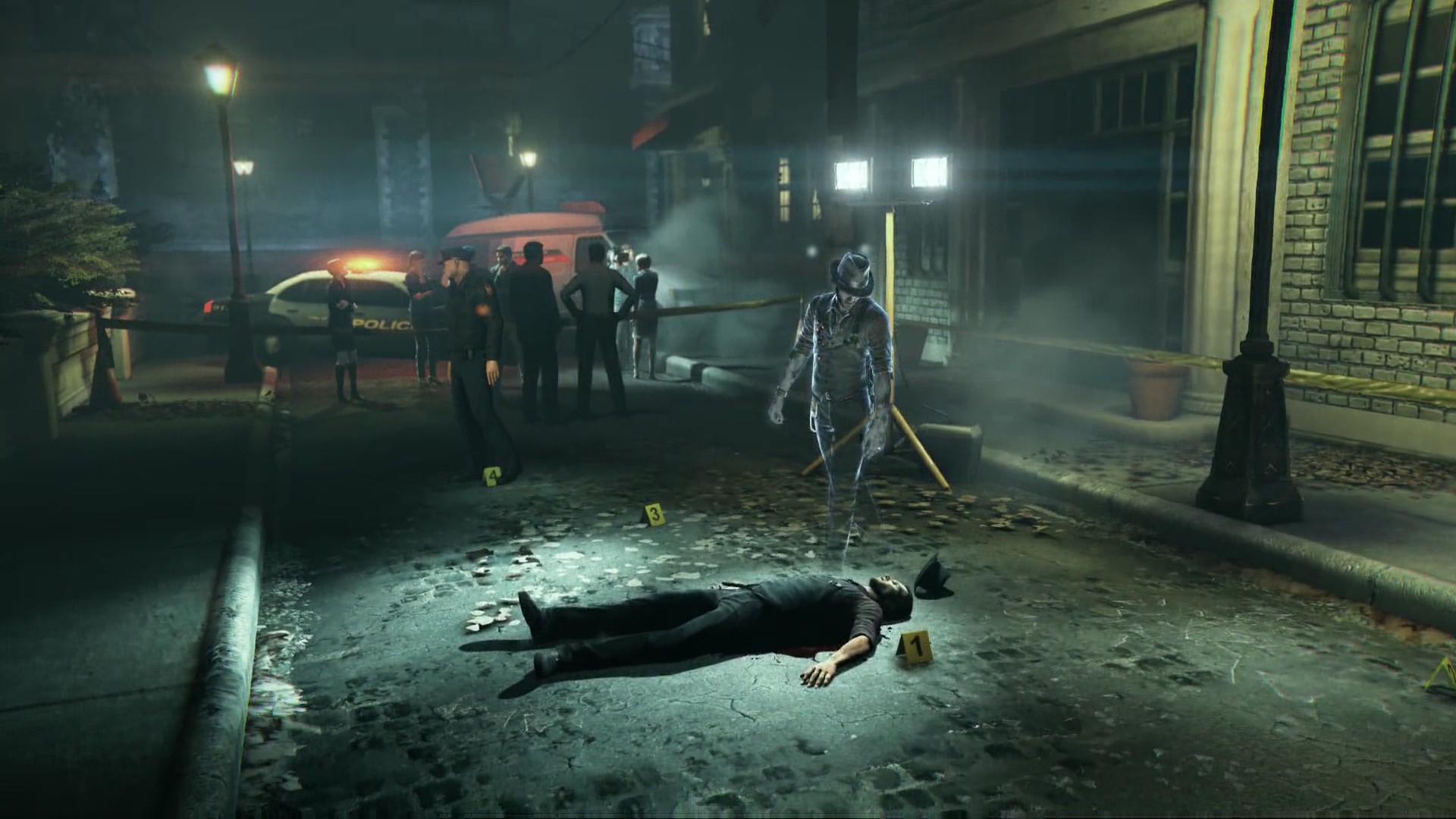 The game is set in Salem, Massachusetts, and it takes pretty good advantage of its setting. While the witch hunts get a lot of attention, the game honors some more obscure aspects of Salem's local history, including the 1904 wreck of the Monohansett in Salem Harbor. I went to Salem on a school trip in jr. high and am probably going to visit there when I'm in the Boston area for a few days later this year, so running around through the semi-open world of Murdered: Soul Suspect helped me get kinda hype, too.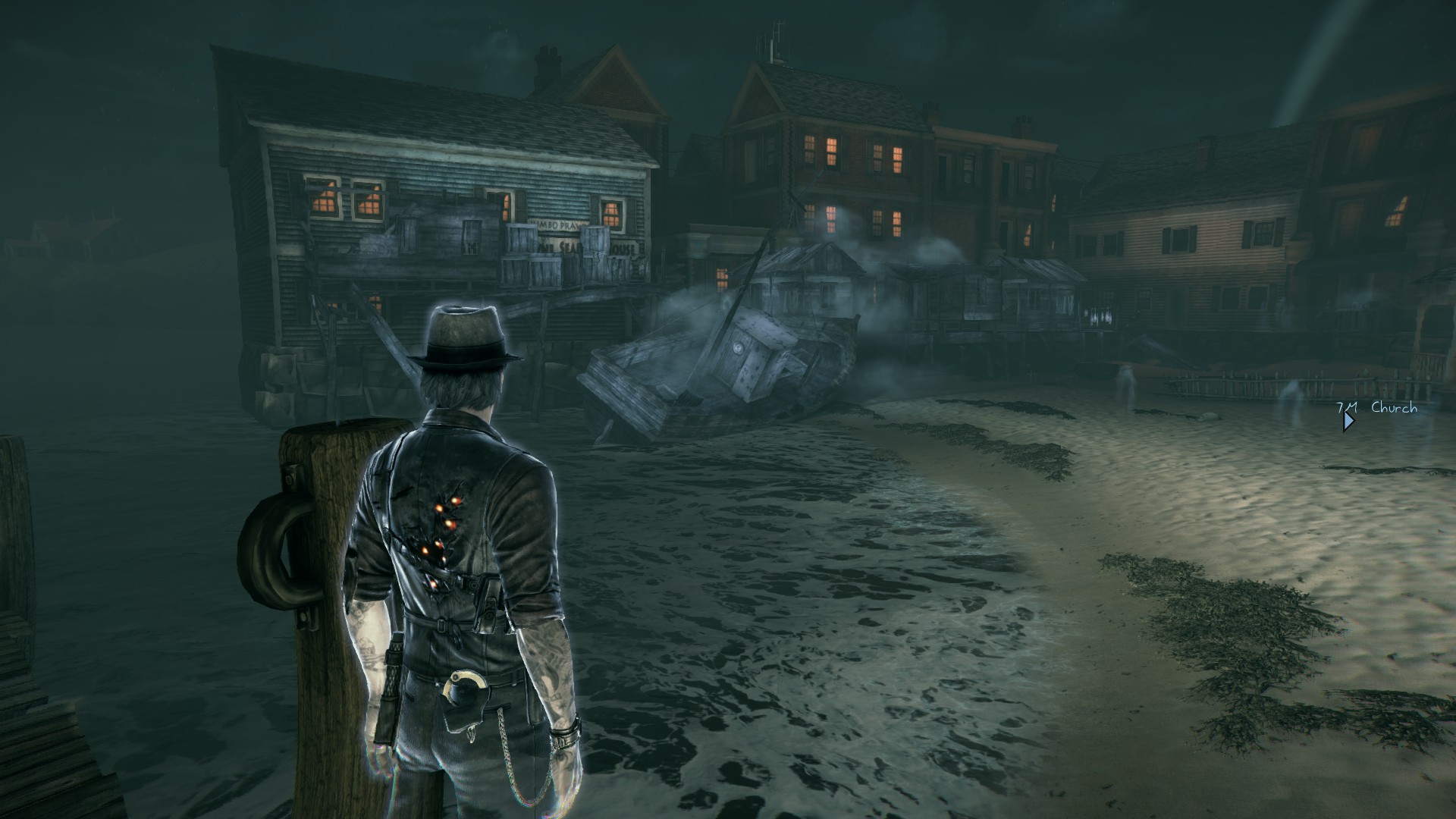 One of my favorite things in the game are the ghost stories you can unlock by finding certain items in each story location. It was always fun to see what kind of creepy story you were going to hear at the end. Another thing I like are the sidequests that have you helping other ghosts, but there were unfortunately few of these, and all could be done shortly after starting the game. I think the major criticism msboring and I shared throughout our time playing this is that we wanted more development of the side characters.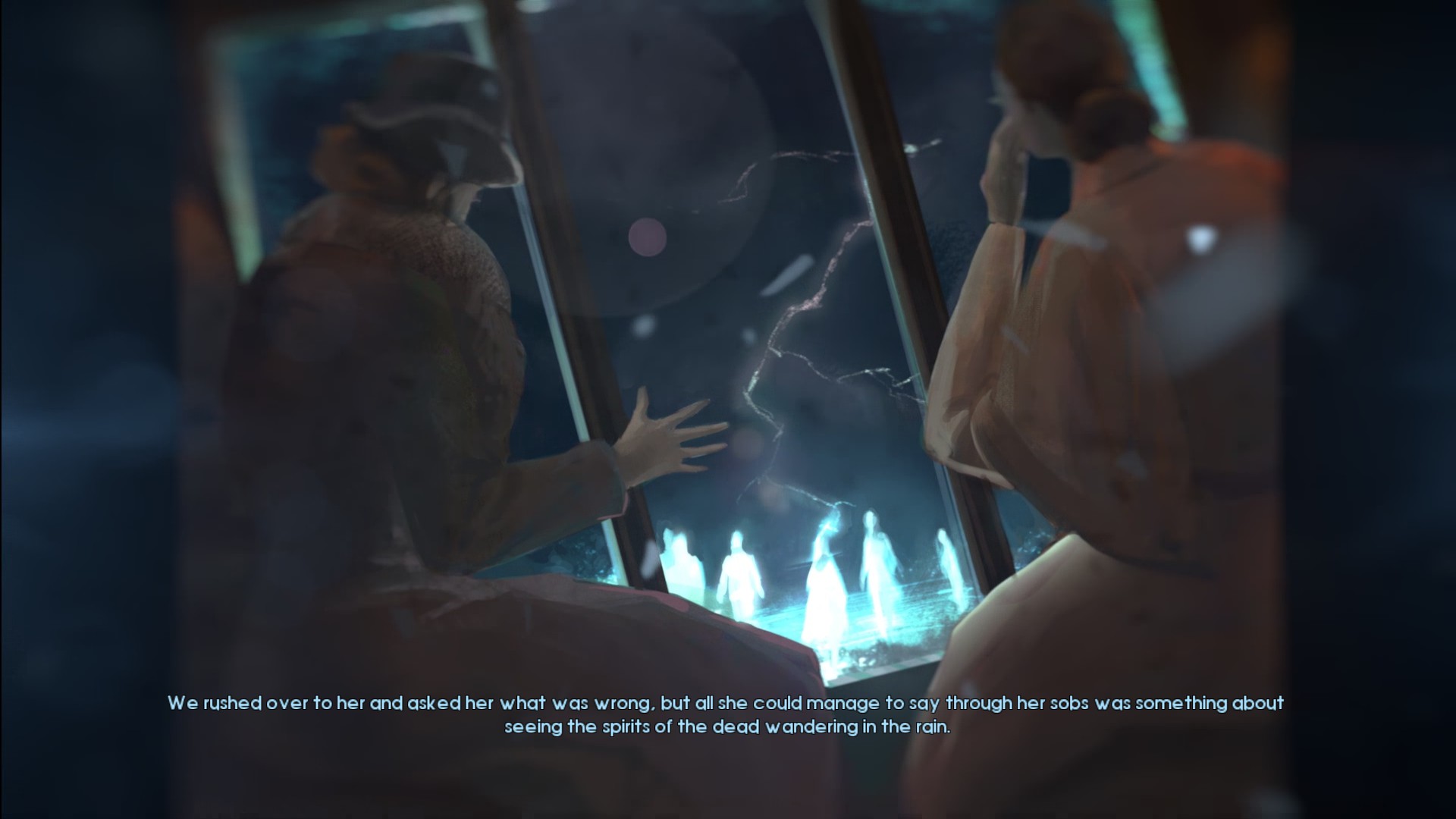 Acquisitions
Challenge Me!
60% never played
20% never played
20% completed
Not a lot of progress in number of games completed because I've been playing Pillars of Eternity, too.
The Whispered World: Special Edition
This was pretty good. I wanted to finish it before starting Silence. The main character is named Sadwick, a clown who is always saying depressing things, which tend to be a source of humor. Literally anything you click, Sadwick will immediately ruin the mood. He screws everything up, and now finds out through a prophecy that he will destroy the world. A lot of people complain about his English voice actor (which to my ears sounds like a sad Cartman from South Park), but I think such a stupid voice is really fitting. He's supposed to be a kid anyway. I didn't listen to the original German voice actor to compare.
I had some issues with clicking in the beginning (which I also saw lots of complaints about on the Steam forum), but I guess I eventually figured out the rythm and stopped having issues (I think you just have to double click to bring the contextual menu up). The story is good, and I was interested in what would happen the whole time. The cutscenes remind me of stuff I watched as a kid. The music is surprisingly good too -- the main theme especially got me excited to play. Puzzle solutions are often depraved as I've come to expect from Daedelic and may require a walkthrough from time to time unless you're as sick-minded as they are.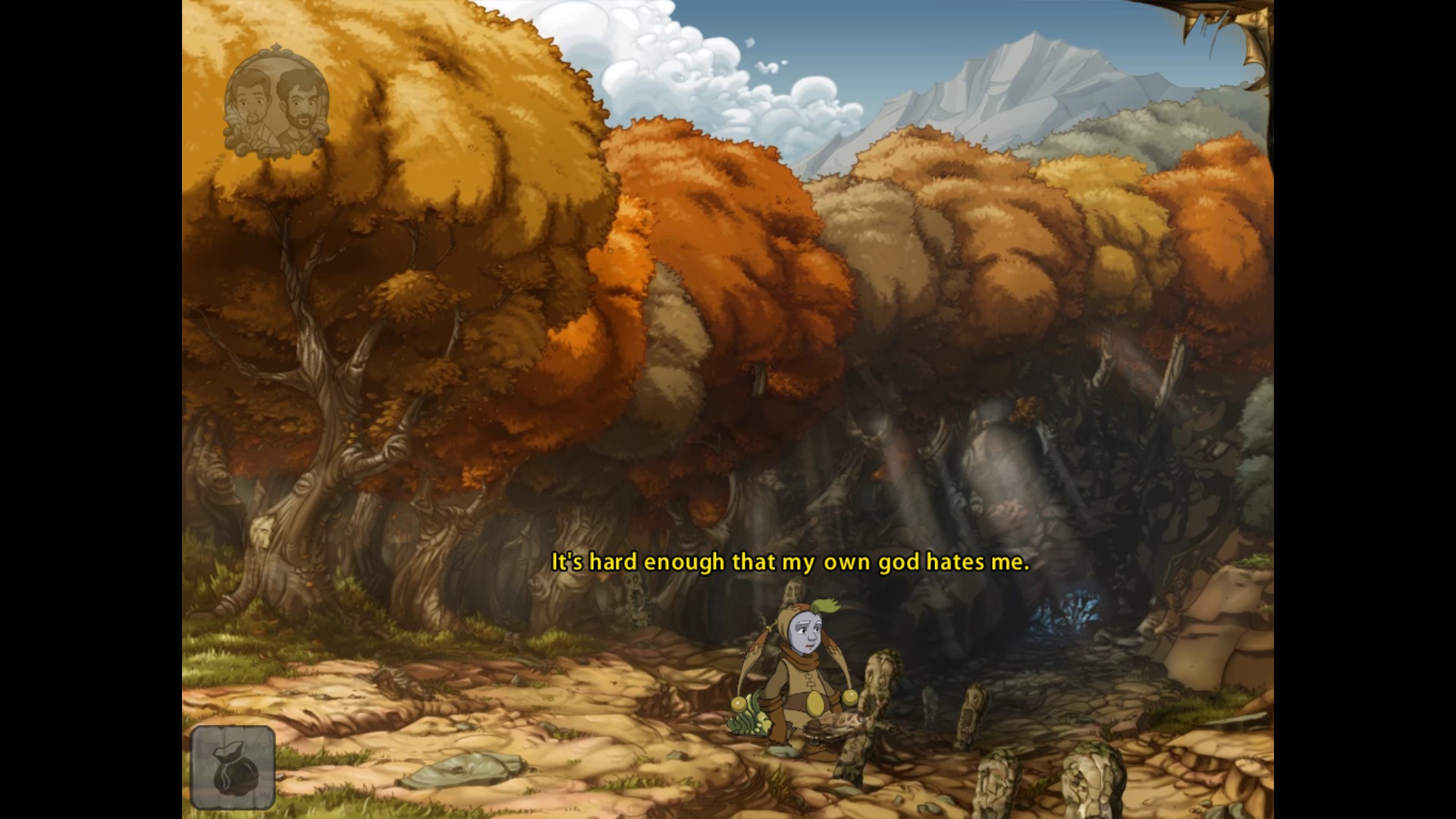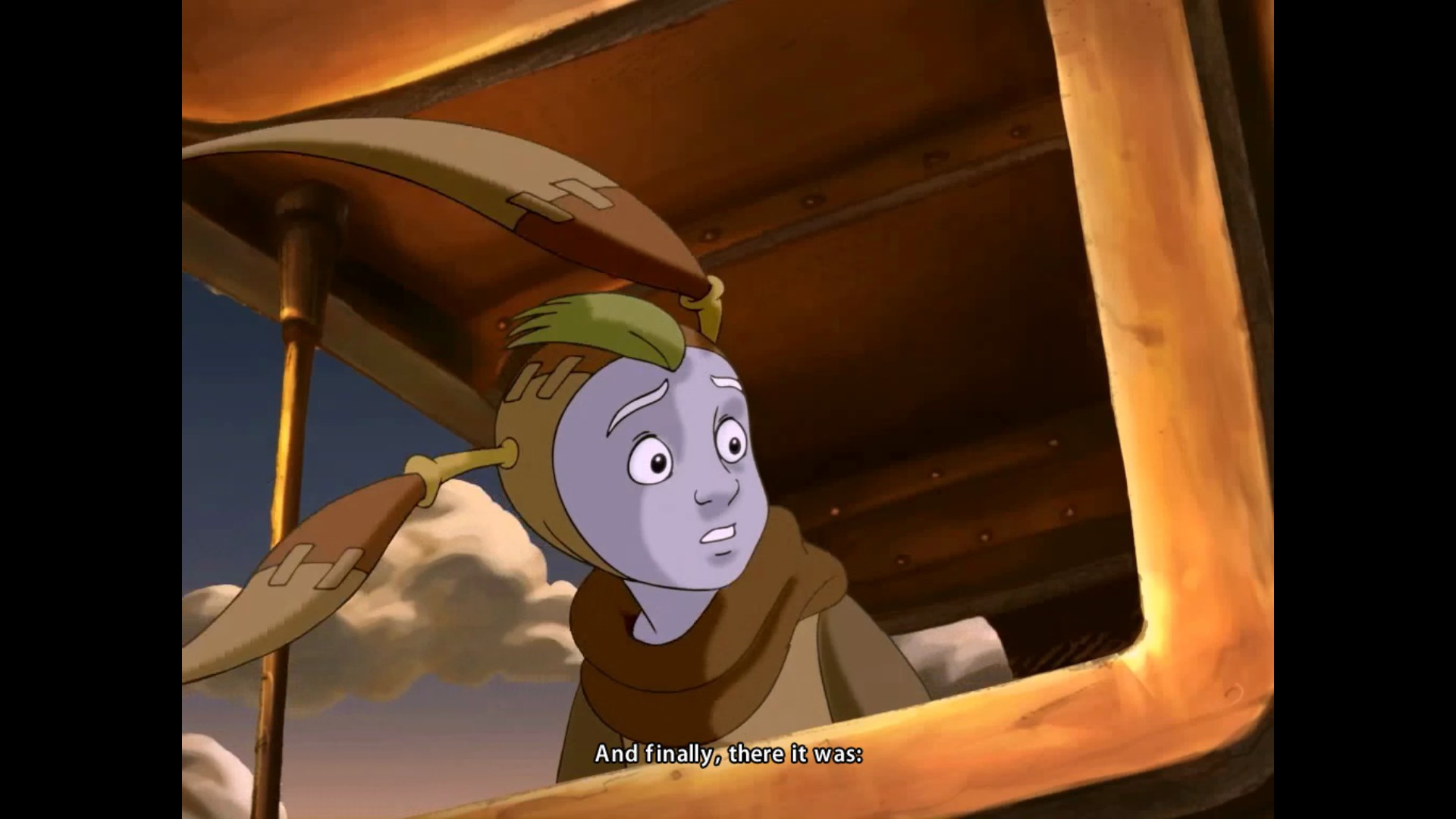 The Adventures of Robinson Crusoe
I had never read Robinson Crusoe, even though I read a lesser-known work of Defoe's (Moll Flanders -- highly recommended btw). I couldn't let some HOG spoil a book for me so decided to read it before playing. The book itself is...fairly uneventful, mostly comprised of Crusoe's descriptions of trying to make things and being paranoid. And it's probably best he was alone for so long, because he generally sounded like a blatant ass when he mentioned anything about other people. When starting the game, a couple of similarities and differences were immediately noticeable:
Two cats? Check. Dog? Check. Crusoe had a pretty large collection of "creatures" by the end, but Pol the parrot is noticeably missing from the game. Not that he came up more than twice in the book, but he was at least as important as the cats and dogs.
Crusoe is often shown shirtless, but the book leaves me to believe he was more like to go pantless than shirtless.
The story lends itself well to HOG-like tasks, being almost 30 years of Crusoe collecting and making things. As expected, the first task in the game is to collect items from your wrecked ship, but strangely we don't build our "castle" with its "cave," something Crusoe spent years doing.
He announces his main goal is to build a ship and return back home soon after the game starts. In the book, Crusoe leaves on a ship that randomly stopped on the island. Not one he built. He wasn't even trying to do that.
By the end, the story had come completely off the rails, which is forgiveable because the developers were obviously trying to give Friday more of a role. Friday is the native Crusoe immediately seeks to make his slave, btw. And the end of the book is boring anyway (not that the game's pointless ancient caves were any less so). Also the graphics were shit, and I couldn't tell what the crappy-looking items were. Crusoe's lesson against unnecessary folly played no role in the game, probably too "dark" or something for a cash-grab HOG.
In summary: Robinson Crusoe is alright, but just read Moll Flanders instead.
Asphyxia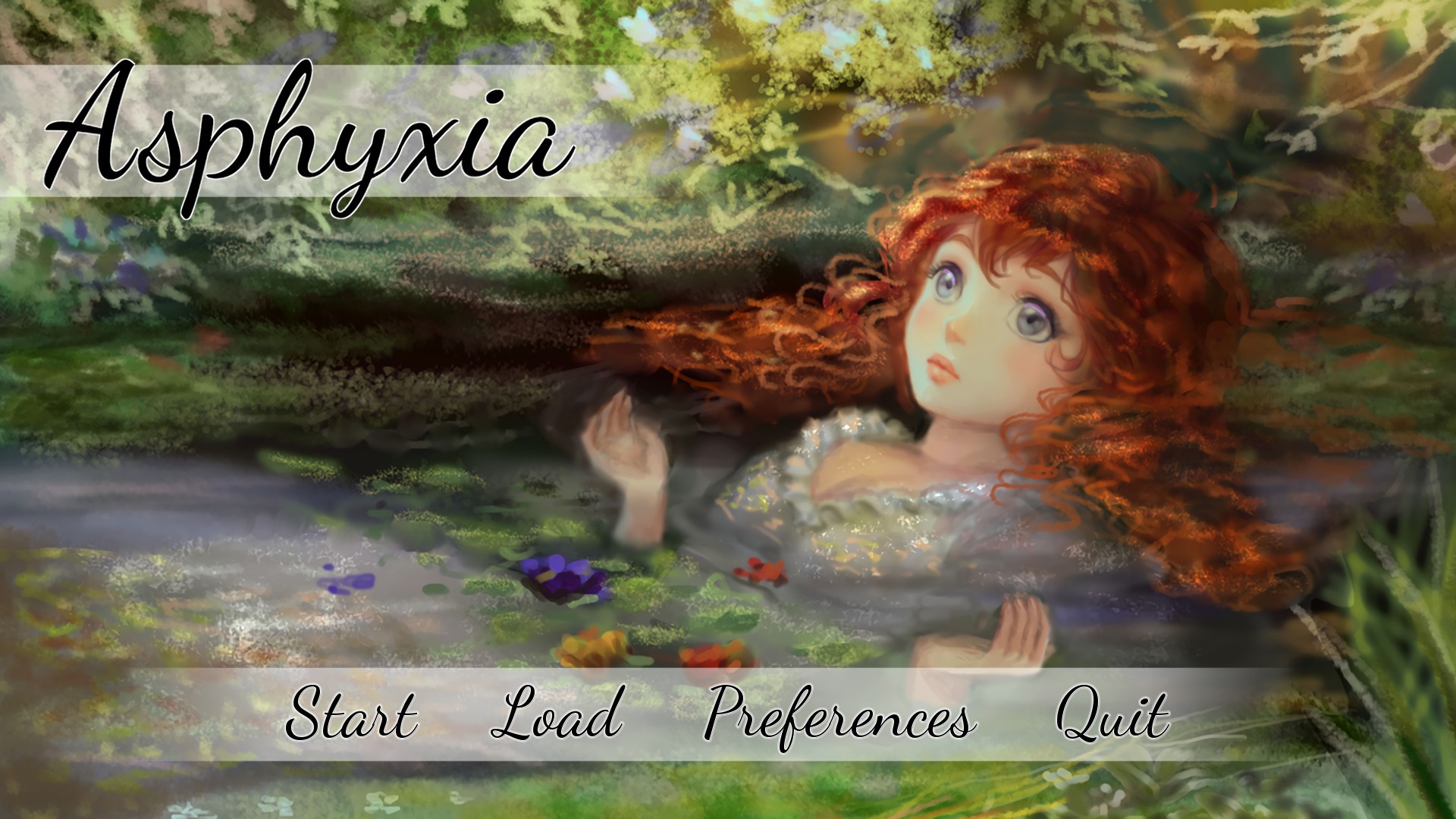 This was a very timely Challenge Me! game, because I recently realized I had it and had been wanting to play it. I guess it was the art that drew me to it, with the main image on Steam (also the title screen) looking like a painting of Ophelia. To try to be non-spoilerly, it's a coming-of-age type game focusing on a troubled young teenager who is on a school trip to the Lake District in England.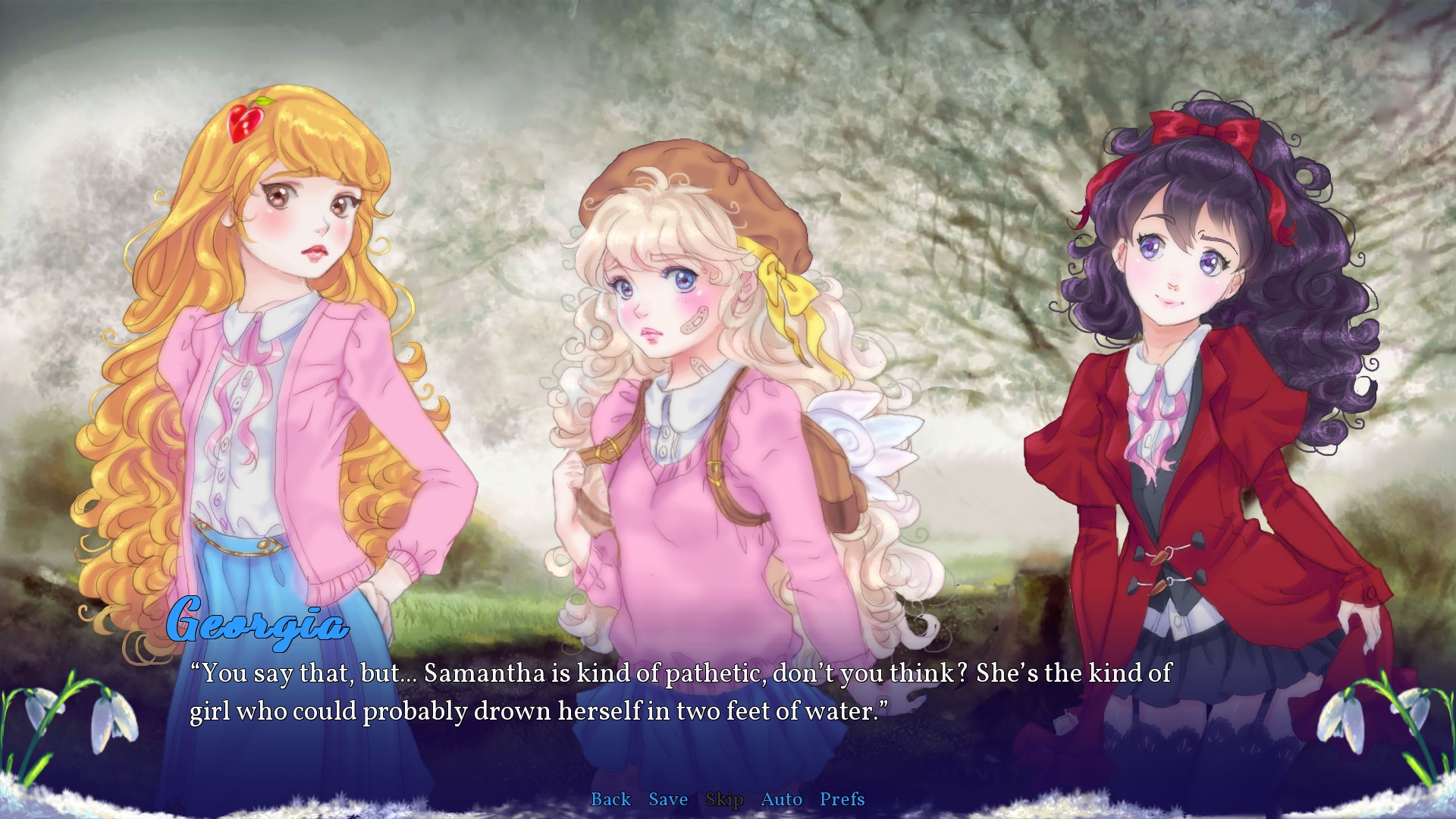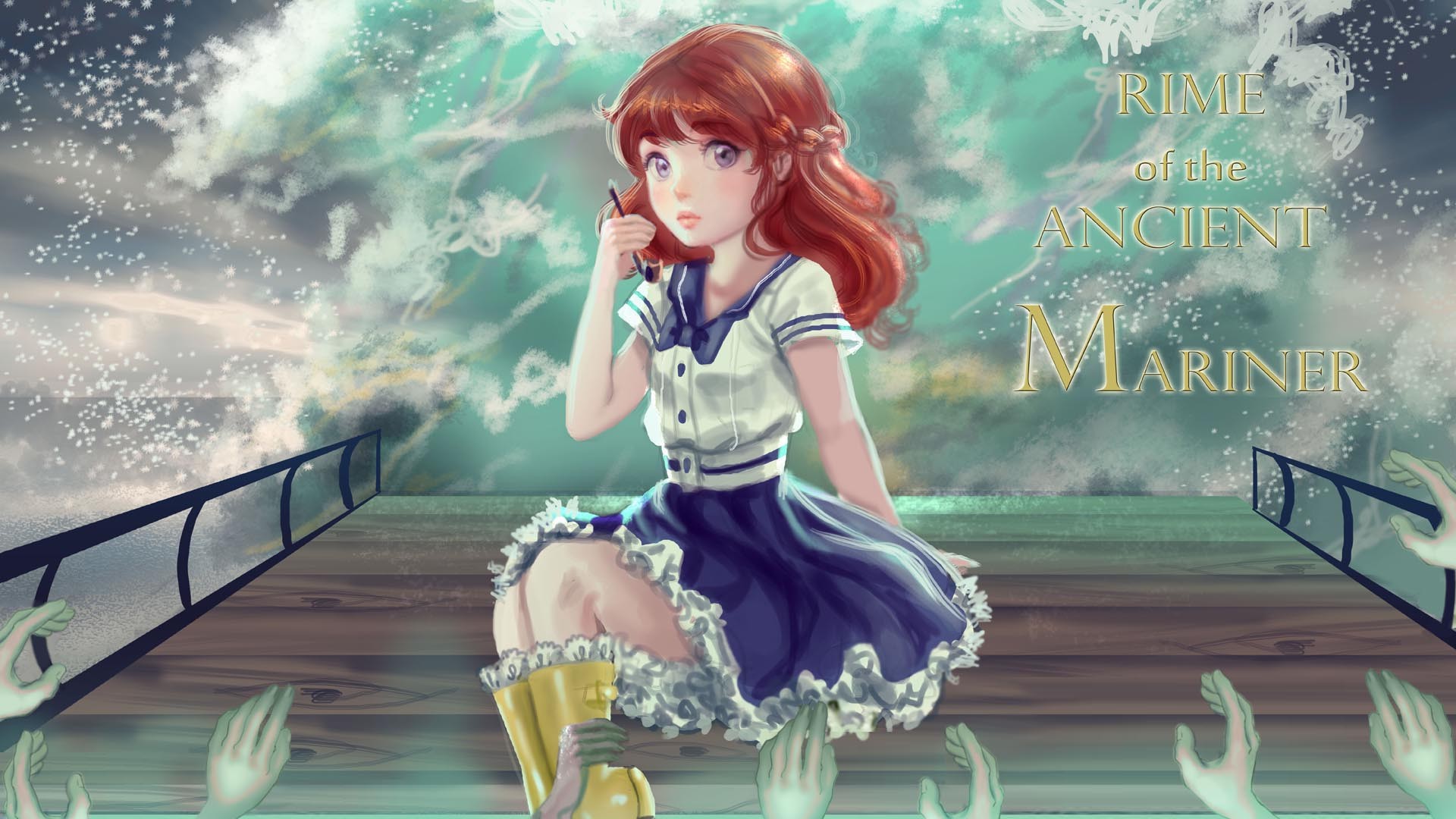 This game answers a question that no one is likely to have asked before: What if several Romantic poets and their contemporaries were teenage schoolgirls? I was really excited when I started to recognize the pattern in the names and saw what the game was doing. There was Coleridge, Wordsworth, and a few others. "Alexandra" Pope and "Lady" Byron characters were there to mock, tease, and insult the others in ways that reflect the often equally petty manner in which the real poets interacted with each other. It was really unexpected. Fortunately, I had some familiarity with these writers and their works from school, but if I hadn't, the game provides brief bios on the real-life inspiration for the characters, and also a quick run-down on Romanticism. The girls' backgrounds and behaviors are similar to their real counterparts, and they'll stick with me (in a good way) when I read any of these writers in the future. It's also an effective way to remember facts about them and their context in the wider literary world. The games does this about as well as I could possibly expect it to.
I don't think I typed huge spoilers above, but since it's not revealed on the store page, I don't want to ruin anything for someone who plans to play it soon. But if it looks like something you wouldn't play, then maybe what I hid would change your mind. People into history and literature might appreciate it, even if you wouldn't normally play a visual novel with such cute art.
Acquisitions
Odysseus Kosmos and his Robot Quest: Adventure Game
Pickers
Samantha Swift and the Golden Touch
Agatha Christie - The ABC Murders
Home Is Where One Starts
Final Fantasy XII
Bear With Me (Episode 1)
Challenge Me!
20% never played
20% beaten
60% completed
Adam Wolfe
An SG win. I thought this game looked different for a HOG. The male main character and splitting the game into episodes are some of the most outward aspects. But this game really just does what it wants at any given moment and feels like a breath of fresh air for the genre. It's also darker and has more gore and creepiness in some parts than I see in most HOGs. Really easy though.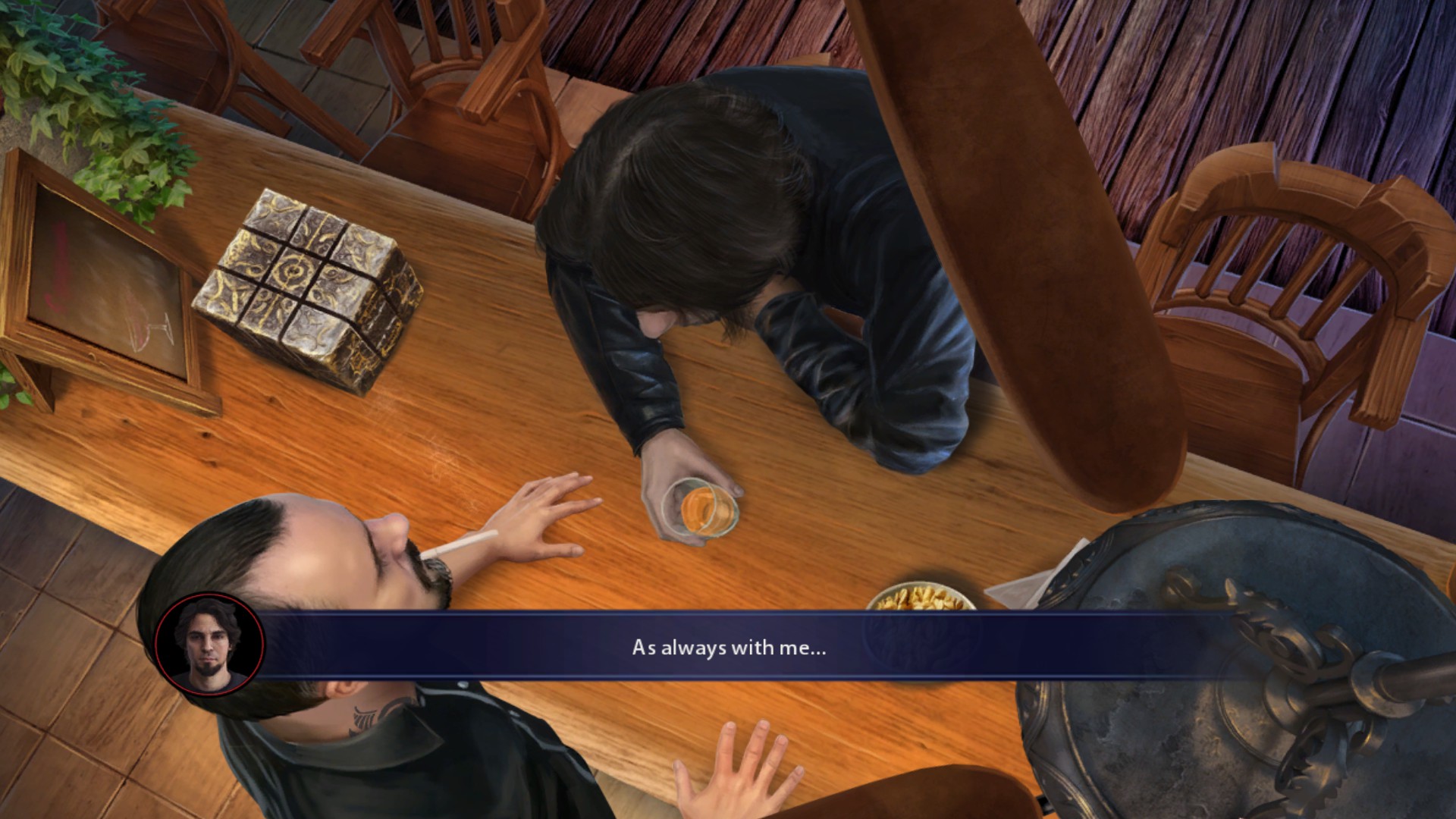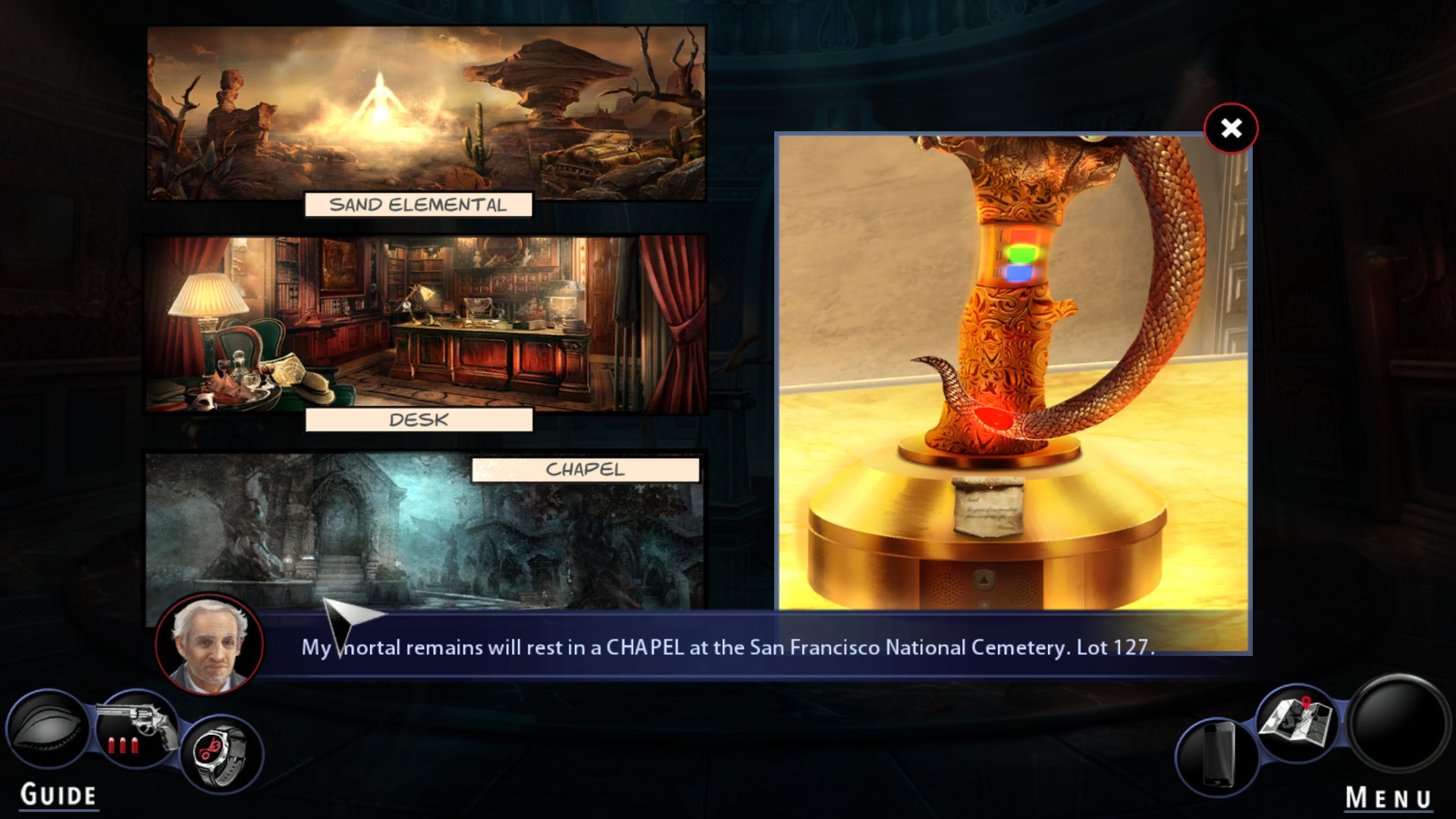 Oxenfree
Max Thunder and I played this for the monthly theme. It's a slow-paced ghost game in which you use a radio to interact with ghosts and explore St. Edward's Island, a (fictional) former US military base. As usual, the game sat minimized for long periods of time, so my playtime doesn't reflect the actual playtime.
You can use your radio to tune into a station that hosts a walking audio tour tied to signposts scattered around the island at interesting locations. The story is pretty good (and creepy), but you have to go around everywhere again to collect optional letters to reveal the whole story. I beat it once, but it seems like it will need at least 3 times to get all the achievements, so I'm not sure I'll do that any time soon. I got all the collectables already, so at least subsequent playthroughs will go faster. I started a second playthrough immediately after finishing just so I would have something and noticed several changes.
Stacking
ABC List 27 games
74% never played
19% unfinished
7% completed
A Challenge Me! and ABC List game. This felt kind of like playing a Lego game. There are different dolls with various abilities you can stack into, and a lot of goofy things you can do with those abilities to pass challenges in your way. It has a nice late Victorian/early 20th century setting, and the story is told through silent film-style scenes. The poor working conditions and use of child labor the era is known for play an important role in the story. The atmosphere of the game is really great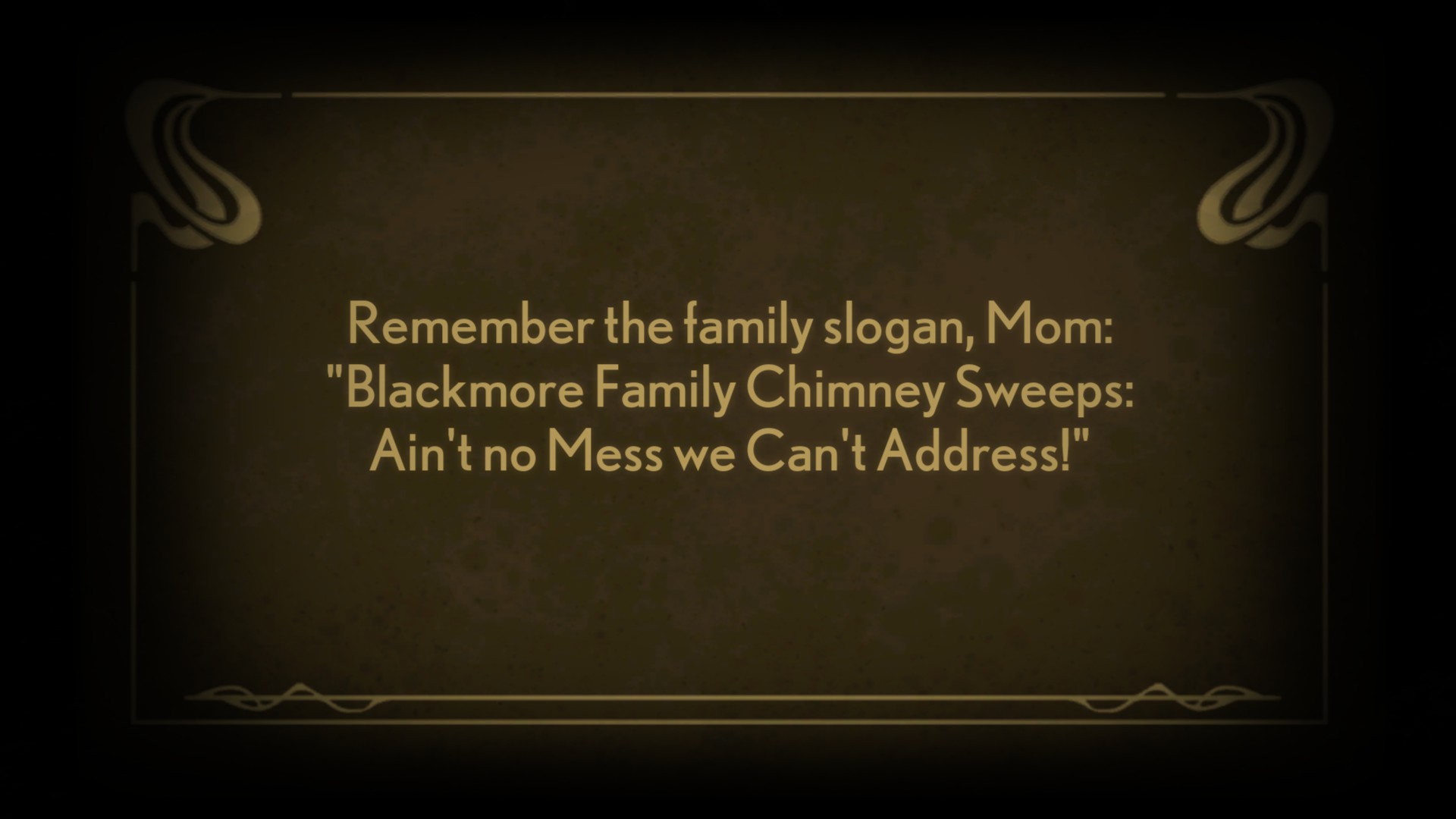 Home Is Where One Starts...
I don't know what to say about this one. It's really short, so I didn't spend much time thinking about it. It's really sad to see the narrator's childhood bedroom was so sparse, with basically a sleeping bed on the floor. It made me feel appreciative for the better position I started in.
January Totals
Games beaten and completed in January
Deponia
This is the only game I beat in January that I haven't posted about yet. msboring27 and I played this for the January monthly theme (Team Assassins). We have opposite time zones and were rarely able to talk in real time, yet along play at the same time, but we left messages for each other about what was going on in the game. Deponia was funny and gave us a lot to talk about, but I would recommend it more for its story and characters than its puzzles, which would leave players trying to use every item on everything else.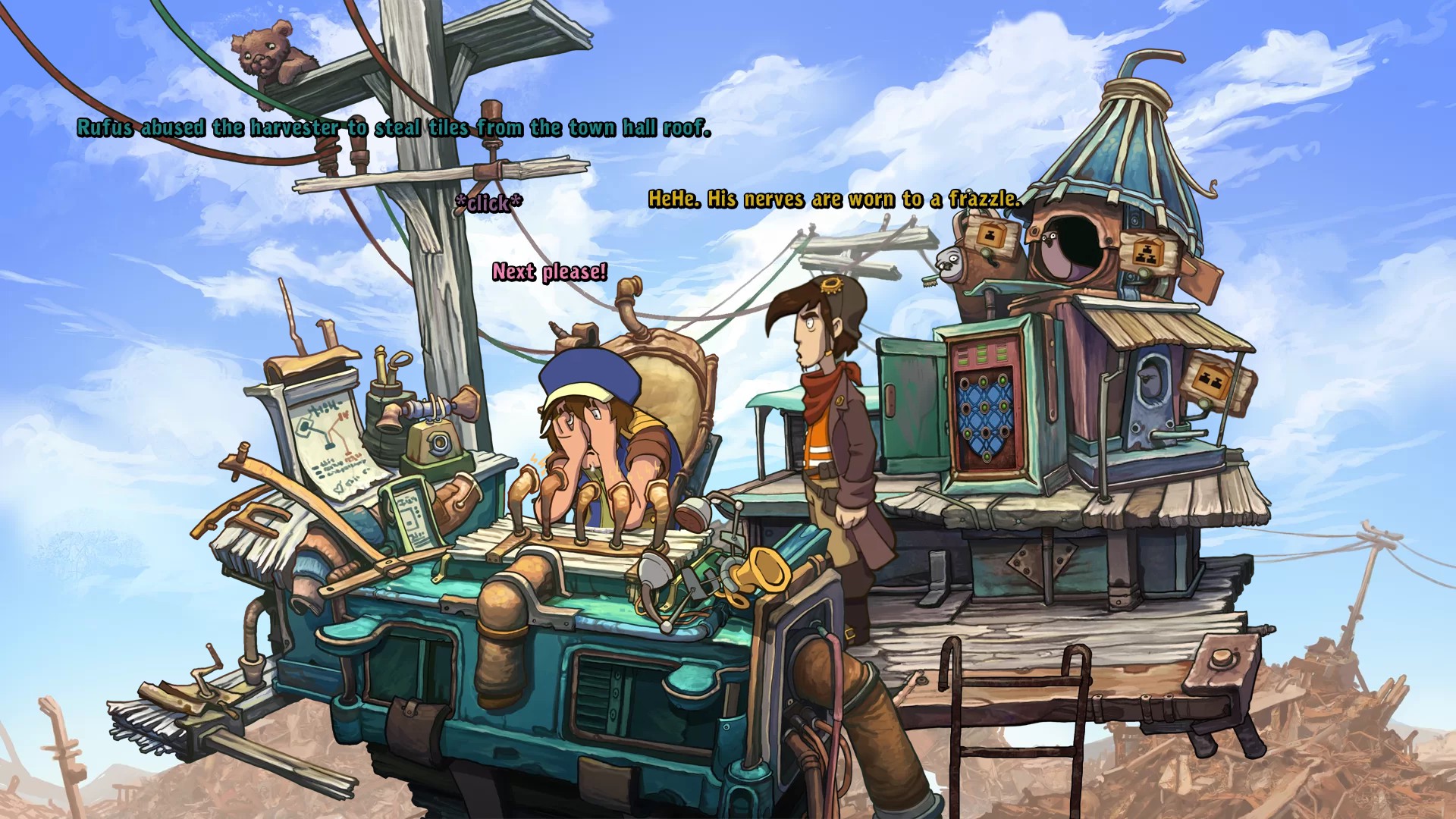 That said, the results of the puzzles are funny anyway
ABC List 27 games
81% never played
15% unfinished
4% completed
Also, Deponia is my first completed ABC game. Maybe I'll come up with a somewhat fancier way to announce my ABC progress in the future, but for now I'll just say there's one down.
Acquisitions
Pillars of Eternity
Amnesia: A Machine for Pigs
Adam Wolfe
Adventures of Robinson Crusoe
Silence
Challenge Me!
40% never played
20% beaten
40% completed
The Silent Age
A Challenge Me! game. I went into this without reading the description and was pleasantly surprised, so I don't want to say too much. As a point and click game, the things you are supposed to do are pretty intuitive.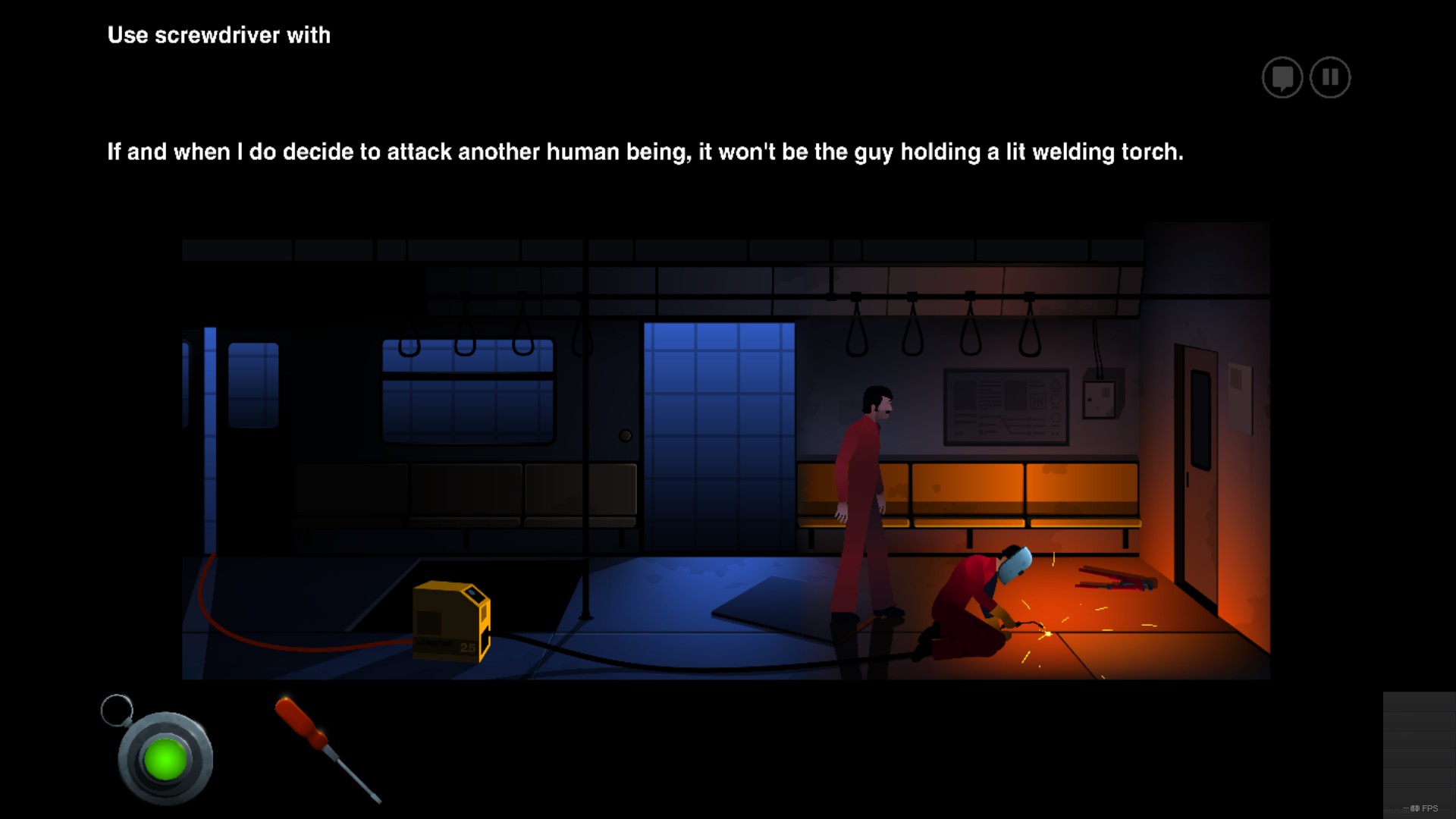 The Last Word
Another Challenge Me! game. This was a lot of fun, and I don't know how long its been since I played such a unique RPG. I wouldn't mind a more expansive game with some of these mechanics, particularly battles played out as arguments instead of always physically fighting everything. Thanks for motivating me to play this, Evilblacksheep.
Puzzle Agent 2
After playing the first Puzzle Agent, Formidolosus generously gifted me a copy of the sequel. (Thanks again!)
Since the first game didn't finish the story, it turned out to be important to play the sequel. It seems like there are more puzzles, but it still felt shorter to me, possibly because I don't think you interact with as many characters. I think this one was funnier, and I like the new characters more than some of the old ones we didn't see much this time in Scoggins.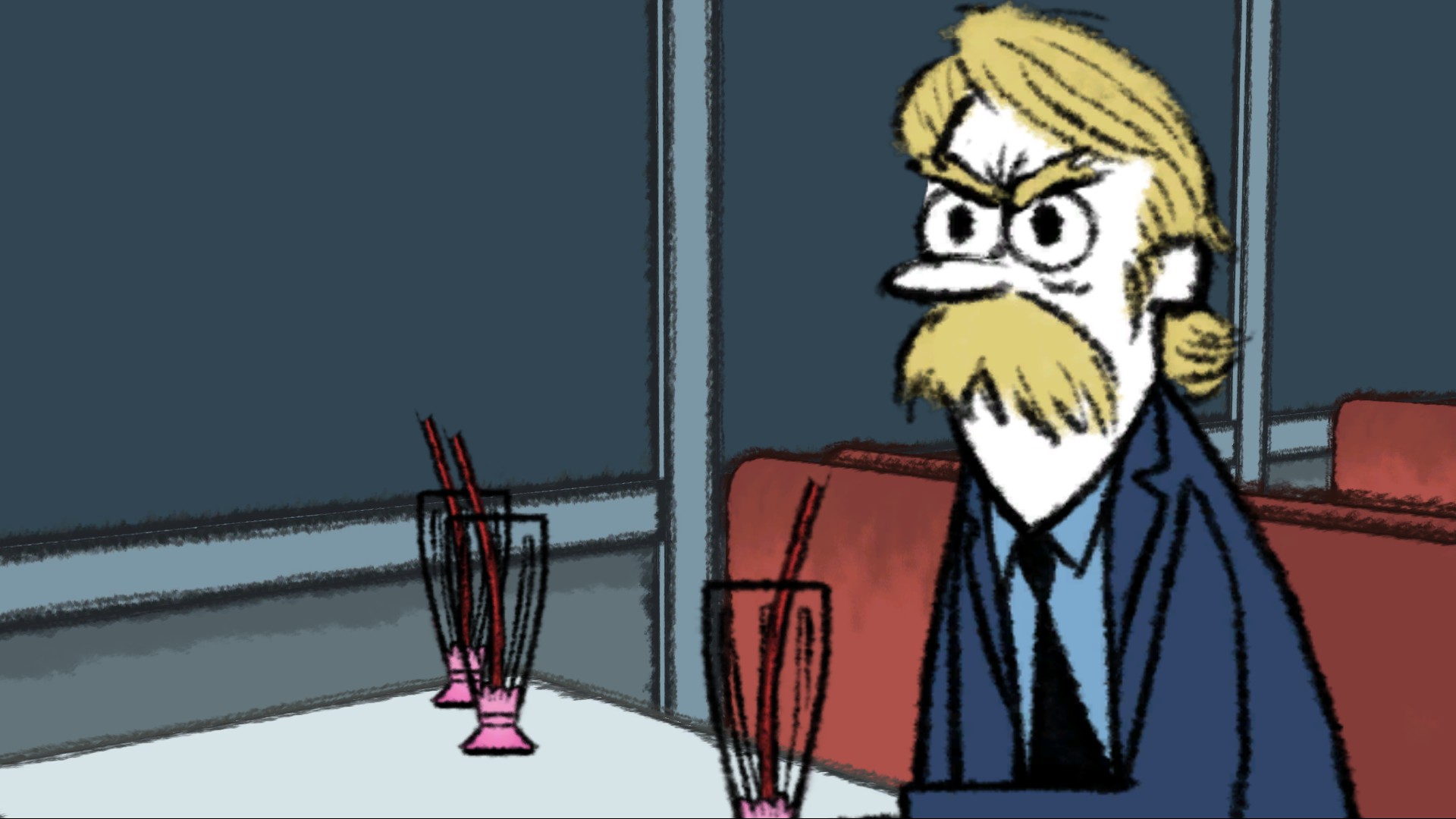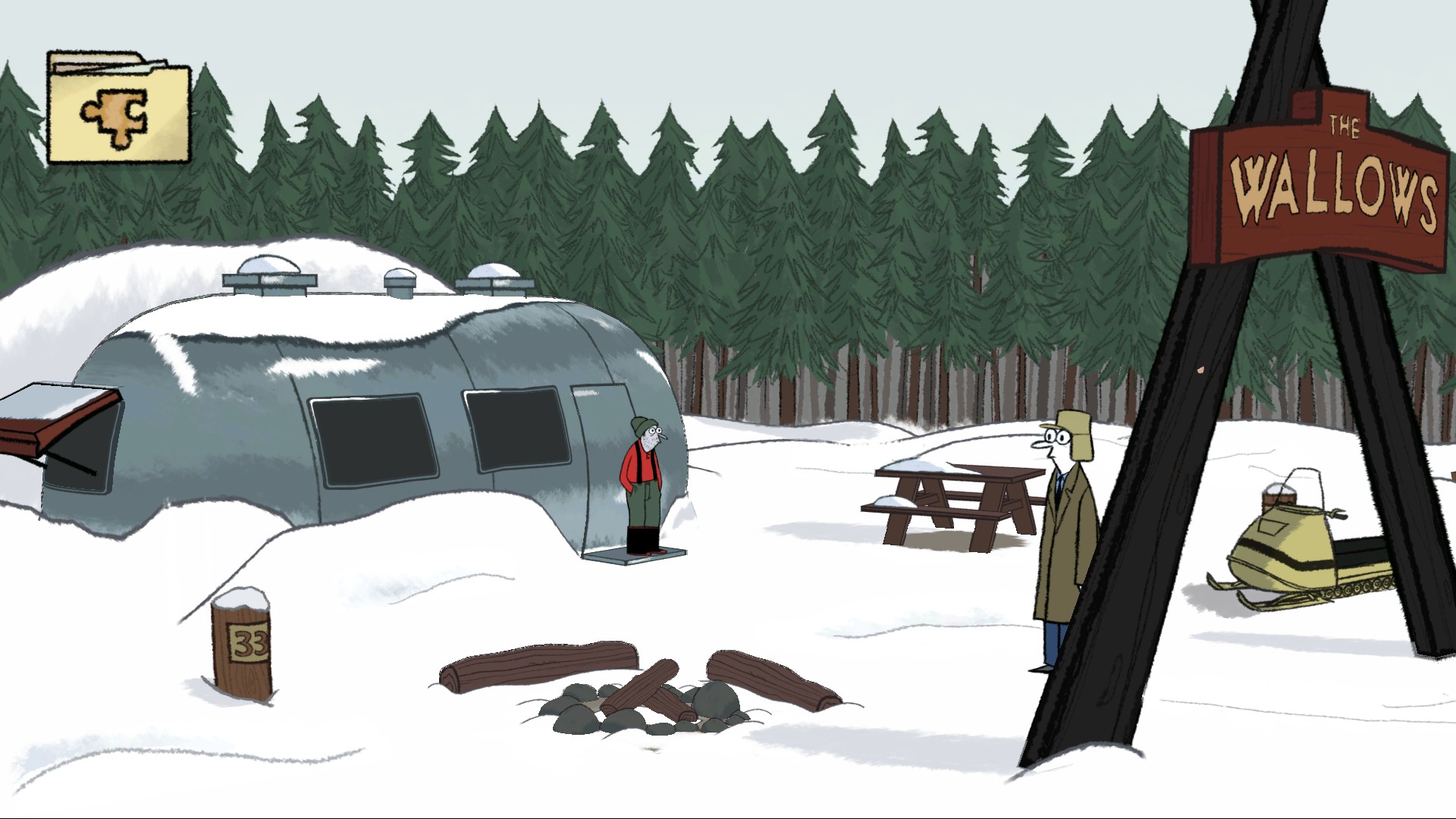 Until recently, I was unfamiliar with Telltale games before the recent generation of games based on various IPs, so it was interesting to play this series. I also like the gameplay style it shares with the Professor Layton series. Does anyone know of more games like that on Steam?
Acquisitions
Chaos on Deponia (SteamGifts)
Fall of the New Age Premium Edition (SteamGifts)
Midnight Mysteries: Salem Witch Trials (SteamGifts)
Challenge Me!
80% never played
20% beaten
Evilblacksheep challenged me to play:
I've played Bioshock before, but not the remastered, not on PC, and not since its release. I've been finishing Bioshock Infinite, so it will be interesting to go back to the first.
Lucius II
A Playing Appreciated SG win. I remember the controls being really bad in the first, but this seemed better. (Sorry everyone, but in any game that has me walking a character around, I prefer to do it with a controller). The menu interface was too small and sucked. It took me basically the whole game to figure out how to use some items properly, and others I never figured out (like how to kill people with the TV and radio). Towards the end some sudden puzzles forced me to learn that I could actually use that water container I'd been carrying around all game to make long-ass, ridiculous trails to electrocute people. Often I broke the special trap items trying to figure out what they did/how to use them.
As a result, except for some kills for the glory (achievements), I stuck to the tried and true methods, namely poison, nail guns, throwing acid, and taking over someone else's body and having them violently attack and kill everyone else.
Samantha Swift and the Hidden Roses of Athena
An SG win. I was interested because of the archaeology thing, even though the archaeology games basically never mean actual archaeology (which is generally pretty boring -- volunteer at a local dig if you don't believe me). It took a little bit to get used to the cartoony graphics. But the HOG scenes barely had any items, so I have to admit that I just started clicking any item I saw without checking the list first because most were on the list.
Road Not Taken
A Challenge Me! game. I was worried about being able to finish this since it's tagged as a roguelike, but the ability to save your progress through the game (though not your items) made this pretty easy to accomplish. It's not like a usual roguelike, though. It's actually a puzzle game that has the player combining items in the environment by throwing them next to other items (at its best, think throwing two logs together to make a fire, and then tossing a raccoon into that fire to make a raccoon stew). You go back to town between levels where you can go to your house, give gifts to townspeople, and even get married. It was a nice little game.